Team owner Dave Yovich
Who got you into snowmobiling and when; what was their influence on you with regard to the sport?
When I was 16 years old my parents bought a 1972 Skidoo 399 Nordic, this was my first experience with riding mostly around our yard in Clarkston, MI.  In 1974 I began working in the pits on a race team through my then employer, Acutus. I began my own build shortly after that, building a 1975 340 Alloute Super and a 1976 Arctic Cat 440Z. I began racing both of my builds in the Caro 150, Thunder Bay 250 and Soo I-500 in the following years. My snowmobile racing hobby quickly grew into racing Motocross until 1983 participating in both 125 B and 250 A/B classes.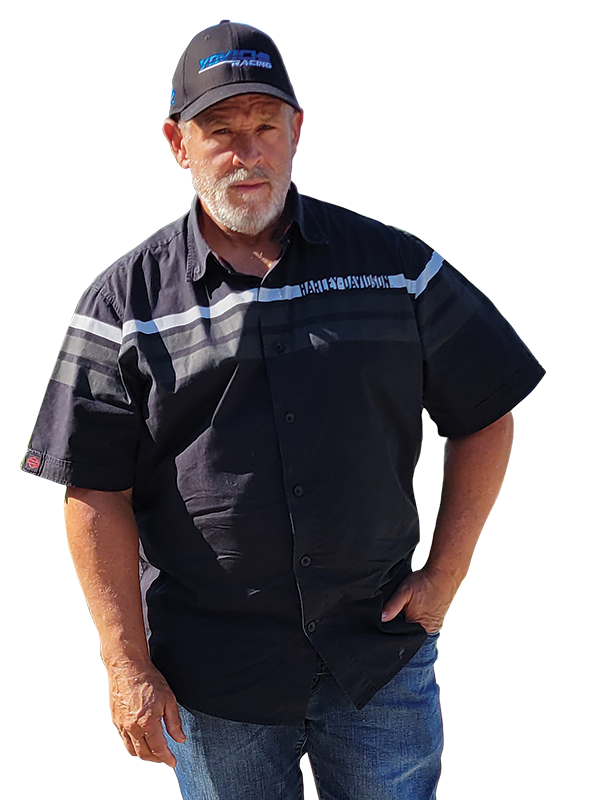 When did you start racing and what is your proudest achievement so far at the track?
My personal racing career started in 1975 which building those machines has always been an important accomplishment. I believe all our accomplishments as a team have been noteworthy, not one is more important than another but certainly some more attractive. I am extremely proud every year of the team, without them none of this would be possible. To say I am proud of just one moment is hard, every win brings its own set of emotions of motivations that keeps us going.  To answer the question, I would say our consistent growth is my proudest accomplishment.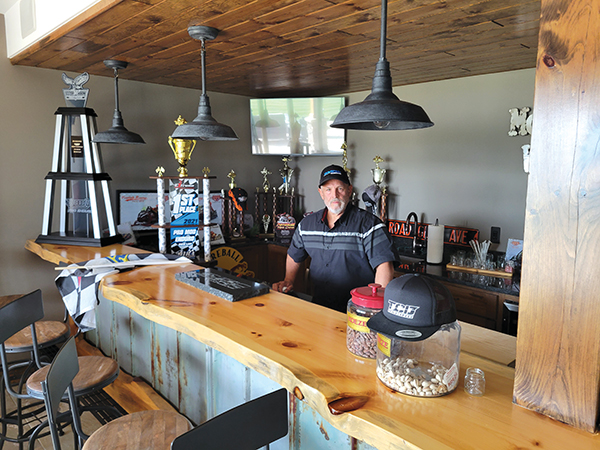 What is your career goal as an owner?
I think our goals shift every year, but there are always a few constants as far as race/ track accomplishments go. Last year we hit one of the milestones with our first MIRA Endro race win and continuing to accomplish the series points Championship, it would be nice to see the same success in 2022. We have the team and equipment to support that goal again, especially with our drivers Joe Burch and James Hicks piloting our machines again in 2022.  I think it also goes without saying any win at Eagle River is on the bucket list for the team and a race win at the Soo I500. I know both goals are close, but we have some tough competition so we are really looking forward to 2022.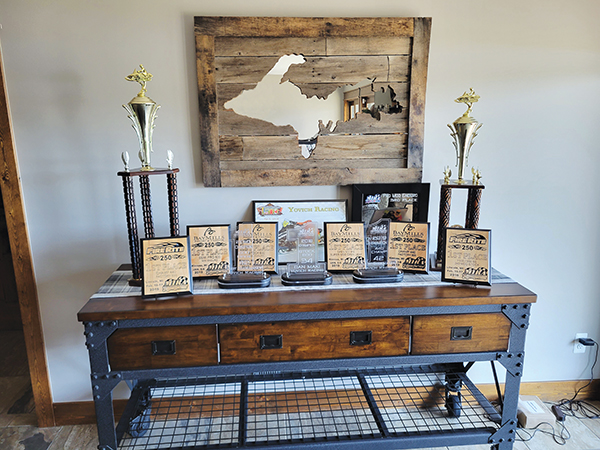 What were the driving factors to start the race team?
As a racing enthusiast throughout my life, it has always been a goal to operate my own team in some capacity. However, I never expected it to grow from the humble beginnings it did. After my racing years were behind me, I found my snowmobiling trail riding home in Pine Stump Junction, MI. I made some great buddies up there and had years of great times and more crazy ideas than you can count, but in 2007 is when our race team got its start. Someone gave me a flyer for the Great Lakes Antique Snowmobile Series race in Newberry, knowing this was in my racing wheelhouse I called my buddies. What I didn't know at the time, the snowmobile that they wanted to build was an extremely weathered Snowjet that someone had in their yard, there was a tree growing from under the hood and countless animals who called it home for years. After racing that in the first G.L.A.S.S. race Yovich Racing was born. I didn't wake up one day and say "I am going to start a race team this year" it just continued to evolve for us. Just a couple of passionate guys cobbling somethings together to go racing. After  13 G.L.A.S.S. race wins and 2 points championships, my drivers at the time Eric Zellar, Nathan Woodward and Brian Anderson really wanted to build something to race at the Soo I500. So we built those guys a heavy indestructible 2012 Skidoo 1200.  That  was another moment in time that was a turning point for us, we place 13th finishing the I500 that year. Imagine what we could do with one year under our belt? From there we switched gears a bit and bought some Polaris endro sleds committing MIRA series full time and raced in every I500 since. I never expected for my program to grow to the size and success that we have seen throughout the years. In the summer I stay busy with another project partnered with Joey Burch with our B-Mod and Late Model dirt cars. I am now a four seasons race team owner and I wouldn't have it any other way. 
 I have had the pleasure of working with some the best racers, mechanics, suppliers, and fans though out the years, most of them I can call family. Anything I need they are right there. When I lost my wife in 2014, they all stood by my side through the hardest years of my life without a doubt they kept me going.  I think that most people who really know me can say with confidence I will never commit to anything halfway, if I want to do something give all my energy to get it done right.  It is a great honor to share a helpful hand to the racing community, share my knowledge and most of all have a racing family that is an absolute joy to work with. Here is my shameless plug to all the people who have gave their time and energy to the accomplishments of Yovich Racing. Thank you for everything, these accomplishments belong to you too.
Driver Joe Burch
Who got you into snowmobiling and when; and what was their influence on you with regard to the sport? 
It all began with my dad. He started out as a fuel man for a team, and they asked him if he wanted to race. He had ridden snowmobiles since he was a kid and had experience racing 3-wheelers and 4-wheelers and didn't hesitate to jump at the opportunity. I was about 5 years old then, and he would often take me to work on the sleds with him, and my parents always took my sister and I to the races.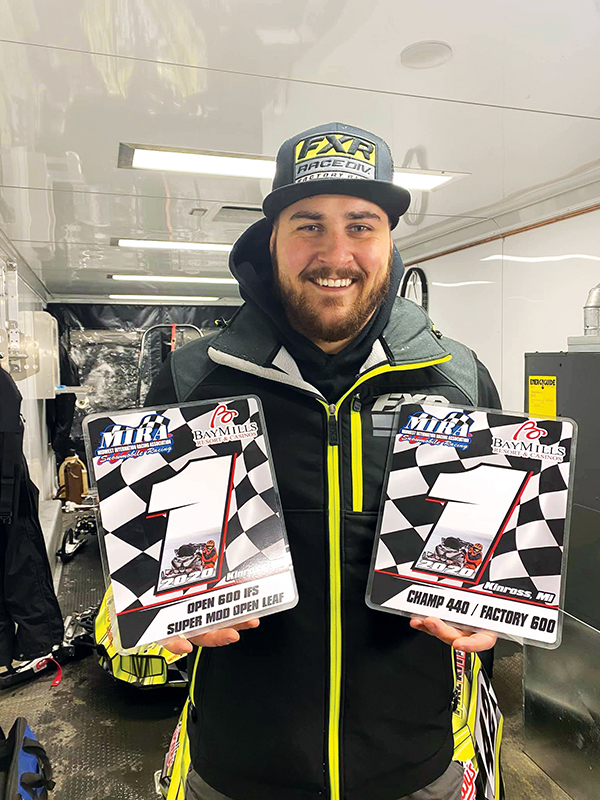 By age 15 I had spent a lot of time in shops and race trailers, and idolizing my dad the way I did, I wanted to start racing snowmobiles too. I remember being at the Soo I-500 in 2006 and sneaking into the pits to go see my dad. He was getting ready in the race trailer, and I finally asked him if we could get a snowmobile for me to race. His famous saying was "I'll think about it" but I knew that really meant YES, it was just a matter of when he'd be able to make it happen.
I stayed in the pits to watch my dad get on the sled and stood on top of the trailer to watch the race for a while, excited that someday I'd be just like him and racing this track. I was coming down off the trailer, ready to head back up the hill where I was supposed to be, when I heard someone say "Joe B fell off the sled." I went running to see what happened, but was stopped before I could see that my dad was lying unconscious on the back stretch. He'd had a heart attack and passed away that day.
My dad was well loved by many people, and those many people made my racing dreams come true in his honor. At the time of his death he was racing for Mike Otto, and Mike ended up asking me when I was 18 if I'd like to race the Rookie Roundup at the Soo, the next year I began racing the I-500.
I am thankful to have had the support to grow into the racer I am now, at the level my dad probably dreamed of.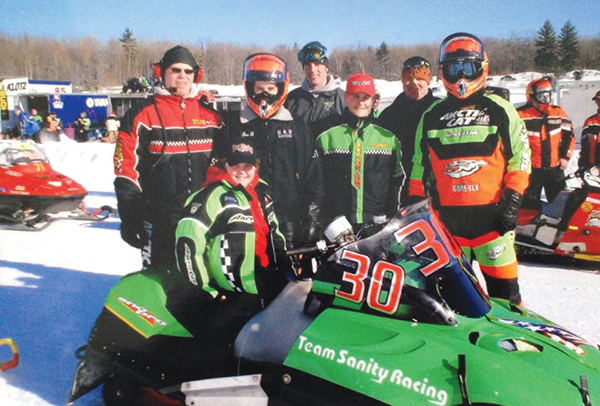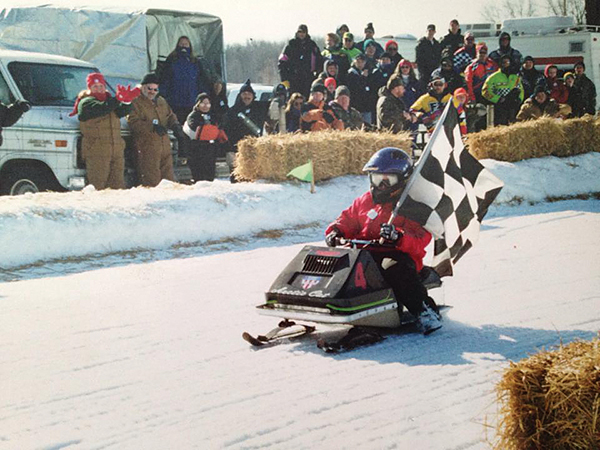 When did you start racing and what is your proudest achievement so far on the track?
I have had a few achievements I'm very proud of, first being that in 2014 I took 3rd place at the I-500 with Beard Motorsports. Many people go to the Soo to compete and don't even finish that race, I think a top 5 is a huge accomplishment, and taking 3rd behind the factory teams was an honor. In 2019 I took 4th place with Yovich Racing.
2020 was a great year for me also, as my partner James Hicks and I won the MIRA Circuit points championship with Yovich Racing. I also won the MIRA points championship in Champ 440, a class that I've always wanted to race.
In 2020 I also had the amazing opportunity, given to me by Randy Hazard, to compete in the Vintage World Championship at Eagle River. After fighting through days of motor issues and parts breaking, I qualified into the top 10. Having never raced there before and having never raced a leaf spring sled, I was pretty happy to make it in. In the final race for the championship, I got the holeshot. I battled for the lead through the race, and odds were in my favor with two laps left in the race and I had a good lead, but began to lose power. I ended up taking second place with a broken pipe and a broken crank.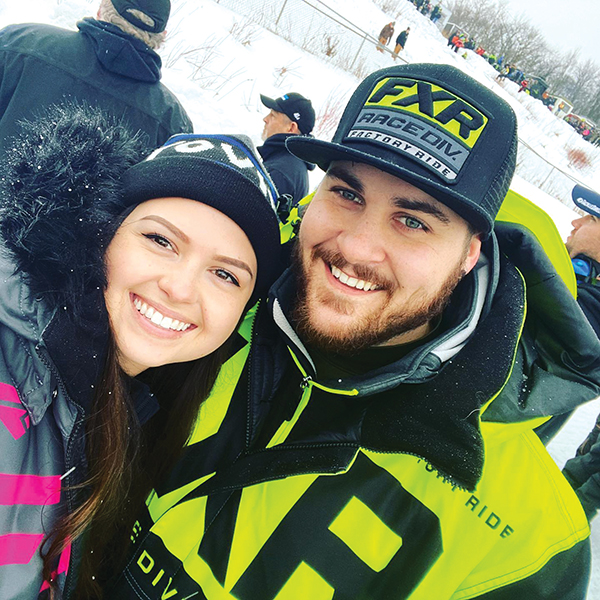 What is your career goal? 
With racing snowmobiles or in my dirt cars my goal is always to get better, as a racer and as a competitor and a mentor for others. Ideally, someday I hope to be racing, building, and consulting full time. Thanks to Dave Yovich I'm closer than I've ever been, but the rest falls on me to get to that level.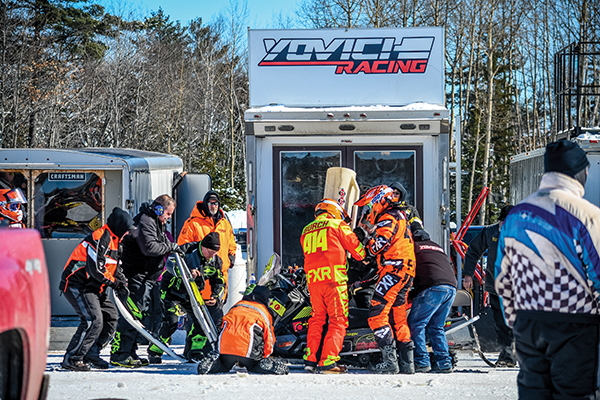 How did you become part of this racing team? 
I spent a lot of great years committed to Beard Motorsports, but they began to pull out of the snowmobile racing circuit in 2018. I started racing for really any team that needed a driver, and was eventually approached by Dave Yovich to start racing for him. He offered not only a mod enduro sled, with co-driver James Hicks who I liked and respected, but he was also going to get me on multiple sprint sleds. I had no idea how much that initial meeting was going to change my life in more than just the snowmobile racing world. In that aspect, though, it's been an amazing and rewarding relationship with my team, everyone listens and works together to make the sleds better every race, and every season. Beyond snowmobiles, Dave invested in me as a dirt car driver, starting out with an IMCA Modified in which we won a track championship in our second year, and this year we also got a UMP Late Model.
Dave has become a big part of my life and I'm thankful and grateful every day that racing brought us together. Yovich Racing is more than a team, it's a family, and in some ways Dave has become a father figure for me and a support I never really expected to gain. I hope that we will be able to race together for a very long time to come.
Driver James Hicks
Who got you into snowmobiling and when; and what was their influence on you with regard to the sport?
I got into snowmobiling after watching some old snocross on espn. I saw Blair Morgan, Kirk Hibbert, and Aaron Scheele on those 98-99 Arctic Cat Snopros and immediately wanted one of those and wanted to race. My mom and dad helped me get my dream started and supported me for a long time and are my absolute biggest fans to this day.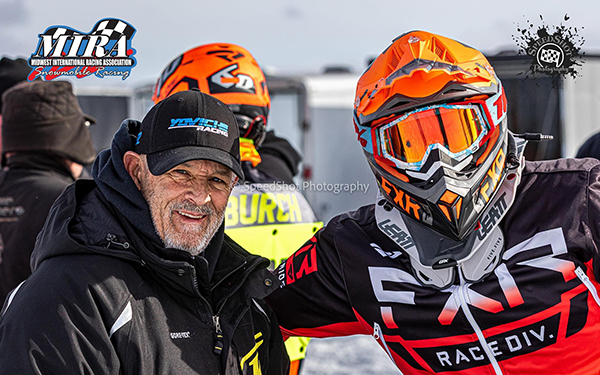 When did you start racing and what is your proudest achievement so far on the track?
I started to race in December of 2000 at a WSA national snocross race in Gaylord, I remember that race like it was yesterday.. and the friends I made that season are still in my life to this day. So far the proudest achievement on track have been winning pro class in snocross in 2008, taking 3rd in my first I-500 race in 2010, the success I achieved racing for Team Blu in 2014 and 2015, winning Gaylord Extreme Powersports 250 and points championship last year with Yovich Racing.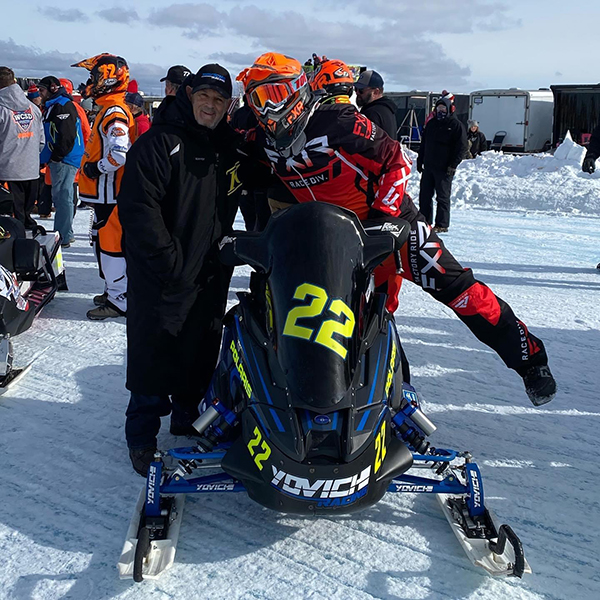 What is your career goal? 
My career goal has always been to have fun in this sport. I feel when I am not having we won't be successful, so I try to have the most fun I can on the track and off the track just being there in the moment. If I were to put a measurement put on my career goal though, I would say it would be winning the I-500.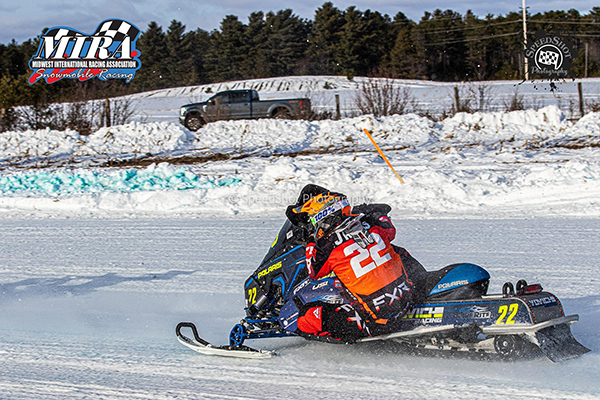 How did you become part of this racing team? 
Dave and I started talking in the off season before 2016 and I liked the direction he wanted to take his team. I decided to hop on the following season and have not looked back since. We have made great progress since and I have made a great friend with Dave and the rest of the team. •