By Jesse Wiederhold, Visit Keweenaw Public Relations/Events Coordinator
In December, snow blows through the southeastern Keweenaw Peninsula, cascading across the Portage Canal and over Torch Lake. Flakes descend on Lake Linden, Bootjack and Dreamland – a quiet piece of the peninsula. Dense forests here sway gently in winter's embrace. An escape from Hancock and Calumet, snowmobilers can ride Trail 3 from Hancock to Dollar Bay this winter, relieving traffic on 17. Riders this 2023-24 season will be the first in the Keweenaw to test the trail since its closure in 2018 because of flood damage. The state-funded repair totaled about $10 million by its completion.
This winter, use your sled to access parts of the Keweenaw you never knew existed in the quaint, unincorporated community of Dreamland. Break away from Trail 17 and you'll find a path that forces you to slow down, respect the land and enjoy a range of frozen views. Connect with all the Keweenaw's major trail systems, with routes into Dreamland from Gay, Calumet, Lake Linden and Dollar Bay. The Dreamland Trails are groomed by a group of Yoopers called the Valley Sno Drifters (VSD).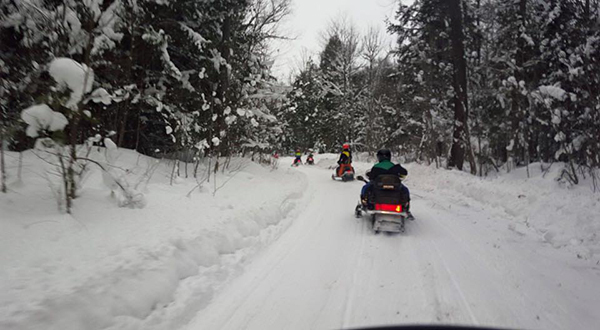 The club's origin and name were inspired by life in Traprock Valley. Which begins north of Torch Lake and follows parallel to the Keweenaw Fault running down the middle of the peninsula. The VSD groom the Traprock Valley area south to Dreamland and around Dollar Bay. The long range was gorged by glaciers much like the rest of the Keweenaw. The area sees 300+ inches of snowfall each winter, which requires regular grooming but makes for prime riding conditions. The Valley Sno Drifters operate independently from the Keweenaw Trails Service, which tackles the rest of the Keweenaw's 230-mile snowmobile network.
"Many years before the state was grooming trails, we had a hunting camp up in the woods," said Todd Sarazin, VSD president. "One of these guys, Carly Kilonen, who had a snowmobile dealership in Lake Linden, some of their friends got together. The club wasn't born yet, but they started, they bought these old snowmobiles and made some drags."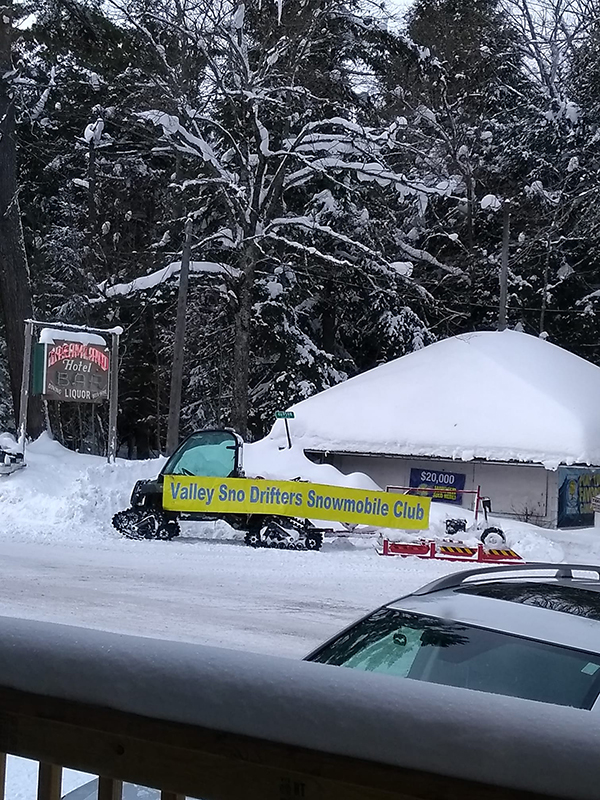 Sarazin explains the Dreamland Trails were forged in the late 70s for two simple reasons: to get access to snow-covered camps, and to make the sport of snowmobiling more accessible to the local people. Sarazin says his father, James (Buckwheat) Sarazin, and the other original members funded grooming out of their own pockets at first. More Copper Island locals caught on to what was happening and voiced vehement support to start a club.
"It expanded from there, and in the early 80s the club was formed," said Sarazin. "We went from having these snowmobiles and drags… we now lease a Gator side-by-side. We purchased our own set of tracks, so we lease a machine every year so we don't own one. We put our tracks on it, we now have a six-foot wide drag and it's controlled by key fobs to power it up and down. We have heat, I can take a jacket and boots with me but I can ride without it."
The Sno Drifters are entirely self-sufficient and attribute the club's annual spaghetti dinner as a solid driver of the budget. The club puts on a delicious spaghetti service that has fed as many as 700-800 people. Sarazin says as a teenager, he wasn't very involved in the snowmobile operation. Now, being the president of the club and owner of the Dreamland Restaurant & Bar, he's continuing what his dad and others in the industry fought so hard for: snowmobile access in the Keweenaw.
"It's a good cutoff if people like that way instead of Lake Linden to Gay trail," said Sarazin. "They can come through ours and our trail goes from Trail 3 in Dollar Bay and travels into 122, which goes into Lake Linden and Gay. The Dollar Bay side of the lake is a good section of the road. We just can't get easements to run a trail. Once you hit Dreamland and you go off behind then it's wooded trail the whole way."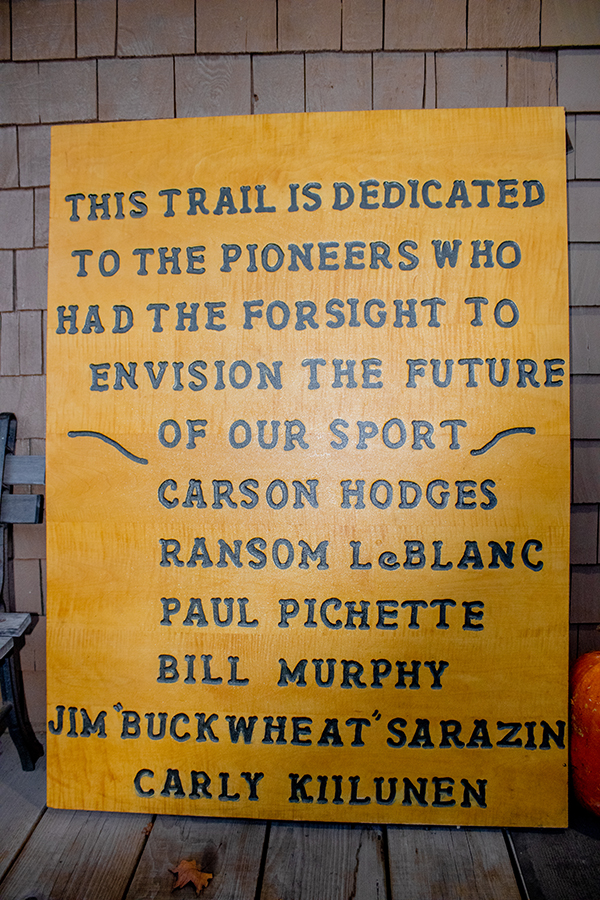 Ride responsibly on the Dreamland Trails. Sarazin says they're not like anything else you've ridden before. In this neck of the woods, low speeds are your friend. Be respectful of private property owners who open up their own backyards so that snowmobiling can live on. Only ride across approved routes in Dreamland and make sure you stay on the trails.
"Our trails are six feet wide, windy, narrow, up and down. Groomed, but you don't go fast on our trails. I mean period. It's not railroad grade like the main trails are," said Sarazin. "It's very windy. It's through the woods and some places it's only six feet wide and through the trees."
The Dreamland Restaurant & Bar is a warm, cozy beacon through winter to snowmobilers. Sarazin grew up in the family's home above the bar, where his sister lives now with her family. The multi-generational energy and connection can be felt through the building. It's a reprieve to fuel up along the trails and you can pull right up on your machine. The bar opened in 1912 with Sarazin's great grandfather. It went through a few owners until 1998 when it returned to the family. Inside, you'll find a comfortable pit-stop for your crew to hang and thaw out. Look for a sign outside with the names of the original pioneers who broke ground on today's Dreamland Trails and behind the bar for a snippet of the building's history.
"On the backbar, there's a tag on it that says the Amalgamated Woodworkers Union Made," said Sarazin. "It you look them up they made a bunch of backbars for the breweries in between 1800 and 1900. MY great grandfather got this from another bar, so it fits… The main part of the bar has one mahogany plant 18 inches wide, and 29 feet long. You're not going to find a mahogany board like that now."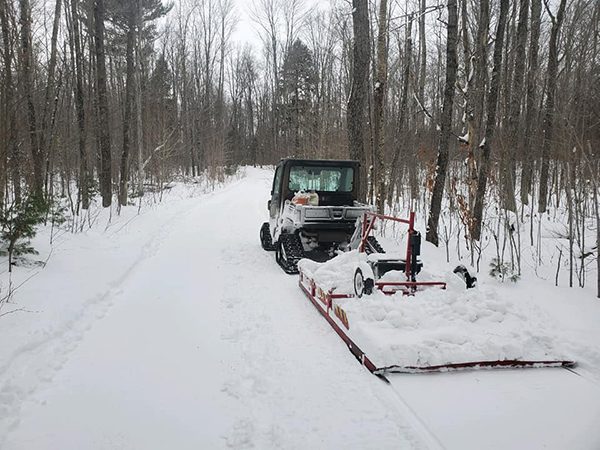 Take a seat, relax and recharge before continuing north on your way to Gay, Lac La Belle or Copper Harbor or south toward the Portage Canal. Ride the Dreamland Trails this winter, test out the new section of Trail 3, and find out what makes the Keweenaw a prime snowmobile destination in the Midwest. Follow the Valley Sno Drifters on Facebook, and stay up to date with what's new in the Keweenaw on www.visitkeweenaw.com. Keep an eye out for the club's spaghetti dinner, which will be held in early February 2024. Prepare for your ride ahead of time and check out a Keweenaw snowmobile trails map. Snowmobile trails in Michigan open on Dec. 1. •