Gaylord, Michigan, a charming up north community nestled at an elevation of 1,348 feet above sea level, is a snowmobiler's dream come true. With its ideal location in the snowbelt, this picturesque town receives an average of 152 inches of snowfall each year, making it a haven for winter sports enthusiasts. From December 1 to March 31, Gaylord's meticulously groomed snowmobile trails offer endless adventures, attracting riders from all over. In this article, we'll explore the snowmobiling paradise that Gaylord has become, from its exceptional trails to the welcoming community and thrilling events that await.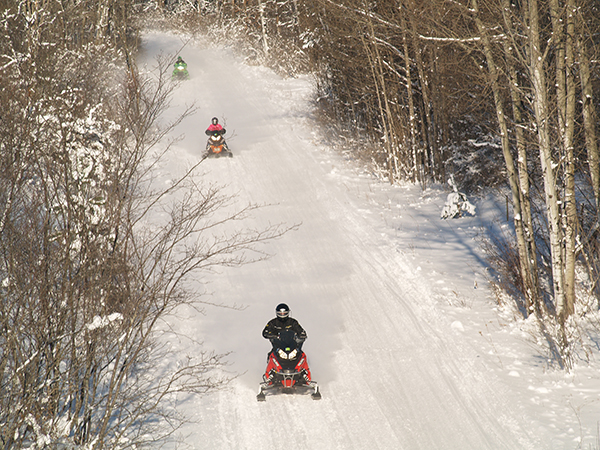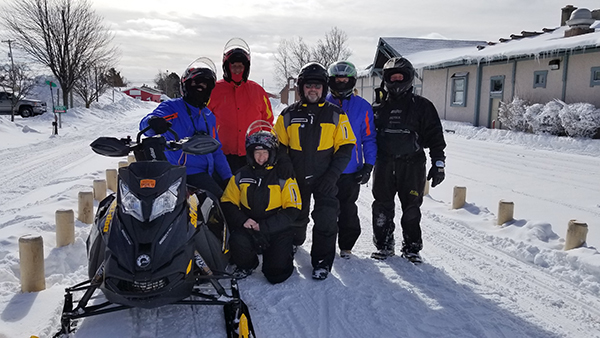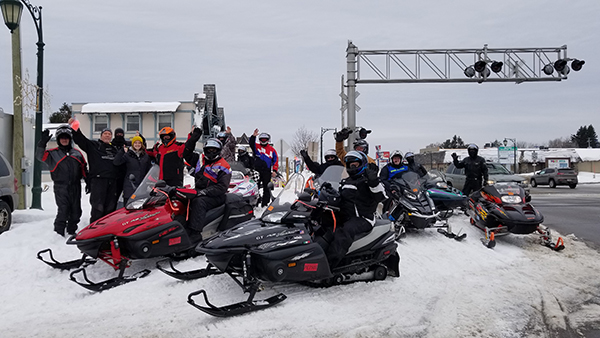 Explore Northern Michigan's Trail Network
Gaylord's snowmobile trails are a testament to the dedication of the local community. The Gaylord Area Snowmobile Trails Council, consisting of skilled volunteers, takes pride in maintaining and grooming these trails to perfection. Jerry Beattie, owner of the Sled Shed, attests to their commitment, stating, "Our club grooms more miles than any other in the Lower Peninsula year over year. We have more snow than most areas and high demand for grooming due to the number of sleds riding our trails daily."
One of the remarkable aspects of snowmobiling in Gaylord is its central location within a network of trails that traverse eight northern Michigan counties. Using Gaylord as your base, you can explore epic trails in every direction.
Heading west from Gaylord, you can jump on popular Trail #4, which takes you through the charming communities of East Jordan and Mancelona. If you prefer an eastern route, follow the trails through Johannesburg and Lewiston, leading north into Millersburg and Onaway. To the south, you'll find untamed forests surrounding Frederic and Grayling. If you're new to the area, don't worry; free Snowmobile Trail Maps are available through the Tourism Bureau to guide you on your journey.
Another must-see option is the North Branch, offering an endless expanse of snowmobiling excitement. This route takes you south to Kalkaska's famous Blue Bear Trail, west to the heavily forested Jordan Valley, and east to Lewiston's Lovells Trail. The North Branch also features multiple connector trails and access to free-range National Guard land open to riding.
Perhaps the most exhilarating trail is the North Central State Trail, a former railroad corridor converted into a 73-mile snowmobile path. This scenic route takes you through forests, farmland, and villages all the way to the majestic Mackinac Bridge. Along the way, you'll find welcoming communities eager to serve snowmobilers, providing a chance to refuel your sled and yourself.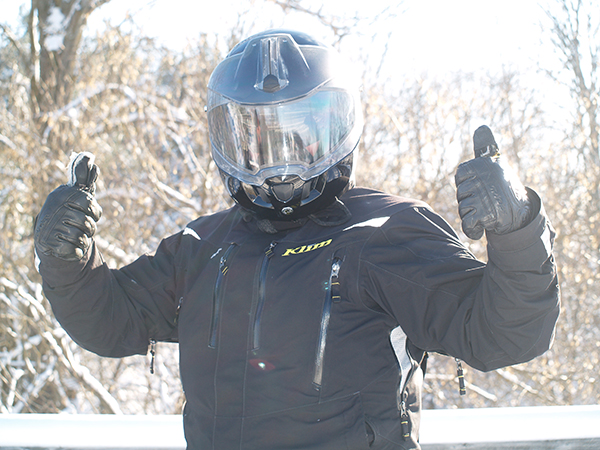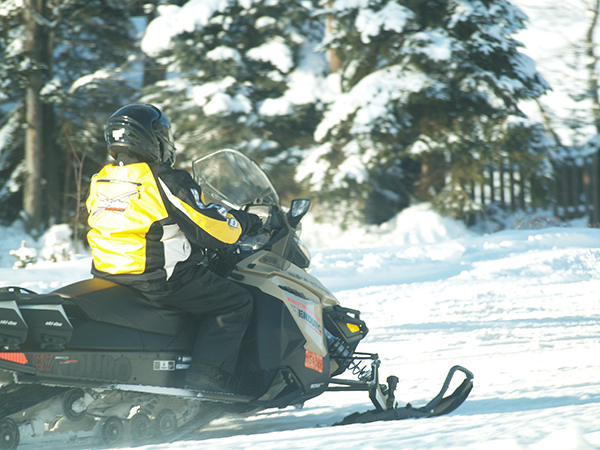 Snowmobiling Support in Gaylord
Along with seemingly endless trails, Gaylord offers a range of lodging options that cater to snowmobilers' needs. From cozy cabins and resort settings to modern, comfortable hotels, you'll find the perfect place to rest your head after a thrilling day on the trails. Some properties even sit right on the trail, allowing you to wake up and start your snowmobiling adventure right from your front door.
Paul Beachnau, Executive Director of the Gaylord Area Convention & Tourism Bureau, emphasizes, "Our hoteliers are used to working with snowmobilers and are excellent at accommodating their needs."
Gaylord's snowmobiling support doesn't stop at lodging. The entire community embraces winter and its adrenaline-seeking patrons. Local dealerships represent all four major sled brands and offer the latest technology and gear. Whether you need parts for repairs or expert service, you'll find knowledgeable service departments ready to get you back on the trail. Many snowmobile-related businesses are conveniently located near each other, including The Sled Shed, Extreme Powersports and Mega Powersports.
For those who don't own a sled, rentals are readily available at places like Boathouse Marine & Powersports, Sledhouse Snowmobile Rentals, and Snowbelt Motorsports. Additionally, gas stations along the trails ensure you never run out of rec fuel during your snowy adventures.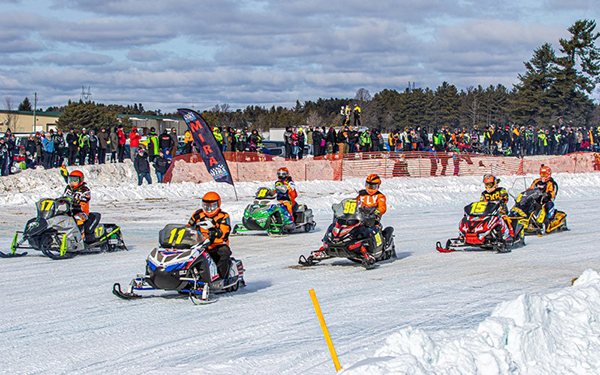 Exciting Snowmobiling Events
Plan your visit to Gaylord during one of its exciting snowmobiling events for an unforgettable experience. In 2024, two favorite events are making a return:
Michigan Snowmobile Festival (February 2-3, 2024): Hosted by the Gaylord Area Tourism Bureau, this event offers snowmobilers the chance to ride the extensive trail system for two days. Participants can drop slips at participating restaurants along the way for a chance to win a $1,000 cash prize.
MIRA's Extreme Power Sports 250 (February 10-11, 2024): MIRA hosts a full sprint racing program on Saturday, featuring events like the Kitty Cat 120's and the main event enduro on Sunday. The class structure is similar to most sprint racing associations, allowing participants to join without major equipment changes.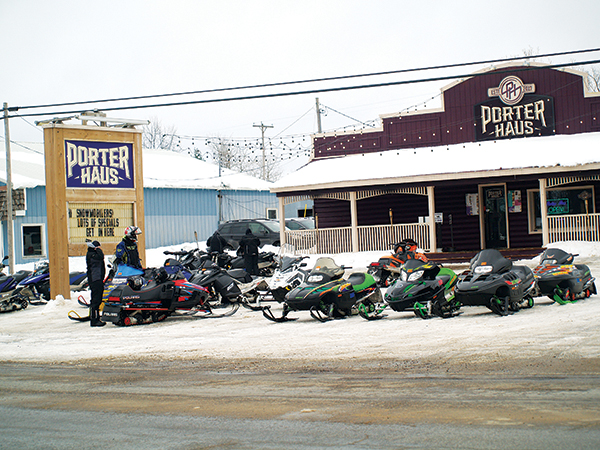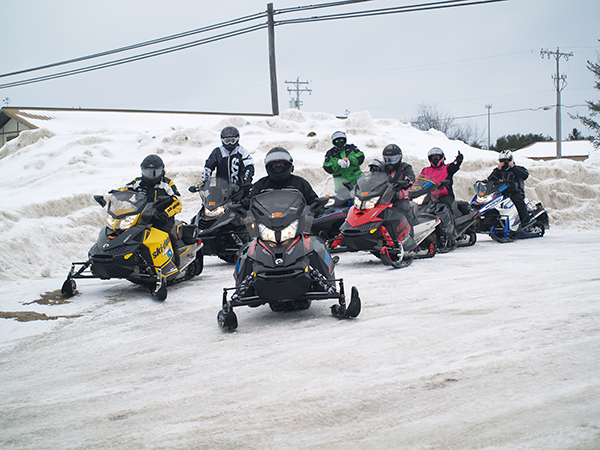 Getting to Gaylord
Gaylord's convenient location just off I-75 makes it easily accessible from virtually anywhere. As you approach the town, you'll witness the snow depth increasing, setting the stage for an epic winter adventure. Paul Beachnau summarizes the allure of Gaylord perfectly, saying, "Hands down, Gaylord is the best winter vacation destination in Michigan. Our abundant snow, interconnecting trail system, and limitless amenities make us a haven for snowmobilers."
Before you hit the trails, make sure to stay updated on conditions and riding reports. The Gaylord Tourism Bureau staff is in daily contact with groomers, providing 24-hour access to trail information. For trail reports and your free snowmobile trail map, call 800-345-8621 or visit www.gaylordmichigan.net.
In Gaylord, Michigan, winter is a season of adventure and camaraderie, where snowmobilers from near and far come together to experience the thrill of riding through a snow-covered paradise. With its exceptional trails, welcoming community, and exciting events, Gaylord is the ultimate destination for snowmobiling enthusiasts looking to create unforgettable memories in the winter wonderland of Northern Michigan. •