By Ric Federau, Contributing Writer
Time to reflect back on my last article for a moment. The article was titled Racing is racing Was filled with the action we experienced during the I-500 summer tour. Of course. We gave credit to the venues that hosted our tour. It was simply an outstanding experience. However, there was one venue I left out of the article intentionally. I'm speaking of Whittemore racetrack located in Whittemore, MI. If you're not familiar with the Whittemore racetrack, let me fill you in a bit. The Whittemore racetrack is within the city limits of Whittemore, Michigan, on. M-65.  For those of you who may not know. the Whittemore racetrack. is the oldest existing Oval Racetrack in Michigan. It holds this distinctive title for. seventy five consecutive years and even stayed in operation during the dreaded COVID times.  The track first opened in 1948 which happened to be the same year nascar was first introduced and started. The idea. to develop a race track at Whitemore came from a guy named Clifford Burkholder. He got together with a small group of men and started the Whittemore Race Club, which still owns the track today It's a group of 12 people who manage this wonderful event and they meet monthly on a volunteer basis to oversee the operations of the classic venue. today, the track can host over 1-500 spectators and is a total non profit project. The history of the Whittemore racetrack dates back 75 years.  The inception of the track was first developed as a dirt track mixed with clay and then covered with oil to keep the dust down and keep the drivers safe.  The history of this historic event obviously goes way back in time.  It's a story in itself that race fans really should take an interest in. Racing is racing. And if you're a true race fan and you want a unique experience, visit the Whittemore racetrack in Whittemore, MI. The races are always great and the hospitality is second to none. On behalf of the I-500 board of directors. We want to express our heartfelt appreciation to the Whittemore racetrack club and staff for hosting our booth and supporting the I-500 summer tour.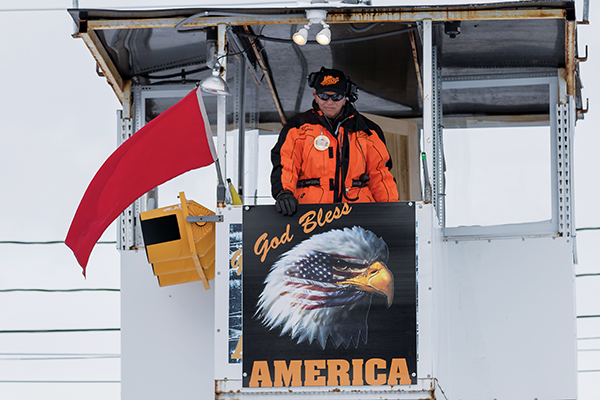 OK race fans, it's time to get into high octane race mode. With only a matter of weeks ahead of us, we are fast approaching the 55th. running of the International 500 race. Which by the way Is always hosted. the first Saturday in February each year. This issue. I'm gonna take y'all into the area of the infield during the segment titled Tech chatter.
Since you just read about the Whittemore racetrack, let me share the iconic connection. Whittemore and the I500 share in common. I'm speaking of a legend on the track of both auto and snowmobile racing. I'd like to introduce to you Mr. Roger Britt. the official flagman for the I-500 for twenty consecutive years. Roger is a 77 year young Racing veteran who turned flagman and hails from the community of Turner, Michigan. Roger started his racing career back in 1977 racing autos and snowmobiles at the same time. His first race led was a 1970 " snow jet " And raced for a team titled " Van's Sportshop ".  In 1971 Rogers started racing on a 650CC Arctic cat king cat In rate for a team called Tucker's hardware, which is out of AuGrey, Michigan.
As a contributing writer. I recently had a Sunday sit down with Roger and asked a series of questions related to his racing and the transition into flagging for the International 500 race Hosted at Sault St Marie, MI.  So race fans sit back, grab your beverage of choice, and let's go over the sit down with legendary Roger Britt.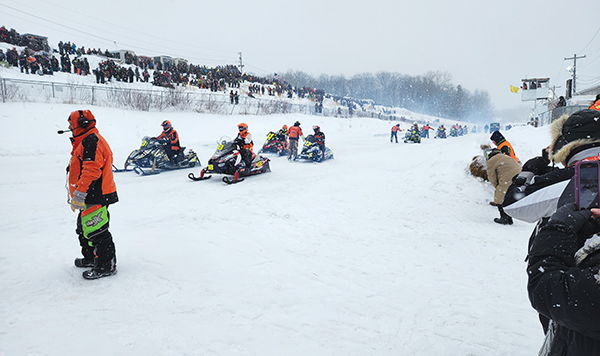 Ric: When you made the transition from racing to flagging, what trip'd your trigger to wanna be a flagman?
Roger: It's kind of funny. I never intended to be a flag man. One Whittemore monthly meeting I was simply appointed. We needed a flagman for auto racing and the committee basically said, you're it, roger. And that's where it all started back in 1971.
Ric: I know you have to be alert and ready at all times when you're flagging. What do you feel is the most important aspect of being a flagman?
Roger: Without a doubt, it's to be ready at all times to put the proper flag out in an effort to keep all drivers and flag men around the track as safe as possible at all times. You have to be alert and ready at all times, because everybody on the track depends on you.
Ric:  So you actually got started flagging at the Whitmore race track. When did you first start flagging at the International 500 race? And how did that come about?
Roger:  Yeah, that's correct. I got my start as a flagman at Whitemore. And I flag my first race at the I=500 back in 1991.  My experience racing snowmobiles got me known within the snowmobile racing arena. And some people knew I was flagging at Whittemore as well.  As Luck would have it, the Internet the International 500 was in need of a flag man. And I was approached by the acting race director at the time.  Of course, I had raced at the I=500 track before and it seemed like the race director felt it was a good fit. I was approached and asked and I accepted.
Ric:  The International five hundred is a lengthy race, usually taking six to eight hours to complete. During the I500 race. Do you have a backup flag man? Or do you get spelled for personal brakes?
Roger:  I actually. flag the whole race and usually get breaks for bathroom and for food at every plow break, which is every 100 laps they plow to clear the snow dust off the track. I do have a backup if necessary, but usually find enough time to take care of personal matters on my own without any issue.
Ric:  Today, at the famous I-500 mile oval track. The flagstand is enclosed on 3 sides.  It's heated and is perched high above and over the track. When you started flagging the I-500 were you using a flag stand, or were you standing on the ground?
Roger: Well, back then, when I started flagging at the International 500 I stood on the ground for the whole race.. Believe me, you have to be tough. Sometimes it was really cold. From that point on I actually told the race director when I was asked to flag the I-500 again, I told the race director, I'll only do it if you build a flag stand high above the track and over the track.  The I500 called upon good ole Tommy Bauer, who built a beautiful stand over the track.  I can't thank the Bauer family enough.  The I500 flag stand has become my 'race track man cave'.  It's simply a blast to be in there. Thanks again. Bauers!!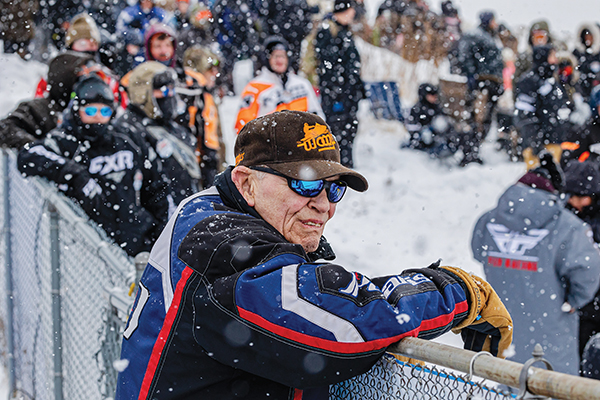 Ric:  Roger you've made it clear communication between you and the stand and officials trackside is very vital. How do you know when to put out a flag, be it a caution flag or other type of flag?
Roger:  The order to put out a flag depends on the need. other than a yellow flag meaning. caution, the order comes from the race director. Yellow is posted as needed from various trackside officials Strategically positioned around the track. Communication between all track officials and myself is done by virtue of high tech radios.
Ric:  For those who don't know what flags are used and what color of flags mean, can you give the readers a list of flags and what they stand for? Roger,
Roger:  A green colored flag is for starting the race. A yellow flag means caution. a red flag means slow down and come to a slow stop A black flag means pit immediately. and there could possibly be a penalty. A white flag means only one. lap to go. And of course, the checkered flag means the winner takes all.
Ric:  After the Dreaded Covid, You decided to retire from flagging altogether? What will you miss most about not being the flag man at the International 500?
Roger:  Boy, I think I'm gonna miss everything. Being in the flag stand high above the I-500 track, and seeing the sleds come out of turn four. Straight at me. Just a fly'n.  Lol, I'm a true speed junkie. I love being in the stand where sometimes I can see things about to happen before they actually happen. Believe me, I usually have one hand down the yellow flag most of the time. And a lot of the ability to see things about to happen comes from my past experiences in racing and flagging throughout the years.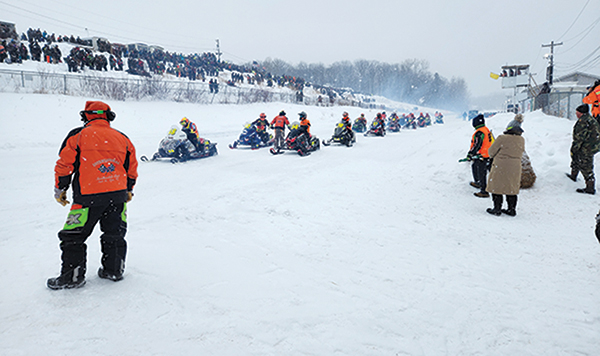 Ric:  Roger, in your opinion, do you feel the I-500 summer tour was positive for the sport of oval ice racing and the International 500 race and why?
Roger:  I certainly do. The Summer Tour informed people who are race fans about the sport in general and the International 500 race. It gave race fans insight to winter sports and racing in winter. There are people who enjoy winter sports that don't know much about the International 500. This tour helped educate people about the sport of oval ice racing and the granddaddy of all of them, the I-500 race.
Ric:  How would you describe the International 500 snowmobile race to someone who's never been there to see it live?
Roger:  If you're a fan of racing and you like NASCAR racing, you'll love the International 500 snowmobile race. It's like  NASCAR on ice.
NOW…… I'm gonna shake your trackside with Tech chatter, and we're gonna speak with one of the International 500 race committee track officials.  Recently, I had a Sunday set down. with a person who officiates trackside between turns one and two at the International 500 venue. We're speaking with trackside official John Babcock, who hails from the Sault St Marie, Michigan community.  John's involvement as a volunteer for the International 500 was due to. a long family history of volunteering for the race.  John's parents volunteered for decades, and his brother Mike is a seasoned veteran who raced at the International 500 track many times.  The volunteering efforts on behalf of the Babcock family started in the mid 1970's and have continued ever since.  John's personal initiation into officiating at the International 500. came as an "arrow board" person, working trackside, providing direction to the drivers on the track.   In 2018. John began officiating and flagging in turns one and two at the International 500. He continues to officiate at this same location today.  Let's fire up the sled and head into turns one and two with John Babcock as I asked John about many aspects of his involvement. with the I-500.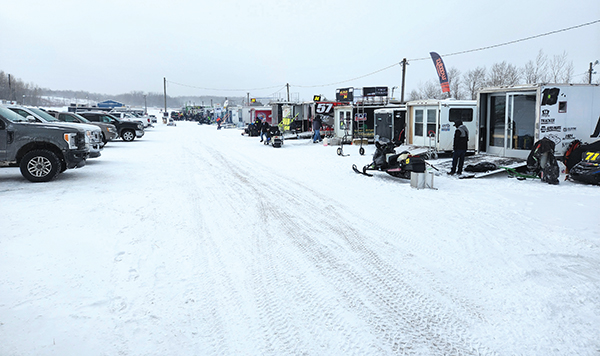 Ric:  John, as a track official whose trackside, what do you feel is your primary objective?
John:  Obviously safety is paramount and my first concern. It's important to keep calm and make certain I'm communicating well with others officiating and who are on my radio frequency.
Ric:  When trackside as an official, there must be a million things that go through your mind during the race. What are some of those things on your mind?
John:  Flagging as a track official, one of my responsibilities is to help control the pit entrance, which is between turns one and two, making sure drivers are aware of pit row accessibility.  I'm also. observing drivers and their sleds for any parts that may be coming off the sled which could be a potential hazard to other racers.  Another thing I think about all the time is my response time for putting out a yellow caution flag as necessary in order to get drivers to slow down.  I'm also in a position to assist other officials should there be a wreck or mishap, if necessary.  I consider radio communication extremely important and during the race I know relaying information must be clear, quick and accurate.  One important fact is it's important to be clear So you can be understood and it's equally important To use radio etiquette.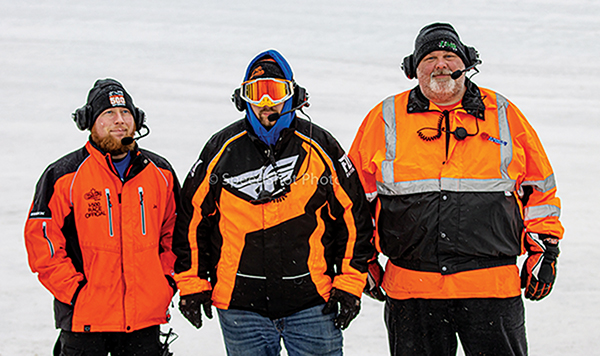 Ric:  John, we all know you gotta be tough to be a trackside official. You're out there for hours on end. Do you get personal brakes from time to time? Or how does that work?
John:  I usually Get. Two 20 minute breaks during the race. any other time I can get someone to spell me for personal breaks if necessary. All officials get a backup person to fill in if necessary. Plus, we have plow breaks every 100 laps and that gives us a few extra minutes for relief.
Ric:  The International 500 has a week-long series of events that happen on the track. You're officiating all week for time trials and more. What do you enjoy the most? Do you enjoy officiating time trials or the main International 500 event?
John:  I really like working midweek and time trials. I work both turns 1 and two, since we have a smaller group of officials working mid week. Working both turns keep me busy. Keeps me moving and I get less cold on the main event race day Plus we have a full officiating crew and my area is more condensed and as an official I concentrate more on my area and my responsibilities. Don't get me wrong, I love every bit of what I do at the International 500 main event race day is just so exciting.
Ric:  What do you do to protect yourself from the cold elements when you're trackside all day?
John:  Yeah, about that. I set my gear out daily before heading to the track. I make certain I wear a layer of apparel and take hand feet warmers as well. I always have a couple of changes of socks, and that's extremely critical. I have a face mask that I use, and I make certain I have really warm gloves and good hats. 
Ric:  John. How would you describe the International 500 to someone who's never been there or seen it live?
John:  As a race fan myself, I'd say the International 500 is extremely fast, exciting and fun to watch. The I-500 is a great place to connect with friends, meet new people and have a great time. It's a party atmosphere for individuals and there's something for the whole family to do. Simply put, it's great racing, good friends and good food. The I-500 will be something that each person attending will remember the rest of their lives.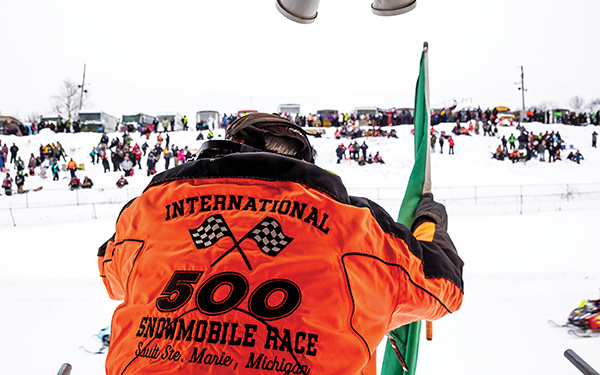 Ric:  You've been involved with the International 500 for years on end, from volunteering as a track official to currently serving on the International 500 Board of directors  as well. In your opinion do you feel the I-500 summer tour was a success and why?
John:  I love the fact that the I-500 participated in a summer tour at so many auto race venues. It. was a super idea, and it educated people about the sport and the I-500. Thousands of people witnessed and learned more about the I-500 and I feel that's really important.  The fact that race teams and drivers helped by putting race leads on display at the I 500 booth was awesome. It's what we do collectively from promotion of the Rays to promotion of the teams and drivers as well. Racing isn't over simply because it's fall. Auto Racing ends and Oval Ice Racing begins. It's racing all year round and the I-500 is something these people would simply love to see. They need to. come on UP and enjoy good ole U.P. racing hospitality.
Ric:   John, Thanks for taking time to share your input with our readers. It's truly appreciated.
Next issue is the November issue. Tech cheddar will have a set down with I500 race director In race committee director Bill Cryderman.  The man in charge below the hill……
Folks, For additional I500 information. visit the I500 website at www.i-500.com. Don't miss the 55th. running of the I-500 2024.  Make you plans to attend now!!
Till next time……
" It's all left turns from here…" •