By Melissa Sullivan, Contributing Writer
Off-road racing, a realm once considered a male-dominated domain, is undergoing a remarkable transformation. With engines roaring and dirt flying, a new generation of trailblazing women is shattering barriers, setting records, and proving that the thrill of off-road racing knows no gender bounds.
Michigan Snowmobiler & ORV Magazine is celebrating the rise of fearless female competitors in motorsports because the off-road racing landscape is evolving. Daring ladies all ages who are stepping out of the spectator stands and taking the wheel, challenging the notion that motorsports are solely for men. Their journey is marked by resilience, passion, and a shared determination to rewrite the narrative of what's possible. As an off-road racer myself, I am excited to bring you their stories.
I met Aubrey Honeycutt racing at Twisted Trails  Off Road Park in the RBOR Off Road Race Series. This race was an endurance race where we were in our SXS for 1.5 hours racing through the woods with 30+ other SXS. I instantly had to say hello and get to know her because it was about time I found another lady as excited about the sport as I was.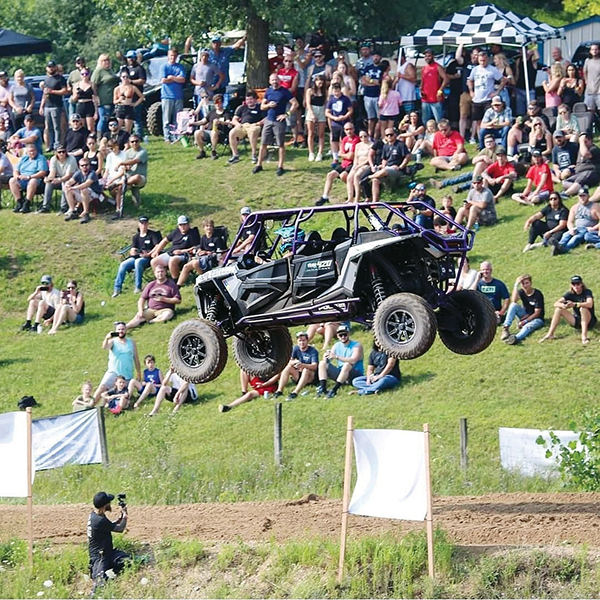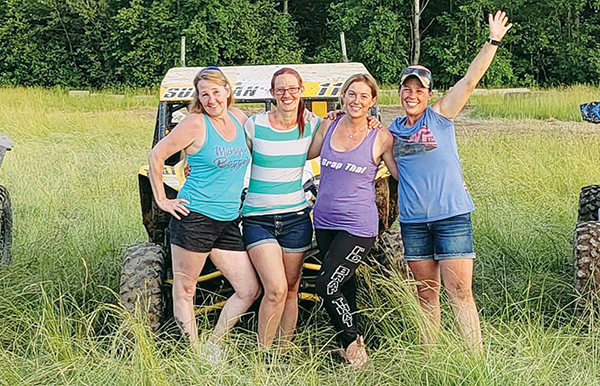 And exited she is, her family races year round. SXS in the summer & Snocross in the winter. "Racing has become such an integral part of our lives over the last few years & in turn has pushed me to adapt to different lifestyles."
Since that first race we since have raced together on many different types of tracks, we were always cheering each other on even as competitors. Beyond the competition, a strong sense of community exists among women in off-road racing. The ones I've race with want to uplift one another, share experiences, and create a network of support that transcends the track. Through social media, forums, and events, female racers encourage each other to push boundaries and break through barriers. Many of these ladies I have raced alongside, some I have even encouraged – okay many begged – to race for the first time.
I envision a future where gender is no longer a topic of discussion in off-road racing. I hope to see a diverse and inclusive community where women are celebrated for their achievements on the track, just like their male counterparts. As more girls see women like us breaking barriers, they'll be inspired to chase their dreams fearlessly, no matter how unconventional they may seem. The thrill of the race is amazing but there is so much more that a woman can gain from experiencing off road racing.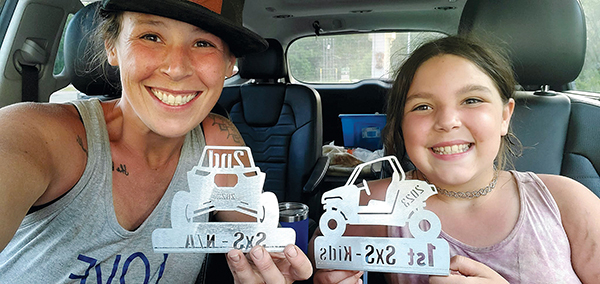 Aubrey's journey into off-road racing…
"Racing has allowed me to grow in many different areas, the biggest one being how to overcome self doubt. My husband and I both used to work from home, while I homeschooled our daughter. She began racing Snocross in 2020. In the Fall of 2021, my husband Garry started a new job at the local Powersports Dealership, leaving ME to be the primary chauffeur/trailer hauler/pit crew right before the winter season started. I was so nervous. I had never hauled a 32ft trailer by myself before, especially to an unfamiliar track that's 2 hours from home, on icy roads!! … I didn't know how to make sure Emma's snowmobile was running properly. I wasn't rehearsed in using the generator or propane heater. All of that, & so many other "what ifs" crippled me with anxiety. But, it was time for me to step up & learn OR step out & be done for the winter… I started the season parking as far away from all the other trailers as possible, giving myself ample room for errors.
Each race, I gained a little more confidence getting closer & closer to the track/pit area, eventually making it to Front Row Parking for the Season Final!! That year, Emma went on to win the State Championship in her 200cc class, as well as earning the title "Racer of the Year" for the Michigan Sno-X Series!! My heart could have burst with pride for everything we had both overcome together. Life is always ready and willing to throw you challenges. Racing is the same way. No matter how prepared you think you are, there is always a lesson to be learned. If you stick with it when things get hard, whether it be on the track, in the pits, or all of the other commitments in between, that's when real progress gets made & growth is inevitable."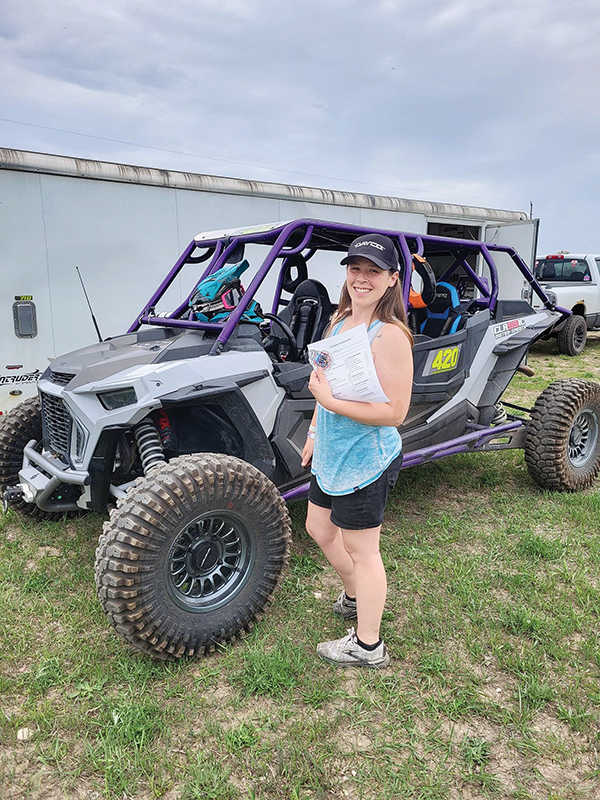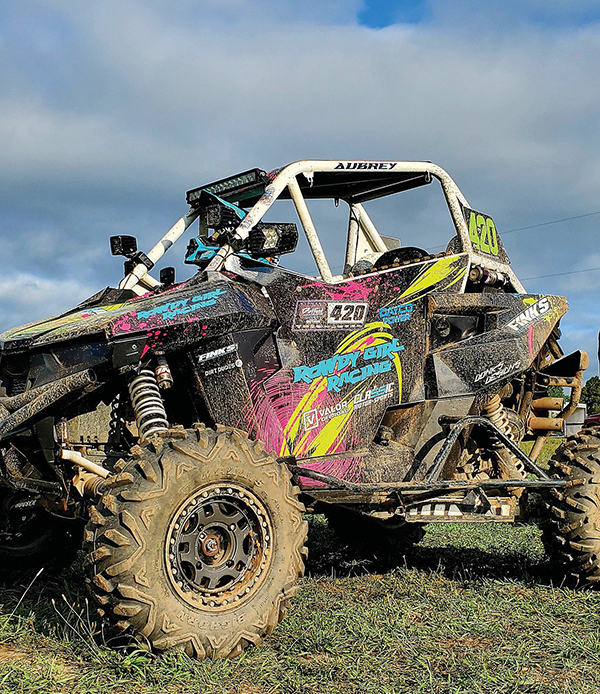 What are some of the challenges that you have faced in this male dominated sport?
"SXS/racing/driving definitely carries the stigma of being male dominated, which can make it a very intimidating sport to step into as a female. Although, recently it seems there has been a slight influx of other women driver's, it's fairly common I find myself one of, if not the only female, signed up at a race. I usually feel like the odd "man" out at the driver's meetings & although I've never been outright told I don't belong behind the wheel, I've had plenty of conversations that have implied I drive "like a girl" or that I'm not viewed as an equal.
On the other hand, I also consider myself incredibly blessed to have a strong support system in my corner, that happens to be primarily men. They are my circle of friends, who I consider my hype men, just because of how pumped up they get for me!! On the days I don't have faith in myself, I rely on them to keep me going!
Truth be told, I've never registered for any races myself… They have all been on the whim of my amazing husband, Garry, who signs me up for these incredible experiences, all because he believes in me. He is my primary coach, mechanic & pit crew and absolute biggest supporter. I think it truly depends on those you choose to surround yourself with. There are plenty of men who welcome women in the field & think they make a great asset to the Powersports Industry. For those that don't feel that way, don't let them dull your shine.
Genders don't play a role in our car's ability. It's just up to us to prove them wrong and show them Girls Drive Too!!"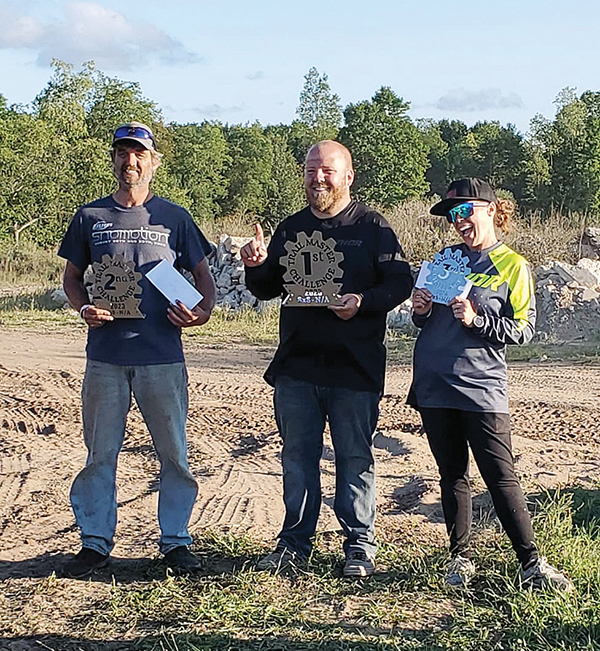 What has been your Favorite Race so Far?
"I would have to say my favorite race, so far, was the 2021 Midwest Dirt Fest at Valley Motocross. It was my first time participating in an event of that caliber & I was SO scared to hit the track!! At the time, most of my driving experience had only been slow-crawl/wheeling & hitting jumps at Silver Lake Sand Dunes.
Dirt Fest was fast paced on a Short Course Track, with huge table top jumps & door to door racing with significantly more experienced drivers. I was way out of my element & miles outside of my comfort zone.
I struggled HARD. The level of skill needed to drive this track far exceeded anything I had ever driven before. It took several practice laps & a lot of coaching/encouragement from fellow racers to teach me how to maneuver my car over the 110 ft jumps, and around the hairpin corners safely & efficiently. By the end of the weekend, I was soaring confidently on my own & had even landed in the Top 5 for the Long Jump Competition!! I was in total disbelief & absolutely on Cloud 9 with my accomplishments!!
This will always be the milestone event that I started to believe in myself. This was the event I proved to myself, MAYBE I really am a driver."
Like Aubrey, I also that I felt I had to prove myself over and over again. Overcoming these stereotypes and earning respect based on my skills was a significant hurdle. As more women like myself entered the scene and showcased their talents, it became evident that skill knows no gender. Organizers, fans, and fellow racers have gradually come to recognize and appreciate the capabilities of women in this sport. We still have a long way to go, but the progress is heartening.
What message do you have for young women aspiring to enter off-road racing?
"Do it. If you have an interest & the means of doing it… then RACE!!
Doubt kills more dreams than failure ever will. There will always be reasons NOT to do something. But, you only get one life to live, so live it to its absolute fullest!
I don't race to beat anyone else (although winning is a LOT of fun). I race, because for the longest time I never believed I was good enough too. I take on hard races & tough tracks to prove to myself that I AM capable of more than I give myself credit for. I sit at the start line of every race with butterflies in my stomach & self doubt booming between my ears. Then, the green flag drops and all that noise goes out the window.
Do I win every race? Of course not. But, every race I've run has taught me something new. Every race I've run, I've come out a stronger driver & believing in myself more than I did when I started. To me, that in itself is a major win!! It's an incredibly powerful feeling to accomplish something you once thought was unachievable. It resonates with you & you carry that confidence with you everywhere, even outside of racing.
My favorite saying is this: "She believed she could. So, she did". Ladies, trust me when I say you are FAR more capable than you think you are. Sign up for the Race. You've got this!!"
Aubrey's journey in off-road racing is a testament to the power of passion and determination. As she continues to conquer rough terrains and challenge the status quo, her story inspires us to rethink the limits we place on ourselves. Through her resilience, she's not only breaking her own goals but also paving the way for a more inclusive and exciting future for women in off-road racing.
"[My] goal is another podium position & hoping to edge into the Season Points Podium!!!" •