"Teamwork makes the dream work," this Michigan sports club has figured out how to pull their members together to make a more inclusive membership.
By Terri Norey, Contributing Writer
The members of Kalkaska County Snowmobile Association knew that times were changing. It became obvious that another motorsport was quickly immerging on the trail scene. In 2017, KCSA realized a new challenge, how-to live-in harmony with both snow machines and dirt vehicles. Change brings opposition because of the unknown. At that time, KCSA had members who were a part of the founding organization who were die-hard snowmobilers.
We also had new members with young families that wanted to ride all year round. When we sent out a survey, we found that a substantial percentage of our members owned both snowmobiles and ORV's. Our meeting discussions involved questions. Will the ORV's tear up the snowmobile trails? How would the money be handled? Who would be allowed to join?
The Board of Directors were tasked with researching what a dual club would look like and to make a recommendation to the club members. The Board's presentation showed that with a few language changes to our Bylaws, a name change with the government and a new T-shirt logo, KCSA could conquer the challenge.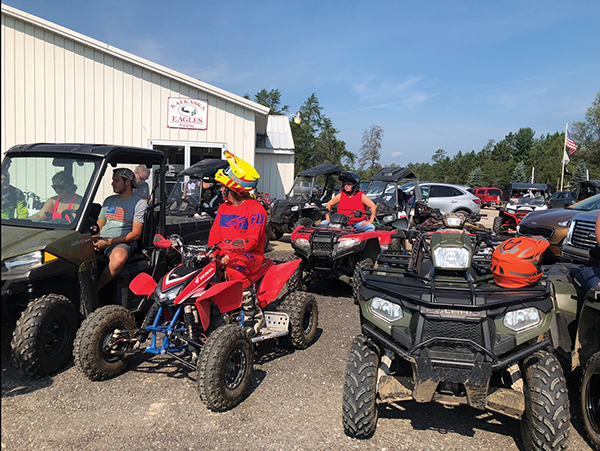 In April 2020, Kalkaska County Sand and Snow (KCSAS) was born! A club where anyone with a motorized vehicle was welcome. We became an organization where all toys could play together in the sand and in the snow.
To begin the process of becoming a dual club, KCSAS developed a common mission and goals to move us toward being one of the best-known trail systems in Michigan. Our mission statement needed to address the basis for our nonprofit classification, Michigan 501 C7. This classification supports nonprofit organizations that are classified as social organizations. Equally important, we have been a State Grant Sponsor through the Michigan Department of Natural Resources for both the snowmobile and the ORV programs. This is how we have become a trail system that is recognized for having well-groomed and graded trails. These trails need year-round maintenance so that motorized trail enthusiasts can travel safely and enjoy the sports that they have a passion for. With all of this in mind, KCSAS decided on this mission statement: To maintain and grow a recreational trail system beneficial to the community and those who visit, while providing camaraderie and social opportunities for all who share the passion of motorsports.
The trails are the heart of our organization. The safety and well-being of our community as well as our guests is foremost. This could not happen without a dedicated group of individuals, that came together with various expertise's to form a team. A successful club must look at their members' strengths and tap into their talents. Some members make the best cookies! Some know how to plan great fundraisers; others know about community politics and finances. Then you have the people that are experts in trail maintenance and equipment repair. To thrive, a club needs commercial members who are willing to support your cause. It is our belief that, "Teamwork Makes the Dream Work."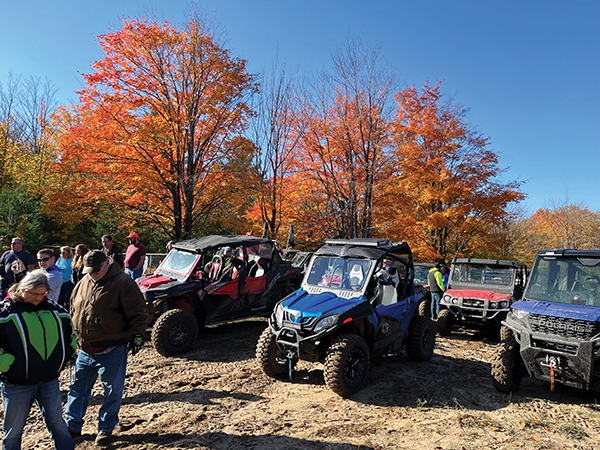 The Kalkaska County Sand and Snow teams grade 92.5 miles of ORV trails. Our trails are in Kalkaska County Michigan. Locally they are known as the Blue Bear and the Cranberry trails. On the state map, they are trails 76, 79, 791, 679. Riders can park and enter the trails at the M72 parking lot trailhead or at the Starvation Lake parking lot trailhead. Both trailheads are east of the village of Kalkaska. We have two teams of grader operators that maintain the trails. The Blue Bear team grades to the north of M72 and the Cranberry team grades to the south of M72. They share a John Deere 8120T with tracks and an old, modified snow drag that is only used in the dirt. The club purchased the John Deere in 2012 when it was written out of the snow program.
Our trails are a minimum of 10 feet wide. We brush the trails 12 feet high and 12 feet wide. We grade all the 72-inch routes in Kalkaska County. We do not grade the 50-inch or 24-inch trails. Due to the dramatic increase in the ORV community and the explosion of side-by-sides, we now grade 40 to 50 hours every other week. We also grade just before and after a holiday. This is a drastic change from our old schedule where we would grade four times a season. At that time, it would take 15 to 20 hours to get the job done. Most of the increased time is spent on pulling the dirt back into the curves and flatting them out. Some riders enjoy the high banks, but our job is to make the trails safe for everyone at every ability level. By keeping up with the trail grading, we also keep them in shape for the snow season.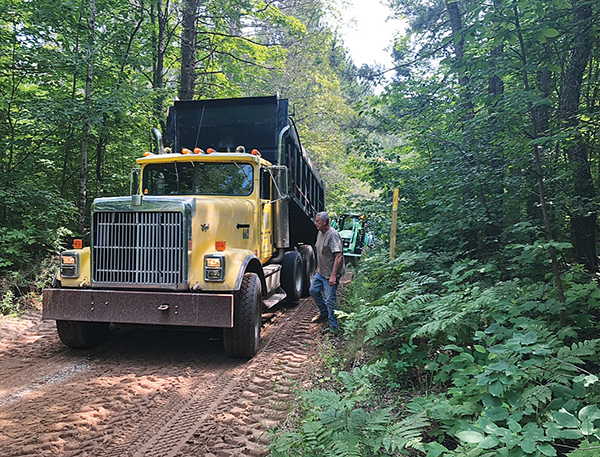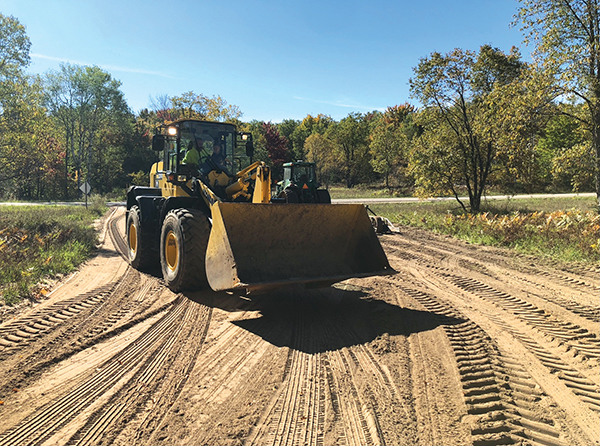 Every fall and again in the spring, many volunteers make sure the trails are cleared of brush, branches and trees that may cause harm to riders on the trails. Between the graders/groomers and the riders themselves, we are quick to remove debris daily all year long. Last fall, we recorded over 100 hours of brushing.
Then there is the social part of Kalkaska County Sand and Snow. We have 300 dues paying members in our club. Members can join our club easily, by going to our website, kalkaskacountysandandsnow.org. We have members from all over the United States. In addition to our paying members, we have 4,772 Facebook members.
KCSAS holds events all year. We have "Meet and Greets" at commercial members' establishments. Club members introduce themselves to trail riders. We educate riders about trail safety, tell them about our club, and share free food and conversation. KCSAS holds club rides. We vary them by having day rides, night rides, joint rides with other clubs, and member-only rides. Twice a year we hold a fun run. The public is invited to play card games and gather for delicious smoked ribs dinners. Once a year, at Christmas time, the club picks a community project to help fulfill a need in Kalkaska County.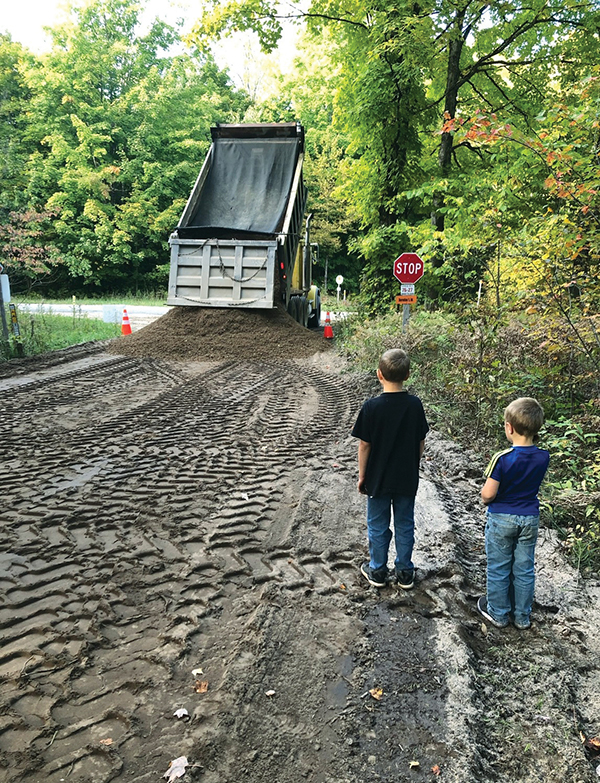 An important part of our club's success comes from the help that we get from our commercial members. The businesses in Kalkaska County are very generous when it comes to helping us raise funds for projects. We have three businesses near our trails. Two of the businesses are on Starvation Lake Road near the Starvation Lake Trailhead. The Starvation Lake Corner Store is a gas station and convenience store. They support us by providing a space for us to have Meet and Greets. They also are kind enough to provide hot dogs for our concession stands. The Hideaway Bar and Grill is about a quarter mile away from the store. They host events where the proceeds are donated to Kalkaska County Sand and Snow. They also provide free pizza for volunteers that work brushing the trails each fall. The Bear Lake Inn is located near the M72 parking lot. They also sponsor many events where the proceeds are donated to KCSAS. The owners of Bear Lake Inn also feed the volunteers that help with brushing the trails. When visiting our trails, be sure to patronize these businesses. You can find a full list of businesses that support KCSAS on our website.
If your passion includes motorsports, dirt trails, and fun with friends, then set your GPS for Kalkaska Michigan. Book a room at the All-Seasons Resort (855-797-6733) mention Kalkaska County Sand and Snow to receive a 10% discount. Check for information about the club's events at kalkaskacountysandandsnow.org or reach out to us by email at info@kalkaskacountysandandsnow.org. We would love to welcome you to our playground. •