By Joyce Wiswell
Keweenaw County residents were so intrigued by the idea of forming a search and rescue organization that a few hundred showed up for the initial meeting last year. That's pretty huge in a place as remote and sparsely populated as the Keweenaw Peninsula, says Sheriff Curt Pennala.
"We had an overwhelming response and out of the couple of hundred people who showed up, we were able to draw 35 to 40 members," he says. "Search and rescue can be kind of a thrill and a lot of people want to help out and give back."
It's a service that's been needed, he says, especially since the Keweenaw has exploded in popularity in the past few years.
"Since 2020 we have had some exponential growth in tourism, which has increased our number of trail rescue calls. That's when we started talking about it," says Pennala. "The writing is on the wall for us."
Or, as Deputy Sheriff Matt Eberly puts it, "Covid discovered us."
"We are getting more and more people here," says Eberly, who spent 23 years as a conservation officer with the Michigan Department of Natural Resources before joining the sheriff department. "There are some sections of trail that my wife and I used to hike and we'd see only a couple of people. Now we are seeing 100 people — and I mean 100."
All Hands On Deck
Among the members of Keweenaw County Search & Rescue are a number of volunteer firefighters and medical first responders. "We are a fully equipped volunteer team that also encompasses trail rescue. We will respond to calls through the county trail system for ATVs and snowmobiles, and extract injured patients for the EMS," says Pennala. "All members have radios and the whole group is pageable and all set to go."
The organization secured a garage in Allouez to house its rescue equipment, some of which was purchased new by Keweenaw County.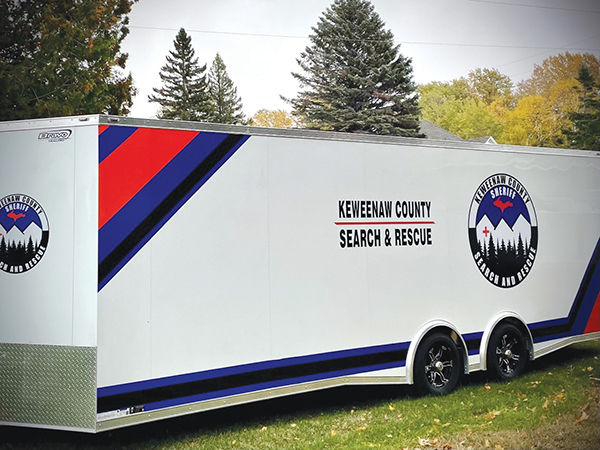 The new group supplements Superior Search and Rescue, a non-profit organization that services the counties of Houghton, Ontonagon and Keweenaw at the request of law enforcement agencies.
"They are really good at what they do but most are [Michigan] Tech students. We are not trying to replace anyone, but we can mobilize people much faster to get the initial search going. The way I refer to it is, we are building the Marine Corps while they are the Army," says Eberly, an ex-Marine who likes the rib the head of Superior Search and Rescue – who happens to be ex-Army.
A rugged, remote area like the Keweenaw Peninsula presents unique challenges. Since cell phone and GPS service is sometimes spotty at best, it's not that hard to get lost on while exploring the area. "We are working to get our legislators involved to get more funding for rural cell service," Pennala says. "It's definitely something we contend with, and why we always recommend the buddy system so that if someone gets hurt, someone can run and get help."
Notes Eberly, "People come up here and rely on technology and it doesn't work in the Keweenaw  a lot, especially in the summer in the thick cedar trees. There are so many dead spots. Even our handheld 800 megahertz radios have so many dead spots."
Making Their Mark
Pennala is grateful to the brand-new trail marking system that's been spearheaded by a resident named Joe Schneller to honor his late wife, Linda. Schneller has placed signs at half-mile intervals along popular trails that match GPS coordinates, so when someone calls 911 they can be quickly located.
"Sometimes when we get a call we can get just a general description like, 'I'm somewhere between Gay and Lac La Belle.' That is a huge area!" Pennala explains. "This new system will greatly improve response times. Joe put hours and hours into private fundraising, putting the stakes into the ground and capturing the data. Our No. 1 goal is getting to patients in a more timely manner. Our motto is, minutes save lives, and vague locations are half the battle."
The Sheriff's Department urges off-roaders to keep safety in mind. Last year saw the county's first ATV fatality in many years, Eberly says, when a local man doing donuts had his machine flip.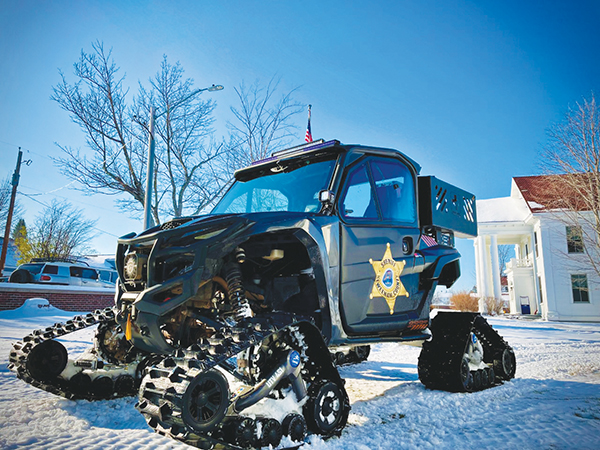 Nevertheless, he says, "ATVing is probably the safest summertime activity we have. We humans always remember the idiots racing by you at 60, more than the good people. We have much more mountain bike accidents." 
Eberly strongly advises off-roaders to wear both helmets and seat belts and to ride to their ability, noting that many trails can be rocky. And, he says, take your time to soak up the  gorgeous surroundings.
"If you're going 35-40 down our trails you are not seeing anything. Enjoy the scenery and slow down and you'll start seeing stuff," he says. "Most of our trails are on private property. Up in this area we are such a small community, so if you respect people and respect the land, you are welcome back."
"We work with the Keweenaw ATV Club and they have become a very responsible and proactive club, the type you want to work with," Eberly says. "They have gone a great job with trails, signage and pushing for safety."(Visit www.keweenawatvclub.com for trail maps and other information.)
Pennala says tourists are always welcome, but he asks them to remember they may be out of their comfort zone: "We have some of the best trail systems in the state but they are remote, so be prepared," he says. "We want everyone to have an enjoyable experience." •