By Mike Olmstead
Like the swallows of Capistrano, so are the Jeeps of Drummond Island!! For the last 30 years or so a group of Jeepers get together every June for what has become a fixture on the Island's summer calendar: The Annual Drummond Island Jeep Jamboree! Almost 300 Jeepers and over 130 Jeeps come to the Island every year for two days of trail riding, bonding, camaraderie, and just to take a break from the everyday rat race!
Drummond Island sits at the northern most end of Lake Huron at the mouth of the St. Mary's River. You get there by driving east on Michigan's Highway M134 from I-75 through the eastern end of Michigan's Upper Peninsula. Forty five minutes later you get to the picturesque little Village of DeTour, where you catch a 1-mile 10-minute ferry boat ride across the St Mary's River to Drummond Island. 
Once there, you will find that Drummond Island is not a small place by any means! It is 129 square miles of rocks and forest, has 150 miles of shoreline, and has 36 inland lakes on the island itself!!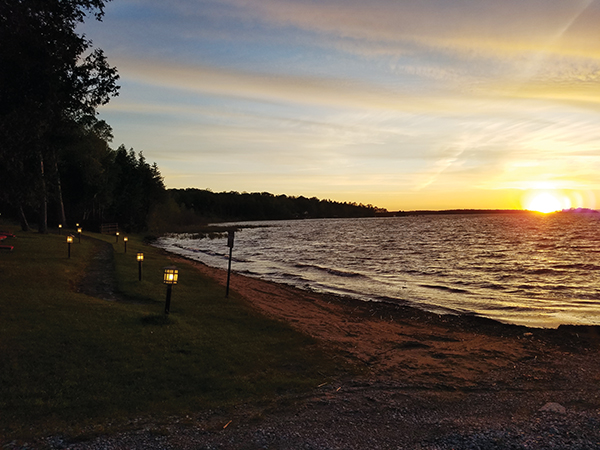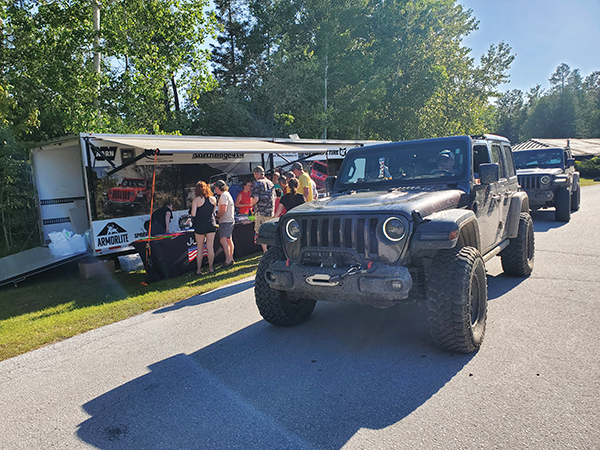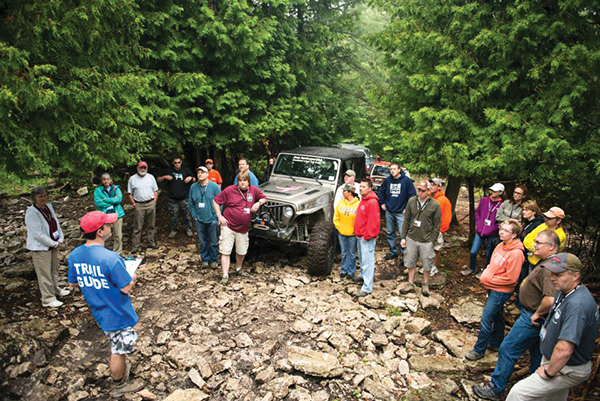 The Island's nickname is "Gem of the Huron", and a gem it is!  It is described as a 'sportsman's paradise,  and just about anything you can do outdoors you can do on Drummond! From Jeep & ORV trail riding, to hunting, fishing, boating, hiking, camping, snowmobiling, kayaking, and cross country skiing. About the only thing missing is downhill skiing, but there are plenty of other things to do to make up for that!
Jeep Jamboree's Mark Smith and Bobby Lague discovered this gem in 1992, and consequently launched the inaugural Drummond Island Jeep Jamboree the following June.  At that time Drummond Island was virtually unknown in the Jeeping community, except for the local residents and a handful of 'outsiders'. But not for long! That Jamboree eventually put Drummond Island on the map of 'go-to' destinations for Jeep & ORV recreation.
So what is a Jeep Jamboree? A Jeep Jamboree is a fully catered two-day trail ride for 4×4 Jeeps only. They are designed to cater to every level of driver so they're fun for everyone – from novice to veteran and everyone in between.  The Drummond Island Jeep Jamboree also provides breakfast, lunch and dinner each of the two days participants are on the trail. Jeepers are separated into small groups of 15-16 Jeeps each, and head out to a different section of the trails.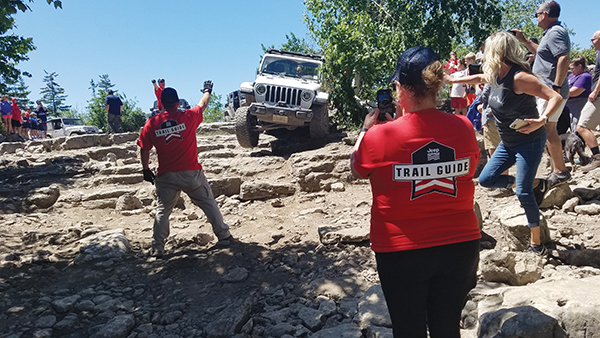 Keeping participants safe is a cadre of experienced trail guides, with at least two trail guides and their Jeeps riding with each trail group.  Drummond Island Trail Guides have an average of 12 years' experience as trail guides on the event and an average of 24 years' experience four wheeling! Their first job is to make sure everyone stays safe, and they do this by operating and leading Jeeps in a safe, responsible, and helpful manner. However, their "second job" is making sure all the Jeepers have a marvelous and memorable experience, and they do a fantastic job at that, too! 
The event kicks off with registration on Thursday. Scores of Jeep enthusiasts anxiously line up for a vehicle safety inspection by trail guides. From there they move on to trail selection where experienced trail guides will help them choose the trail that's just right for the driver. Here Jeeps are sorted by size, capability, and driver comfort, and separated into groups for the trail ride.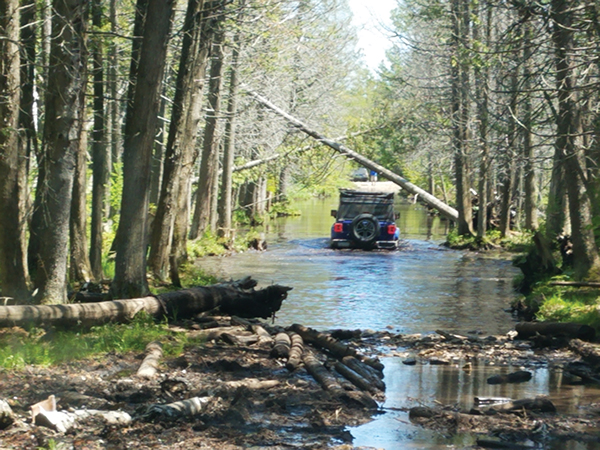 The first day of trail rides begins the following morning when all the participants meet at the Drummond Island Town Hall for a quick breakfast provided by the Jamboree. Jeeps are lined up in pre-assigned groups from registration the previous day.  Jeep Jamboree holds a mandatory driver's meeting at about 8:00 AM where the local coordinator goes over a preview of the days trail riding, quick weather & trail report, and the do's and don'ts of the trails. For instance, regarding potty stops: "Facing forward in your Jeep, it's guys to the left and gals to the right. Why? Because women are always right!"
About 8:30 the trail groups start rolling out one by one, each rolling out to a different trail head. Even though there are 130 Jeeps on the Island, they are broken into eight groups, only occasionally do they bump up against another one of the trail groups.  The Drummond Island Jeep Jamboree staff does an excellent job of organizing and routing the various groups such that they may only see two or three other groups throughout the day.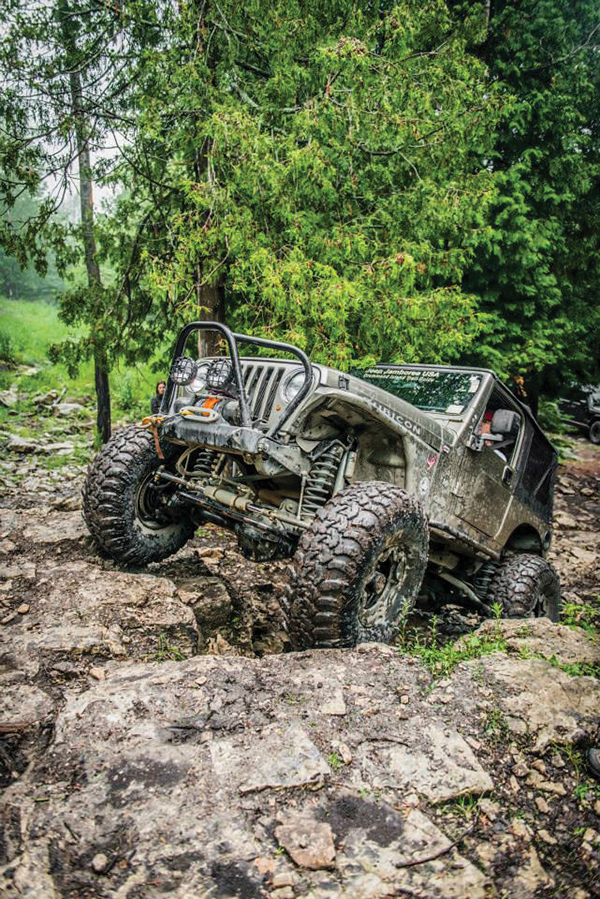 Friday starts with half of the trail groups riding trails on the east side (the 'Marble Head' side!) of the island, while the other half rides trails on the west side of the trail system.  On Saturday the groups just "switch ends", thus ensuring every participant sees all the features offered by the Drummond trail system. 
Drummond's trails are characterized by lots of rocks, water, and in some sections of trail some pretty icky gooey mud! As opposed to some trail systems where challenging sections or 'obstacles' are connected with tame two-tracks, on Drummond the trails themselves are the challenge! Drummond trails wind through a wooded landscape of cedar, pine, oak, maple, poplar, birch to name a few. And it's common to see a variety of wildlife while on the trail. Deer are common place, and bald eagles and bears occasionally grace us with a visit!
Since we are talking about the trail rides and trails this is a good point to say a few words about the Drummond Island ORV Route system.  The Island has an extensive ORV trail system of over 100 miles or so, but only those portions of the trail labeled "ORV Route" – about 40 miles of trail – are open to full size off-road vehicles, which include Jeeps, 4WD trucks and sport utilities, and side-by-sides. The full trail system is open to all other types of ORVs such as ATVs and dirt bikes. The ORV Route sections were established in 2007 by a coalition made up of Michigan DNR, Drummond Island Offroad Club, Great Lakes Four Wheel Drive Association, United Four Wheel Association, and (of course!) Jeep Jamboree USA. This is the only closed loop trail system for full size ORVs in the State of Michigan.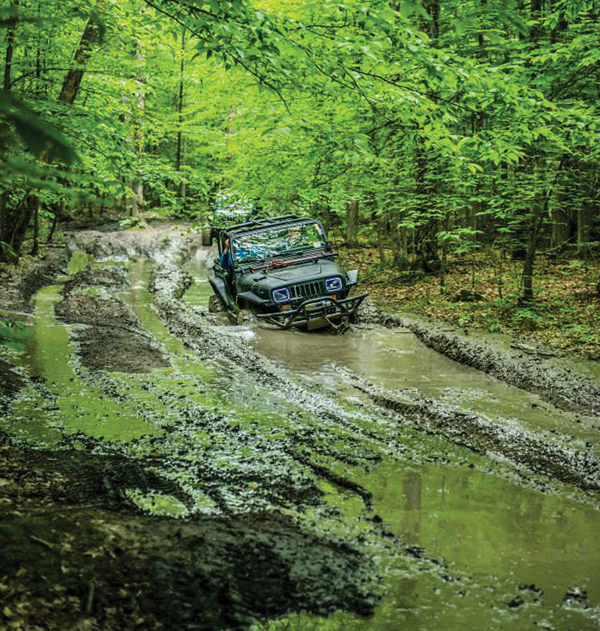 Each group breaks for lunch around noon, and groups doing the Marble Head trails pack out a box lunch provided by the Jamboree and picked up before the morning drivers meeting. Groups doing the non-Marble Head trails are treated to a hot lunch at the Turtle Ridge Off Road Park.
The Jamboree includes trails at the Turtle Ridge Off Road park to add variety and challenge to the Jamboree. Some of the participants will do a whole day at Turtle Ridge, other groups will do a half day with the other half on ORV Route trails.  
The highlight of the trail system is Marble Head on the east side of Island. This short trail off the main loop culminates at a short series of challenging downhill rock steps, and participants navigate the steps at their own discretion. Trail guides are always present, however, to 'spot' drivers down and up the steps.  We park in a large area at the bottom and take about a 100 yard hike out to the Marble Head at the bottom. 
And here is the prize on this trail: A breathtaking view of Lake Huron from rock bluffs soaring 90' above the rocky beach below, looking down at the tree tops in the thin strip of forest between the bottom of the bluff and the rocky beach.  Every Jeep in the event makes the trip to Marble Head, but to be fair, some participants pass on the ride down and up the 'steps', park at the top and opt to start their hike out to the edge of the bluff from the top of the steps instead.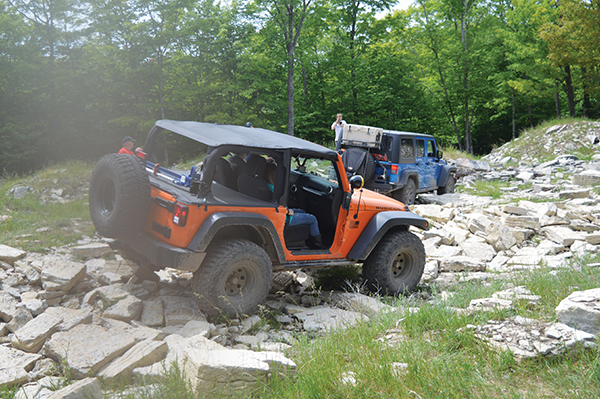 After a Jamboree-provided lunch, groups hit the trails again for an afternoon of Jeepin'. More trails and lifetime memories for everyone! By supper time of the Friday trail ride everyone is (besides being hungry!) getting to know their Jeep-mates and looking forward to a fine meal back at the Drummond Island Resort's Brooder House. 
And then we do it all again the next day, the only difference being the flip-flop of trails mentioned earlier! The group you rode with on Friday, however, is the same group you ride with on Saturday! The main reason we do that on Drummond is the connections and camaraderie that develops as a results of a close shared experience. We find that on Friday morning  it's "uh, hi, how ya doing?", Friday afternoon it's "That was pretty cool stuff!", Saturday morning it's "I'm ready to go again with these folks", and Saturday night it's a few new friends for life!!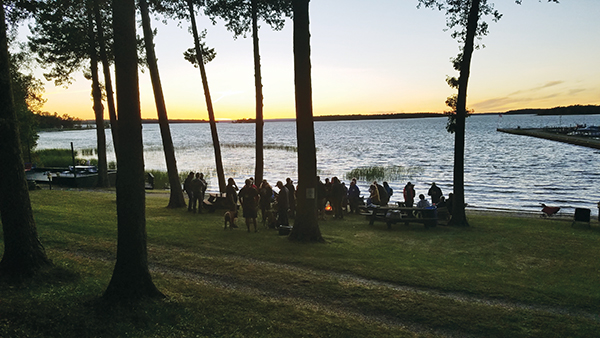 Jeep Jamboree wraps the whole thing up after dinner on Saturday with a short program. Key people and organizations are recognized and thanked. Door prizes – from tow straps & gloves to winches & tires are given away to lucky participants. 'Special' awards are handed out to participants for things like the oldest Jeep, oldest driver, furthest traveled, newest Jeep, etc.! And when that's all done everyone heads out to the nearby beach for a Drummond Island campfire! 
The Drummond Island Jeep Jamboree is only 1 of 39 other Jeep Jamborees throughout the country, from Maine to California, and from Texas to Wisconsin! They are all managed pretty much the same, i.e., Thursday on-site check-in, trail riding Friday & Saturday, and a great dinner Friday and Saturday evening when the trail riding is over. Some of the Jamborees also provide breakfast and lunch like the Drummond Island Jamboree.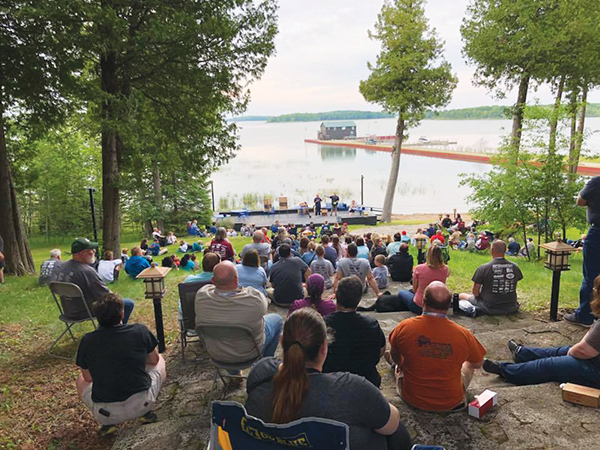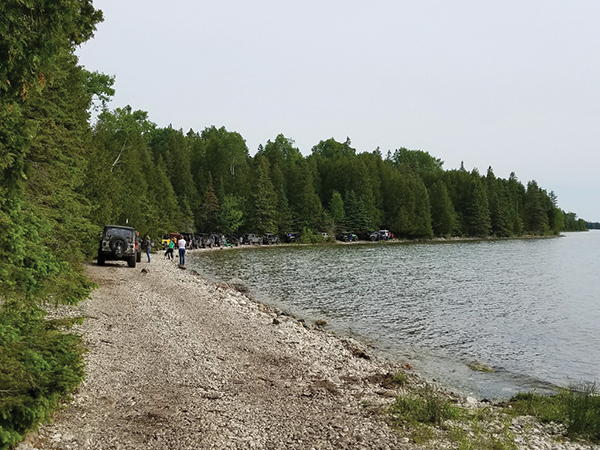 SO, if you're thinking of going on the Drummond Island Jeep Jamboree, or any other Jeep Jamboree, you can register in December when online registration opens for the forthcoming year's Jamborees, at  www.jeepjamboreeUSA.com.  Note: These events sell out fast (the 2023 Drummond Island Jamboree sold out in six minutes this past December!!), so check the website in November to see when registration opens for the event you may be interested in attending.  
Finally, a quick word about Drummond Island itself.  As noted earlier, Drummond holds a number of top-shelf outdoor opportunities.  Lying at the very eastern tip of Michigan's Upper Peninsula, it's not a place you get to by 'accident' or are just 'passing through'! Everyone you run into on the Island are there 'on purpose'! I can testify from firsthand experience that they are a friendly, helpful, and pleasant bunch of folk! 
Whether you head up to Drummond for the next Jeep Jamboree, or to ride the trail system on your own, or just to take advantage of the myriad of other outdoor opportunities, it's worth the trip! •