Engineering Towards Customer Needs
By Ross Daniels, Contributing Writer
For over 28 years, R&R Trailers has been manufacturing quality aluminum trailers in the small, Southwest Michigan town of Three Rivers. What started as a single prototype open trailer in a small Midwestern garage as the brain child of Robert Brewer and Rick Daniels has blossomed into a company that sells hundreds of different models and sizes all across the nation with sprinklings of trailers overseas and across international borders. 
One question that gets asked just as often as "How much does it cost?" is "What does R&R stand for?"  The answer: "Rick and Robert;" The two names of the originators who breathed life into the brand. While the name maybe short and simple, it's truly symbolic and representative of the dedication and pride that two men put into founding a company that they wanted to stand behind their own names.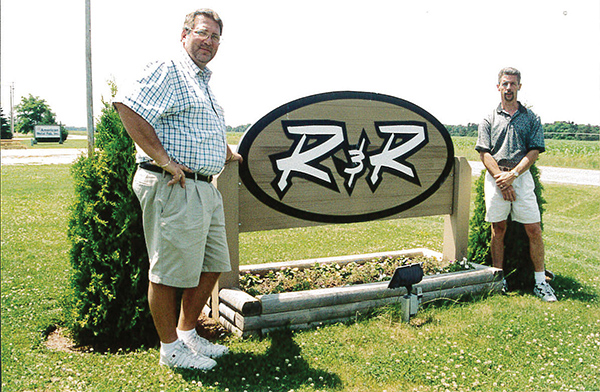 With years of sales under his belt and knowledge of the industry, R&R Trailers Co-Founder Rick Daniels believed that the market was in need of an open snowmobile trailer that was produced with quality in the forefront but kept low margins and sell it at an honest, fair and affordable price. While Rick Daniels held the spirit of the vision, he needed someone to help bring it to fruition. In the summer of 1994, Rick Daniels, at the time working for Leland Engineering in White Pigeon, MI approached life-long friend, fellow graduate and engineer with Viking RV, R&R Trailers Co-Founder Robert Brewer, with a proposition to fulfill this industry need and personal dream. R&R Trailers was born.
Starting off in the garage of Robert Brewer's father, Rick and Robert put together a prototype open snowmobile trailer that would match the vision.  The trailer was marketed to snowmobile dealers within a deliverable radius of Three Rivers, including Michigan, Indiana, Ohio, Illinois and Wisconsin.  In anticipation of what they believed in, Rick and Robert opened up their first factory building and hired the first batch of employees. To their excitement, orders were placed for the open snowmobile trailers and the journey of a small manufacturing business was underway.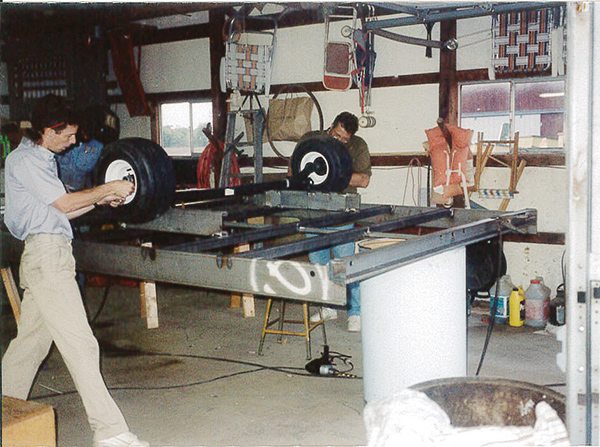 After having success with the open snowmobile trailers, Rick and Robert were encouraged to bring a capped enclosure to market that would integrate onto the open unit.  At the time, most snowmobile trailer manufacturers built the open trailer separate while other manufacturers built the cap enclosure. R&R Trailers' success stemmed from their ability to manufacture both in-house and offering a complete capped snowmobile trailer to dealers that was sled-ready from the factory.  This iteration of trailer would be known as the "Northern Lite" capped snowmobile trailer.  To this day, R&R Trailers still services original late 90's and early 2000's model Northern Lite cap units that are in use with no signs of slowing down.
With the needs of customers met who required open trailers and cap trailers, the next product to come off the line and hit the market was the SnowFire. The SnowFire, a unit still manufactured to this day, was R&R Trailers' first fully enclosed snowmobile trailer that offered both a rear ramp door and a front ramp door for ease of loading snowmobiles in and being able to drive them out. While cap units were already able to accomplish this, the headroom of cap units was significantly lower than what would be capable with a fully enclosed trailer. Original SnowFire models included an industry-unique accommodation in that both front V-nose walls were turned into ramp doors, allowing the customer to pick which side they wanted to utilize to drive in or out depending on how many sleds they had and the positioning that were most convenient for them. Original SnowFire trailers over 20 years old are still on the road today as a testament to the quality which these trailers have been manufactured.  The SnowFire is still in the R&R Trailers snowmobile lineup as of 2023, making it the longest continually manufactured model in their lineup as well as in the snowmobile trailer market as whole.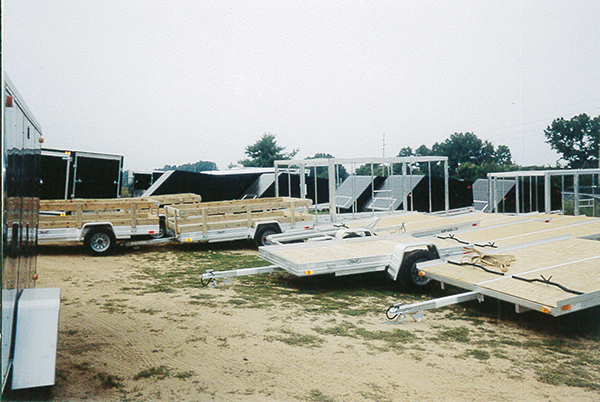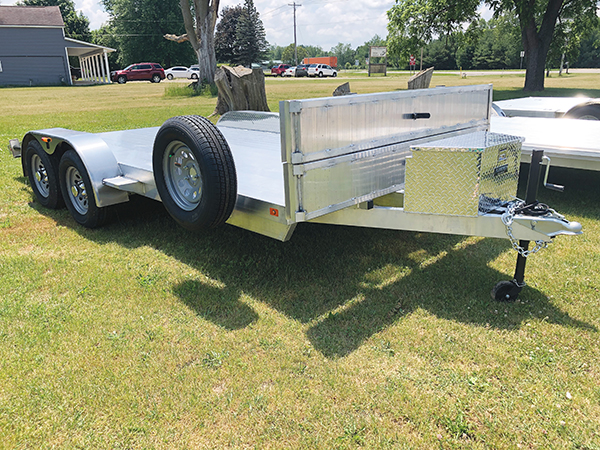 Enclosed trailers have continued to be a staple for R&R Trailers, not only for snowmobile trailers but also for cargo trailers as well. The signature enclosed cargo trailer line for over 20 years has been the VDC Deluxe Cargo series. While there are many variations through the trailer market, R&R Trailers was the first in Michigan and one of the first overall to have manufactured an enclosed cargo trailer with a bright anodized rounded roof corner instead of a dull finish or a squared-off angle trim. R&R Trailers was also one of the first trailer manufacturers to incorporate a self-mating door perimeter in a heavy duty cargo trailer, a key component that is still included in all VDC Deluxe Cargo and PSD PowerSport Deluxe trailers to this very day.
Continuing with innovation of the industry, R&R Trailers has been at the forefront on models and features that have grown like wildfire throughout the market. One of R&R Trailers' original ideas was the implementation of car hauler ramp storage at the front of an open aluminum car hauler.  This created a massive benefit for customers in that the ramps would be able to double as a stone guard to protect the vehicle that was being towed on the trailer without having to spend additional money on a rockguard front. To this day, R&R Trailers continues to build all open car haulers with this same design and it has consistently been one of the top selling open aluminum car haulers. Another unit that R&R Trailers helped bring to market was the enclosed hybrid snowmobile trailer; a trailer that was dual purpose for snowmobiles and ATVs that had the design shape of a cap trailer but was a full body construction with a rear ramp door. Many iterations of a hybrid trailer exist across the industry, but one key characteristic of R&R Trailers' ARC hybrid is the beavertail frame construction on 12' models; a feature not replicated by other manufacturers.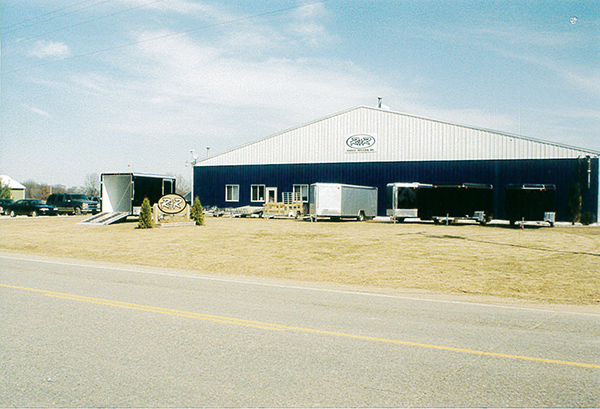 In 2007-2008, Rick Daniels and Robert Brewer made the decision to leave the traditional system of selling strictly to dealers and went towards a new factory-direct format. The decision was difficult and not done lightly as it would shake up the entire business and market as a whole, but it was a tough necessity. The recession at the time had caused dealers to stop ordering trailers due to a lack of sales and a fear of the unknown. No longer being beholden to the dealer network meant that R&R Trailers would be able to control its own destiny during troubling times. Thankfully, the decision paid off, leading R&R Trailers into multiple years of unbridled and unrivaled success. To this day, R&R Trailers maintains its factory-direct model.
R&R Trailers, now in its 28th year of business, has turned towards the next generation to continue the legacy and tradition that has been the cornerstone of a successful business. In 2021, Rick Daniels retired while his son Ross Daniels purchased his portion of the business to take over administrative and sales responsibilities.  Robert Brewer continues as partner and lead engineer, while his son Brad Brewer serves as Production Manager.  Family has always been a key focus at R&R Trailers.  Randy Thomas, the sales manager for over 15 years, has had all four of his children work at R&R Trailers in some capacity throughout the years while currently his daughter, Thera, serves as the purchasing manager and his son, Zach, is the lead sales.  Many family members have worked and continue to work together in production as well.
As uncharted territory continues to be navigated, R&R Trailers remains a staple in their community and in the trailer industry as a whole.