For 55-years this snowmobile club has continuously served the West Branch and Rose City communities.
Snowmobiling in 1967 was a new and instant hit in the winter wonderland we all proudly call home that is known as Michigan — more specifically the great Ogemaw Hills of West Branch Michigan. There were dealerships popping up all over the place- heck in many cases if you bought 3 or 4 sleds of a new brand you could get a much better deal if you agreed to become the local "dealer" and hang that shingle out and sell sleds to all your friends. What with over 300 brands of sleds being made by the early/mid 70's – there were dealerships in garages, party stores, lawn mower shops, major brand stores like Sears, JC Penny's , Montgomery Wards ,  tractor dealerships, car dealers- you get the point.   
West Branch was no different — except for a place called "Frank Alley Sales Ski Doo," which in the early 60's was one of the first large scale Ski Doo brand dealers in the state right here in West Branch Michigan.   It was built by Frank Alley and his family. Frank and a bunch of his fellow sled nuts and friends also decided it was time to organize a formal Snowmobile club in the area- so they all met on Dec 10th 1967 and finalized and formalized their efforts by starting the Ogemaw Hills Snowmobile Club (OHSC).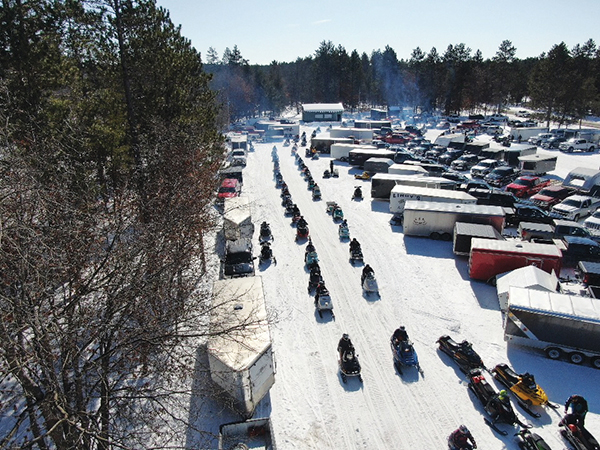 OHSC, for the last 55 years, has continued to grow and serve our local sport and community at the same time. We have never had a break in service and are currently one of two snowmobile clubs in the state that have been in continuous service since starting in 1967.     
Some highlights from the past; OHSC was the first club in the state with an on site "pavilion" that was built at the south end of our current location, with outside BBQ grills and an "official" DNR style outhouse, so this became a gathering place to park and ride from but also to stay and have an outdoor winter (or summer too) picnic and share in the days tales from the trail.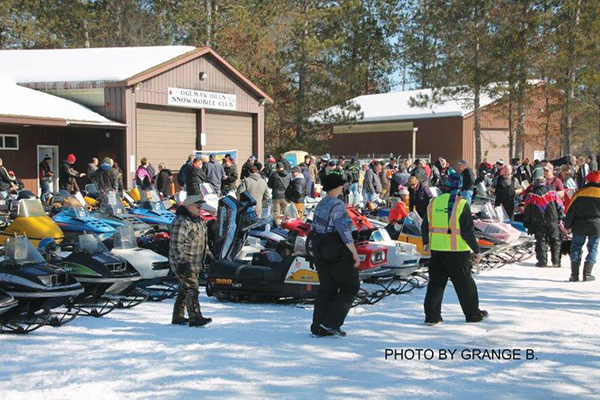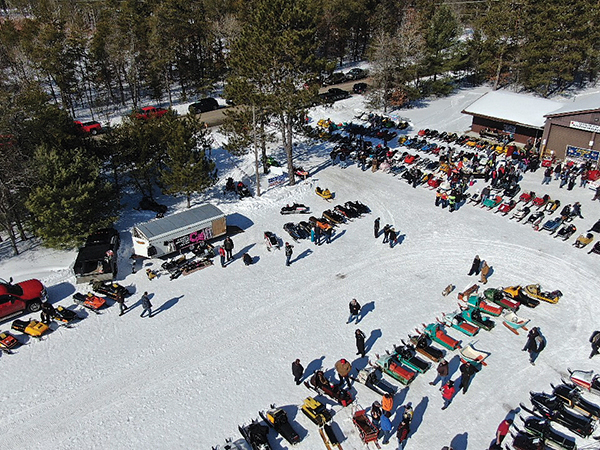 OHSC was also one of the first clubs in the state to have a formal "warming hut" out on the trail- and this remains a pride and joy of our club to this day. The club works hard every fall to cut, split and stack umpteen face cords of good dry firewood for use all winter long at the OHSC  "Bob & Noretta Humperts Memorial Beanpot Warming Shack" on trail 6. The fire pretty much burns nonstop for 4 months, warming up riders from all over the snow belt. They can also grab info sheets on our club and even join the club from the bulletin board – or just double check the map to see where they have been or where they are going. We host a "free hot dog roast" at the warming shack most years, and this goes over very well too.     
Speaking of trails, the members from OHSC work very hard to maintain almost 110 miles of some the most picturesque and fun trails in the middle of the mitten!   We have lots of elevation changes, curves, several distinct changes in the surrounding geological and natural features, some hidden gems such as a few overlooks that you'd swear you are in upstate N.Y., and lots more. All while enjoying some of the best maintained trails in the state.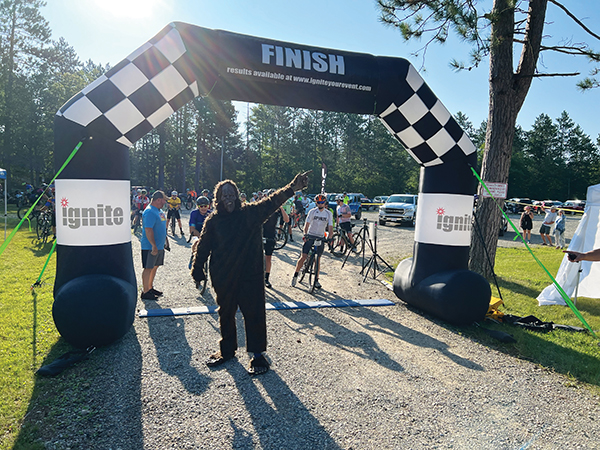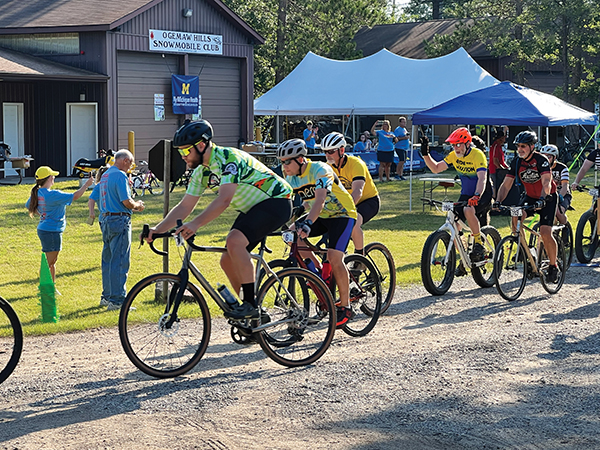 OHSC has always been a very community service driven organization too, our history books are filled with countless examples of the club doing great things for the local West Branch and Rose City communities – as well as supporting our sport along the way too.    
This continues to this day, with our club doing many very positive things to help support our local neighbors and friends, as well as to help keep growing our sport at the same time. Our recent donations are listed below.
Another really fun way we have continued to grow our club over the last 11 years has been with our annual OHSC Vintage Show, Ride and Open House- which is held the last Saturday in Feb- this year it's Feb 25th, 2023 – celebrating our 55th Anniversary.
This show and ride have grown in to one of the 'must attend" shows with a guided ride in the state.  We have had over 1000 people and over 300 old sleds in attendance the last few years and it continue to grow each year. We also gain on avg of 10- 15 new members from this event every year too.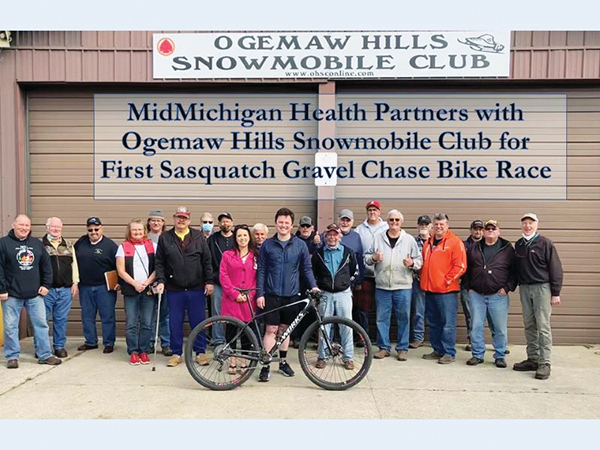 This is simply a fun family filled outdoor old snowmobile day in Michigan's great white winter wonderland here in the Ogemaw Hills. We have a huge bonfire, with our world famous "rake dogs" for everyone to enjoy (donations welcome of course) We have the club house all heated up if you need to get in out of the cold for a spell- heck sit down and enjoy the big screen with of course old sled videos playing too.    Or you may want some of the hot chocolate and coffee that our hard-working team keeps fresh (also donations welcome here too)
You can also shop at our OHSC gear display and stock up on the latest really cool OHSC gear from any era- old and new styles both!  But you really must get one of our black and white OHSC Vintage Beanies- they are spotted at events everywhere you go in the winter season- and everyone smiles when you comment about them.
Our event runs all day and is a non-judged show- bring what you have and have fun. We have a formal Flag Raising and National anthem at 1000am,  then mid-day we have a short ceremony to honor our recent fallen members who helped get us here.   Then we draw the winning ticket for the annual "youth snowmobile raffle" and pick the name of the best grandma, grampa, mom day etc. of the year who get to give the winning sled to the family to enjoy our great sport. We raffle off a nice shape youth 120cc youth snowmobile that we have made sure is in great working order- and the ticket sales are held at our event and others throughout the year.  This is our main source for community money so everyone buys lots to help their chances.   
And then the guided trail ride is next in the day's agenda. Usually, 100 or more old sleds join us on the ride, with all going out and enjoying the guided ride through our beautiful Ogemaw hills.   We have a good sized crew of helpers following behind to drag back those that can't make the full trip- but everyone comes back with nothing but smiles and some great stories of the ride (people, stories and memories are the heartbeat of this hobby).
Our club continues to grow and expand in many other areas too- including helping support our summer dirt sports of all kinds.  We dirt groom several times a year and continue our hard work and pride in keeping our trails in excellent shape. The last couple of years we have also hosted a brand new sport to our club grounds- and that is helping host what is becoming a very popular off road bicycle "gravel race" . The Sasquatch Gravel Chase is now into its 3rd year and is put on by the Mid-Michigan Health of West Branch. This race was just confirmed as now being part of a very renowned 5 state gravel race series- as one of Michigan's 3 choice events. OHSC has really stepped up our to the plate and this event is growing at a crazy pace.    
At present we have over 185 members with 25 commercial memberships too.   But we our doors are always open and we welcome anyone who wants to join.  Info to join can be found at www.ohsconline.com  or just attend one of our monthly meetings at the club, 2nd Sat of the month at 9am.     
Hope to see everyone at our 55th OHSC Vintage Snowmobile Show Ride and Open House.
Ogemaw Hills Snowmobile Club, Founded Dec 10, 1967
2846 North Fairview Road,  West Branch MI.
www.ohsconline.com