Check out these two dining spots for real comfort food and friendly atmosphere
Nothing works up an appetite like a day on the trails, and the Keweenaw Peninsula does not disappoint when it comes to options for meals. Here's a look at two mainstays that are popular with both locals and tourists.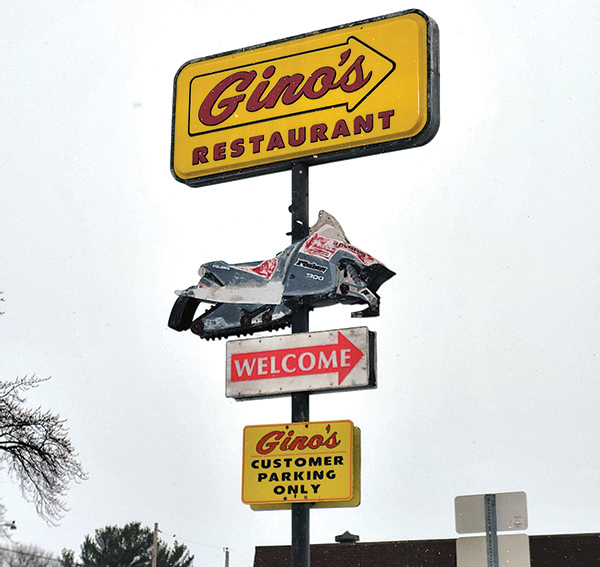 Gino's
Not only is it right next to a popular trail, its sign even features a vintage snowmobile to let sledders know they are welcome at Gino's in downtown Hancock at 800 Quincy Street.
The restaurant marks 100 years in 2023 but you'd never suspect that due to its contemporary feel. It's gone through lots of changes through the decades, not all of them for the best, and was shuttered in 2017 to the community's dismay. But it's charted a steady path forward since June 2018, when Daryll and Tracie Williams, along with a few other family members, gave it a much-needed overhaul.
"We always liked this place and one time I opened my fat mouth and said, 'if it ever comes up for sale, we should buy it,'" Daryll says. "We had to do quite a bit of work to get it up to snuff."
Indeed, the eatery had fallen on hard times and the previous owner lasted just two years before giving it back to the bank. But Gino's is now a thriving business with dependably good food and service in a warm and friendly atmosphere. The outdoor patio is especially popular and it's not unheard of to see it open on unseasonably warm days, even in the dead of winter.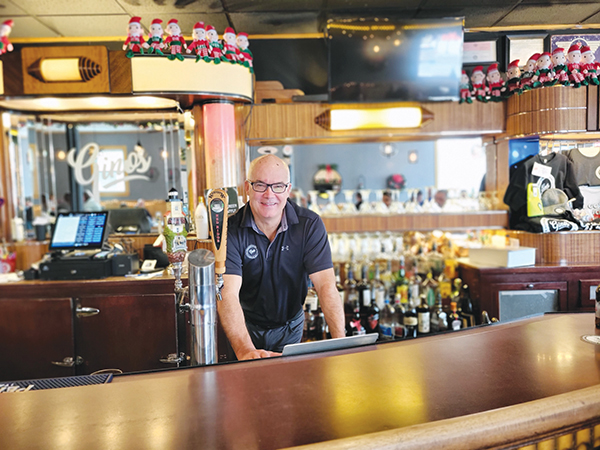 The restaurant features salads, burgers, sandwiches, wraps and homemade raviolis and signature marinara sauce; a "half and half" of spaghetti and meat or cheese ravioli is a longtime favorite.
The clientele is a mix of locals and visitors; Daryll has noticed quite a few sledders from Iowa and Illinois. "We try to make it a fun, clean environment where you can come and have a good time. We're more on the family side than anything," he says. "We are not just a bar."
Word of mouth is responsible for the brisk business the restaurant does with sledders. "We are a member of the Keweenaw Snowmobile Club and sometimes have their events here," Daryll says. "A lot of networking goes on on the trail. We have found that if you treat people good, they will spread the word."
And what about that iconic sign? "It was there from previous owner, probably since the 1960s," Daryll says. "It doesn't light up anymore, so we will probably, eventually, get it rewired."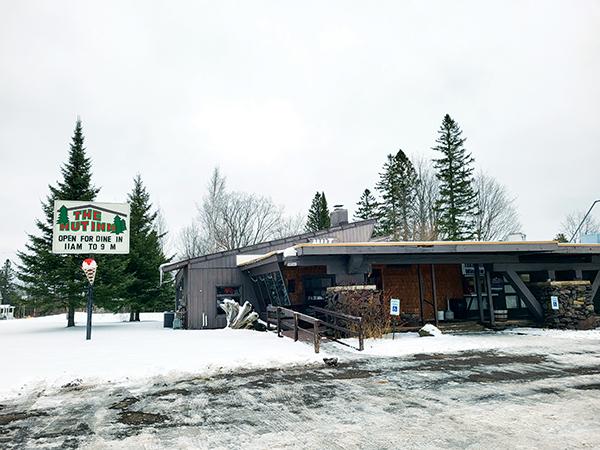 The Hut
Anyone who drives by The Hut on Highway 41 in tiny Kearsarge about a mile north of Calumet can't help wondering about what's inside. But you kind of have to see the sprawling Frank Lloyd Wright-inspired site to believe it.
The landmark restaurant dates to 1952 and has been added on to over the years. The result is an interesting hodgepodge of several dining rooms beneath a low wooden shake ceiling. There are walls made of rocks or wood planks, a lighted tunnel that leads to the back portion (duck if you're taller than 6 feet), and a small pond and waterfall that are now, alas, empty as they await repair.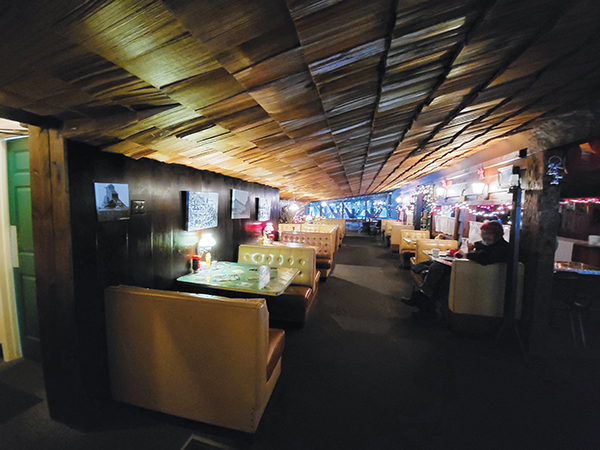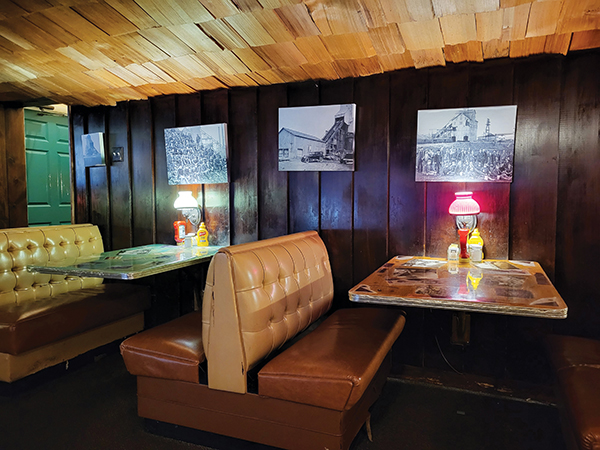 The décor is one of a kind dominated by relics from the mining days and vintage shiny booths. Each tabletop has unique surprises under its glass top. Some display old photos from the mining era or vintage postcards of Lake Superior lighthouses or freighters. One features the Upper Peninsula rendered in pennies, and another showcases old menus  (a root beer float in frosted mug was 25 cents, and a "Hut Dog Deluxe" could be had for $1.60.) It's all quite charming and cozy, and the coffee is arguably the best in the Keweenaw.
The extensive menu offers up pasta, sandwiches, burgers and salads – but no alcohol. Of note is the Grasshopper Pie — mint ice cream in an Oreo cracker crumb crust with whipped cream and hot fudge. Or, if you're feeling especially daring, try the five-pound Lucchesi Burger. Named for a man who polished it all off in a half-hour, it costs $50 (and an extra $6 for cheese), but if you can match that feat, it's free – and you even get your name on a plaque!