The World Championship Snowmobile Derby continues its great tradition of exciting action.
By Lori Wood, Contributing Writer
The World Championship Snowmobile Derby will celebrate 60 years of historic snowmobile racing with 10 days of exciting action in Eagle River Jan. 12-22.
The event is billed as the "Indianapolis 500 of Snowmobile Racing," drawing the best ice oval racers from the United States, Canada (now open to cross the border this year) and Europe to Eagle River.
"The 60th Derby will feature many new and exciting activities to highlight this year's events," said Tom Anderson, CEO of the group that purchased the track, all its facilities and properties in 2018. The property has since been rebranded as the World Championship Derby Complex (WCDC) to take advantage of all the facility has to offer for a year-round operation.
The Derby Complex has already hosted several weddings, USA Hockey Pond Hockey, muskie tournament banquets, Relay For Life cancer fundraiser, a Mud, Sweat and Cheers race, Rotary Club Antique Show, dealer meetings, swap meets, rock concert and other local events.

Long History
The World Championship Snowmobile Derby is the oldest and grandest event in snowmobile racing, dating back to the first race on Dollar Lake in 1964. The race grew in the late 1960s and '70s under the direction of the Eagle River Lions Club, which moved the race to a track between Highway 45 and Pleasure Island Road. Dozens of snowmobile manufacturers helped draw thousands of people to the event.
The Derby Track then was purchased by the Decker family, who built viewing suites, an expo hall, food service stands and a host of other infrastructure facilities.
Today, the facility boasts 30-plus acres of grounds, a famed half-mile banked oval race track that was totally reshaped this summer, a separate youth race track, 15 corporate inside heated viewing suites, a 10,000-square-foot expo hall, heated and cooled enclosed viewing stands on the home straight, full food and liquor licenses with several bars, and 50-plus flat-screen TVs to bring the on-track racing action inside to the suites, restaurant and bars.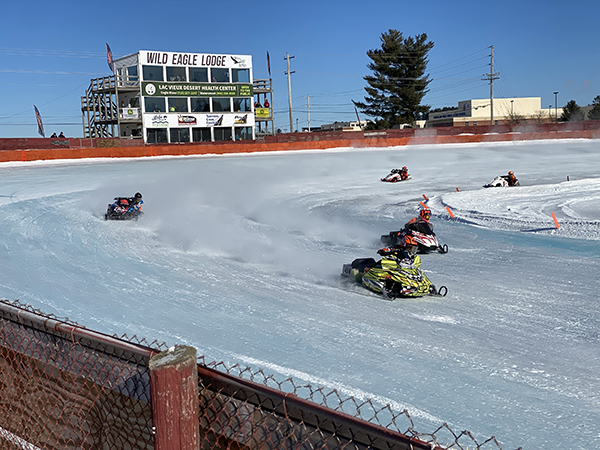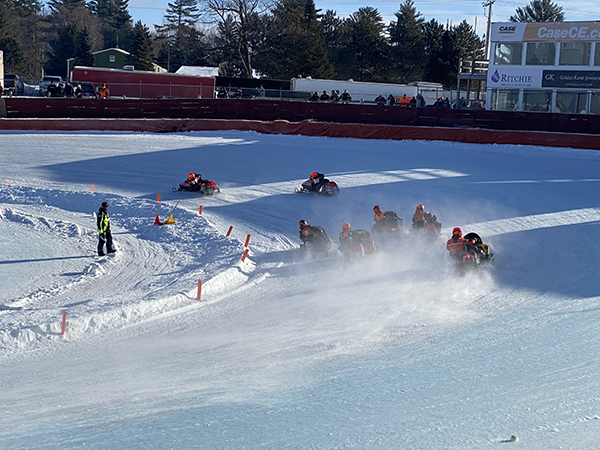 Highlights
Under the direction of the new owners, the festive 10-day Jan.12-22 show will include world-class ice oval racing beginning the first weekend with Vintage races. By the end of the second weekend, fans will have witnessed professional oval racing, Kitty Cat racing, motorcycle racing, a 100 lap enduro and two under-the-lights shows billed as Friday Night Lightning and Friday Night Thunder. The second weekend will include Badger State Winter Games opening ceremonies complete with the lighting of the BSG Olympic style cauldron culminating a two-day snowmobile ride from Wausau carrying the torch.
Oval racers will compete on more than 15 inches of pure solid ice on a newly contoured track created from more than 2 million gallons of water spread on subzero nights by a pair of 4,000-gallon water trucks starting in late November.
Last year, the new FIII World Championship Class was won by Jay Mittlesteadt of Reedsburg, WI taking home a Top Ten ring, a coveted Eagle River WC trophy and $5,000 in cash.  This year look for 35-40 entries vying for the WC title as this FIII class brings new names and color to the top class. Arctic Cat, Yamaha, Ski Doo and Polaris are offering contingency monies in the amounts of $7,000, 5,000 and 3,000 for first, second and third place finishes by their brand. It will be the first time in over 20 years that all four brands will be competing for the WC title.
"The top 10 field is so incredibly competitive that it is impossible to predict who might emerge as the new World Champion," said Craig Marchbank, Owner and Race Director, who brings a long and highly successful career of racing experience to the new owner group.
"It could be one of the racers who made it to the final last year taking home the World Championship," said Marchbank. "But then, we also saw several new, young faces on the starting line last year. So, it could just as well be any one of them as we expect upwards of 35-40 FIII entries in this new WC class.  It all adds up to great racing action on the famed Derby oval."
This summer saw the one-half mile oval totally reworked and updated. GPS systems guided the dozers, loaders and grading machines to produce a perfect track surface ready for icing and racing.
Vintage Starts First
The 2022 event will actually be a 10-day show that opens Jan. 12 with Vintage racing, culminating with the Vintage World Championship Sunday, Jan. 15. Promoters are calling it "Snowmobile Week at the World Championship Derby Complex."
"What started out to be only a couple of Vintage races on Derby Weekend 22 years ago quickly grew into a separate and complete Vintage weekend of racing action that gets a green flag to open the 10 days of exciting racing action on Thursday this year," said Marchbank. "Vintage entries and fan popularity have grown so large that Vintage racing now claims its own four-day event. We are expecting upwards of 900-plus entries," said Dan Peck, General Manager.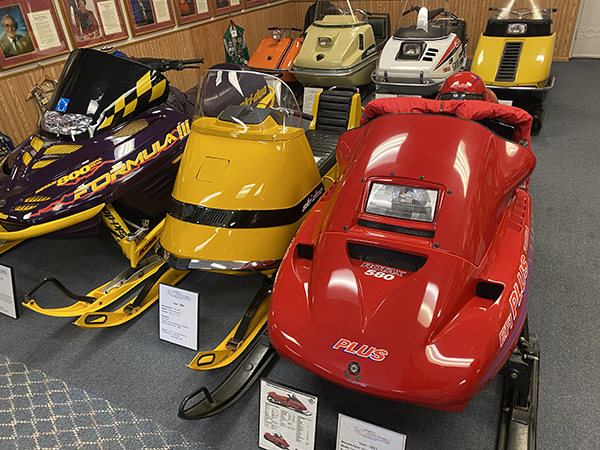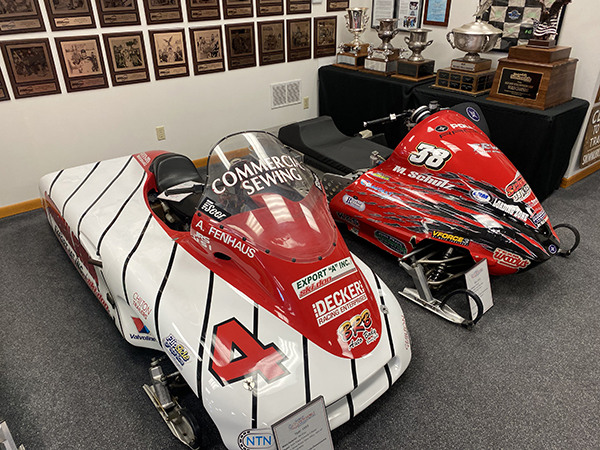 "The vintage machines of today are meticulously restored, engines are high-tech tuned and very reliable," said Marchbank. "The competition is highly reminiscent of the good old days. We expect to see a very colorful showing of many brands of sleds on the track, including Arctic Cat, Ski-Doo, Polaris, Yamaha, Sno-Jet, John Deere, Rupp, Mercury and many more." They will be competing for over $15,000 in added purse monies in various classes in addition to the normal WCDC class payouts.
The Vintage World Championship will open Thursday night on January 12th as well as racing under the lights for a spectacular Friday Night Lightning show on the13th. Then on Sunday, January 15th, fans will see more finals, reaching an exciting conclusion to the Vintage weekend with the super-fast Vintage World Championship Snowmobile Derby title race in the Super Mod 440 Class at 3 p.m. Matt Goede, a perennial favorite, will be there to defend his WC title won last year aboard his exceptionally fast Polaris leafer.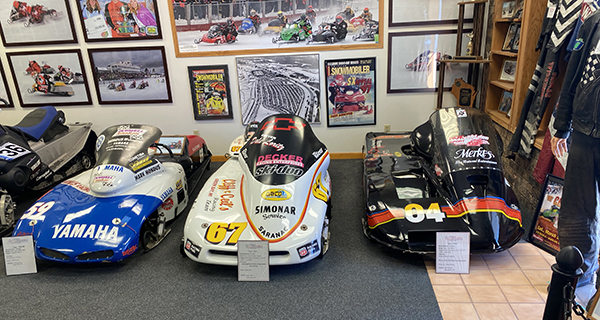 The Big Show
But the event that puts Eagle River on the world map starts Thursday, Jan. 19, with all-day practice sessions for oval racers in dozens of classes, including Kitty Cats, Juniors, Amateurs and Pro Ovals. Admission is free on Thursday.
"It is a great opportunity for fans to observe their favorite racers in action and to see who might be emerging as a strong competitor in each class," said Marchbank. 
Friday will be a full day of qualification racing in Oval classes. Then on Friday night, fans will once again pack the Derby Complex grounds for the most exciting and highly popular event — the Friday Night Thunder show.
"This is absolutely the finest and most entertaining show in snowmobile racing as the under-the-lights show features races in oval classes, juniors, motorcycles and side-by-side racing," said Dan Peck, General Manager. "We will rock the night with all kinds of 'thunder' sounds of racing and excitement, showcasing the best snowmobile racing action in the world."
The top World Championship qualifiers go head-to-head under the lights to determine who will sit on the pole in Sunday's championship race. This gives fans a heads-up on who is fastest, who has the handling and who could be the new 2023 World Champion.
"We're going to take the top 16 qualifiers, run two heat races with eight machines in each and pull five racers from each heat for the final," said Marchbank. "The winner is automatically qualified in the top 10 and will sit on the pole position for the final. The winner won't have to duel it out in qualifications Saturday afternoon."
Saturday morning will bring more qualifying in Oval classes. As in the past, Saturday afternoon will include qualifying the top 10 finalists for Sunday's World Championship event.
Sunday, billed as "Championship Day," means finals in the most competitive Oval classes as thousands of spectators surrounding the track watch and cheer for their favorites. 
The World Championship last-chance qualifier will be held early Sunday afternoon for the two back-row spots on the starting line for the 60th running of the World Championship, which will run promptly at 3 p.m.
After earning the checkered victory flag, the new World Champion will be honored in the newly created Ultimax Winner's Circle in front of thousands of race fans. The SnowGoer Cup, inscribed with the names of all past WC winners, will be hoisted in victory for the Derby photographers.
"The World Championship race is the single most important snowmobile race of the year for the racers," said Anderson. "To win the World Championship and the resulting honor that goes with it is a great accomplishment that only a very few have earned the honor of claiming."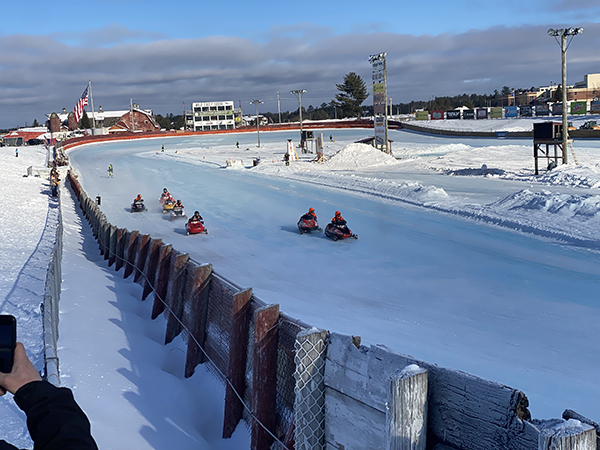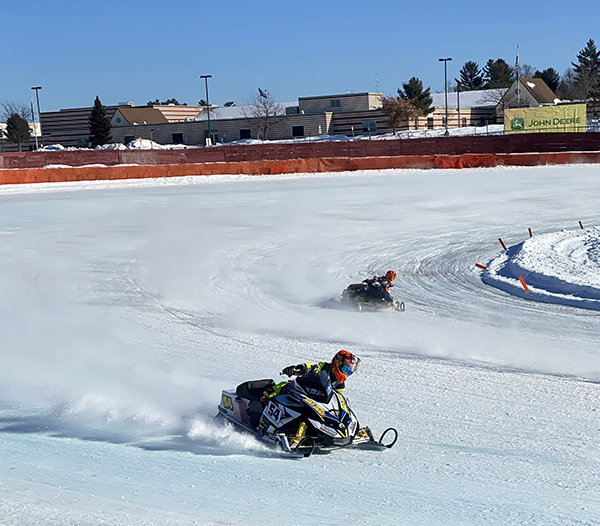 100 Lap Pro Endure
But the championship racing isn't finished. Immediately following the Derby WC festivities, the track will see over 30 drivers competing in the 100 Lap WC Pro Enduro. It's a long race for the Enduro drivers, most of whom are racers from the Michigan International Racing Association (MIRA) who are starting their 2023 season at the Derby Complex.
"They put on a great show last year and we are thrilled to have them back for this year," said Marchbank. "Both the drivers and the sleds take a beating in this grueling race. Thirty-plus sleds all racing at once create nonstop racing action."
World Series Weekend
Then, Feb. 24-26 will see the return of the World Series of Snowmobile Racing featuring both vintage, late model and enduro sleds in competition starting Friday evening Feb 24th, featuring USSA's late model classes. Then on Saturday we will run both USSA and the vintage sleds from PVA to showcase both eras of sleds. Sunday is another "BLAST" day with a mixture of PVR, MIRA and BEVRA classes.  It's an event for fans to see both vintage and late models in one weekend.
"We have combined Pro Vintage Racing (PVR), United States Snowmobile Association (USSA), Michigan International Racing Association (MIRA) and Big Extreme Vintage Racing Association (BEVRA) into one very exciting weekend of hot racing action. It will be a BLAST," stated Marchbank, who brought the four racing sanctioning bodies together for one exciting weekend of racing to close out the season
Legend Laps
The Derby Track will be hosting the second "Legend Laps" show and exhibition Thursday, Feb. 16 where drivers, collectors and racers will be able to make laps on the legendary Derby Track in a safe, noncompetitive format. It will showcase many of the famous drivers, iconic original, reproduction or collectible race sleds from the past.
"Many of these sleds have not seen the ice for over 30 years. It's a great opportunity for drivers, collectors and fans to be a part of this historic event", explained Marchbank.
Race fans can get information on advance ticket sales, Hot Seats reservations, motor home parking and more by calling (715) 479-4424 or visiting derbycomplex.com.