By Ric Federau, Contributing Writer
A musician named John Sebastian wrote a tune called Welcome Back. It happened to be the theme song for a TV sitcom titled " Welcome Back Cotter". The comedy sitcom was aired during the 60s and into the 70s. Just about the same time that the I-500 was born.  This is my lead in, it's to welcome you back after reading about the I-500 over the past few months. There are just so many aspects to this world class event that go beyond simple recognition of the sport and style of racing.  I'm going to speak about a couple that are some of the driving forces behind building excitement. Let me start by sharing some of the things people talk to us about who show sincere interest in the sport of oval ice racing and all the fun that goes with it.  Historically the I-500 has been around for 54 years. Yet we find that many people throughout the state do not know much about it.
This past November, we attended the Novi snowmobile Expo in Novi, MI. It's one of the nation's largest snowmobile trade shows, with thousands of people attending. I was amazed at how many people didn't know much about The SOO I-500 snowmobile race. Obviously over the course of 54 years people were missing out on something special, basically because they weren't educated about it and all it has to offer.
I decided to think of a question that I could ask people that would generate a response that might hopefully entice them to come to the I-500. I simply started asking people who were attending the show. The following question……"What would it take to get you to attend the I-500."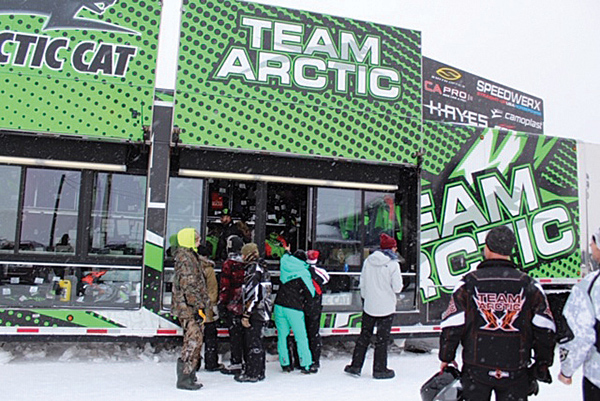 The responses were extremely diversified. People responded with questions about lodging, dinner locations, fuel cost, what other things are there to do within the community? Are there places at the race to keep warm?  Is the venue close to riding trails? Can we park our sleds there?  There were so many questions about the event, that people were not aware of. Even though for 54 years the I-500 has been and still is marketed and advertised throughout the whole state of Michigan and beyond.  
Jim Cantore of The Weather Channel network, who visited the I-500 a couple years ago to do live coverage, made the comment….. "This even is one of professional racing's best kept secrets. Someday some major network is gonna find this and they are going to embark on something new that is gonna excite the world."  His comment is simply conducive to the way we feel as promoters of this world class event. We're just anxious to share I-500 information with as many people as possible.  It's very common among us humans to want to share information about our passion. Once we started speaking about the I-500 to others we found out how willing they were to listen. The end result of sharing our information usually provides answers to the simple question "what's it going to take" to get you to attend the I-500? Fact is….. The Sault Ste. Marie community has everything major cities across the country have and more.  Lodging accommodations, restaurants, shopping facilities, fuel and the bonus of outstanding scenery & some of the best riding trails in the mid-west.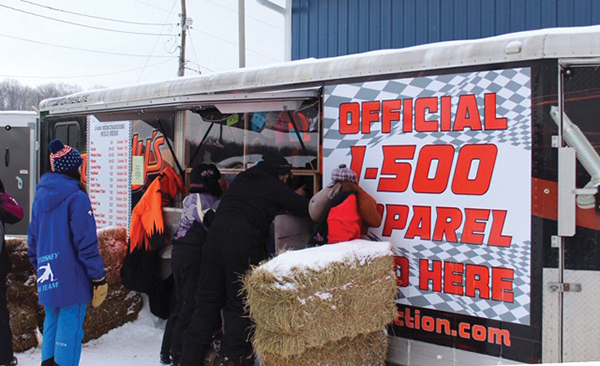 Another interesting aspect of the I-500 boils down to a couple simple terms felt by every single person who is attached to the SOO I-500 be it a spectator, driver, volunteer worker, team owner, team members, OEM's, I-500 directors and more…. such terminology as "Anticipation" & " Excitement" to name a couple. As we enter into December we're only weeks away from the event.  "Anticipation" commences to set in with our track building crews, the whole shape of the I-500 is being formed by the hundreds of volunteers it takes to make this event possible. The vendors start "anticipating", volunteers come out of the woodwork to start working on helping the event come together. Travelers are visiting "Welcome Centers" and picking up printed materials about the I-500.  Race teams start meeting more often to prepare for the big one. More and more the anticipation hits every single aspect of this event as we get closer to the excitement becoming a reality. So many aspects that anticipation touches and most people of the general public never give much thought to. Safety of everyone attending the weeklong series of events, medical assistance, numbers of police agencies, power company, Insurance covering everything, parking, officiating the events all week. So many officials from the U.S. and Canada.
Timing staff, Track building crews, vehicle maintenance people, announcing and media relations and more. EVERY aspect of this week-long series of events is preceded by "anticipation". It's the world's ONLY professional racing event that is totally operated and generated by volunteers, totally…. That's unheard of in any professional sport. It's a classic story in and of itself.    
Once anticipation is experienced and we move closer to the week's events, everyone considering the I-500 is anticipating "Excitement".  This is what it's all about to hundreds of fans and people involved. This event and all it has to offer is extremely "exciting."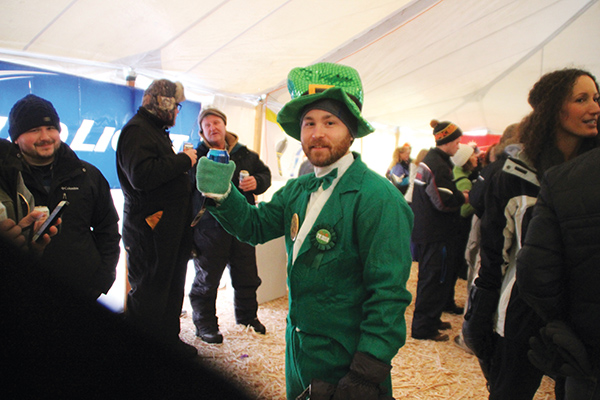 The planning for those who will attend the I-500 starts the Sunday after the race is over. People are taking our suggestions related to being prepared if you're considering attending the SOO I-500 and are following our lead. Again… building excitement and memories that'll last a lifetime.
Drivers, team members and their respective supporters are all anticipating the excitement they'll be enjoying throughout race week. You cannot exaggerate "Anticipation" or "Excitement" related to attending the SOO I-500. The simple challenges of planning and attending are supported by purpose. Just being at the world's oldest, longest, fastest and toughest snowmobile endurance race, bar none.
Earlier in this article I mentioned it's almost December and that's when things start to really speed UP in preparation for attending the 2023 International 500 race week of events. I-500 Directors and officials meet by-weekly in December and then weekly throughout the month of January.  Remember….. One of the most asked questions about the SOO I-500 is…. "When is it each year?" The SOO I-500 has historically hosted the granddaddy of all snowmobile races, FIRST SATURDAY in February each year. That will NEVER change it's a date that people can count on, and make plans around knowing that it's going to be held the first Saturday of every February every year.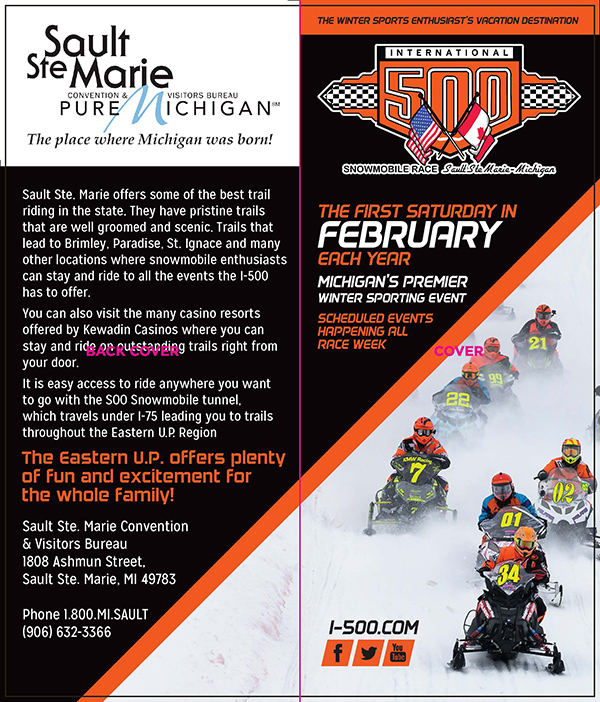 Over the past few months Snowmobile / ORV has featured several articles about the I-500 and all that goes on behind the scenes. We tried to share information about various aspects of the I-500 that we think you might find interesting about this event. And we hope that our information will trigger your interest to the point that when you're asked "what's it going to take to get you to the I-500?"  You'll simply respond by saying "we just have to pull some friends together and make going to the I-500 part of our snowmobile bucket list".  
Ya know…. There are so many cool things about the SOO I-500 it's almost hard to express. Just picture a week long series of snowmobile events whereby there's something happening every day of the week. Snowmobile enthusiast, race fans, sled heads and those who like winter sports in general can enjoy attending I-500 race week. There's virtually something for everyone of all ages. It's a world class event that will build individual and family memories that will last a lifetime. The SOO i-500 has become a winter sports enthusiast vacation destination.  
It's December, folks the month whereby we enjoy giving and sharing in celebration as we move towards another new year. It's a time when we enter into our final approach for hosting one of the world's most spectacular snowmobile events. With only a handful of Saturdays left before the next race we're recognizing we're entering our final approach for hosting the 54th running of the famous SOO I-500.  It's time to push the throttle down a little harder and to crank up the speed with regards to planning and getting your I-500 trip in order to attend the 54th running of this wonderful event. It's time to pull your people together, confirming your lodging is in order and your plans are set for attending the 2023 I-500 race week.  It's what we do to enhance "anticipation" towards building "excitement "  for YOU to have one of the best snowmobile times of your life.  We're certain once you've been to an I-500 race, you'll be back……..
"It's all left turns from here…"