By Ric Federau Contributing Writer
Spectators at the seventh annual running of the I-500 snowmobile classic February 8, 1975 will see something different in sleds. This year most sanctioning bodies have allowed drivers to innovate and experiment with their sleds. For instance, one could see a sled that has a Thunderjet chassis with a Rotax engine for power, with a Scorpion pararail suspension, and with EXT handlebars and seat. Because few new modified snowmobiles will be offered by manufacturers this fall, it was decided to give drivers a chance to see what type of innovative sleds they could come up with.  Enduro drivers are also highly skilled mechanics as well as excellent drivers and have observed the best in all machines. They can borrow from other qualified snowmobiles and create their own exotic snowmobile as long as it conforms with safety rules and retains the original crankcase and crankshaft supplied by a manufacturer. So spectators at this winters Triple Crown races may see a sled zooming down the track parts from several sleds that resembles an Arctic-Thunder-Stinger.
Again this year will see the big three enduro races, the Alpena 500, Traverse City 250, and the I-500 banding together and operating under the Triple Crown rules as well as USSA rules.  It was felt that by standardizing rules, drivers who enter each race be better prepared and know what to expect at each race. There are some differences, however, such as the maximum is 440cc for sleds racing at Alpena, at the TC 250 the maximum is 800 cc, and at the I-500 the maximum is 650 cc.  Drivers should keep this in mind and prepare accordingly. Another Triple Crown rule drivers should be aware of is that straight pipes, megaphones, or other types of open exhausts are strictly forbidden. The reason for this of course is that the noise level is considerable and more noise tends to drive away the spectators who pay the bills. Mandatory hearing protective gear is also required of all drivers this year in each race.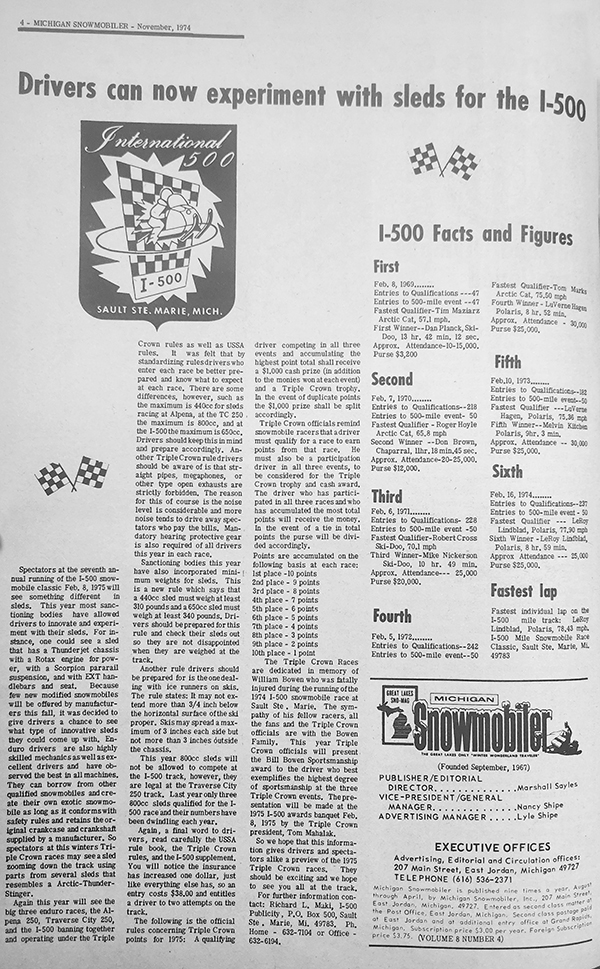 Sanctioning bodies this year have also incorporated minimum weights for sleds. This is a new rule which says that a 440cc sled must weigh at least 310 pounds and a 650cc sled must weigh at least 340 pounds. Drivers should be prepared for this rule and check their sleds out so they are not disappointed when they are weighed at the track.
Another rule drivers should be prepared for is the one dealing with ice runners on skis. The rule states: It may not extend more that ¾ inch below the horizontal surface of the ski proper. Skis may be spread a maximum of three inches each side but not more than three inches outside the chassis.
This year 800cc sleds will not be allowed to compete at the I-500 track, however, they are legal at the Traverse City 250 track. Last year only three 800cc sleds qualified for the I-500 race and their numbers have been dwindling each year.
Again, a final word to drivers, read carefully the USSA rule book, the Triple Crown rules, and the I-500 supplement. You will notice the insurance has increased one dollar, just like everything else has, so an entry costs $38.00 and entitles a driver to two attempts on the track.
The following is the official rules concerning Triple Crown points for 1975: A qualifying driver competing in all three events and accumulating the highest point total shall receive a $1,000 cash prize (in addition to the monies won at each event) and a Triple Crown trophy. In the event of duplicate points the $1,000 prize shall be split accordingly.
Triple Crown officials remind snowmobile racers that a driver must qualify for a race to earn points from that race. He must also be a participation driver in all three events to be considered for the for the Triple Crown trophy and cash award. The driver who has participated in all three events and who has accumulated the most total points will receive the money.
Points are accumulated on the following basis at each race:
1st place = 10 points
2nd place = 9 points
3rd place = 8 points
4th place = 7 points
5th place = 6 points
6th place = 5 points
7th place = 4 points
8th place = 3 points
9th place = 2 points
10th place = 1 point
The Triple Crown Races are dedicated in memory of William Bowen who was fatally injured during the running of the 1974 I-500 snowmobile race at Sault Ste. Marie.  The sympathy of his fellow racers, all the fans and the Triple Crown officials are with the Bowen family.  This year Triple Crown officials will present the Bill Bowen Sportsmanship award to the driver who best exemplifies the highest degree of sportsmanship at the three Triple Crown events.  The presentation will be made at the 1975 I-500 awards banquet February 8, 1975 by the Triple Crown president, Tom Mahalak.
So we hope that this information gives drivers and spectators alike a preview of the 1975 Triple Crown races.  They should be exciting, and we hope to see you all at the track.