Armada's Kenny Goike Rising Through Snocross Amateur Ranks After Championship Season
By Dom Santina  Contributing Writer
One of the top rising amateur snocross riders in Michigan, Michigan Sno-X and now being noticed in the Amsoil Championship Snocross series is Kenny Goike from Armada. Goike is currently a high school student and member of the football team at Armada High School. 
Goike has grown up around snowmobiles and started riding with a kitty kat and a 120. That is where his love for racing began as his dad took him from race to race. Goike was 5 years old when he started racing his 120 between races in Michigan and making some national races.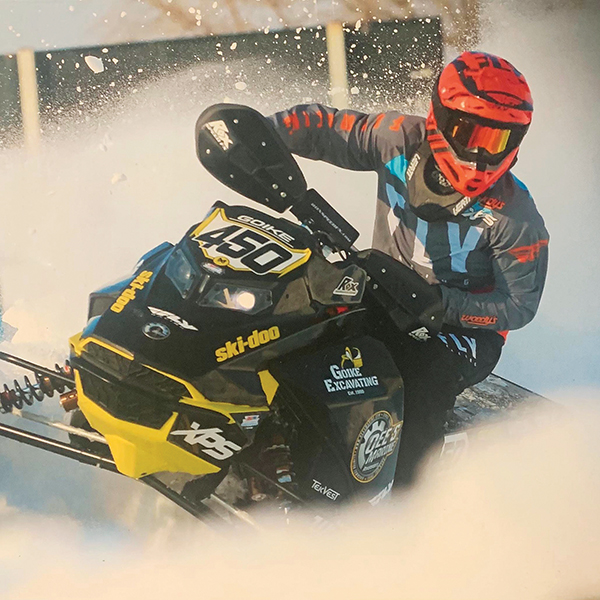 Goike has now been racing for twelve seasons and while he has found other hobbies like baseball, football, hunting and fishing. He also finds time to help on his uncle's farm.  But there is nothing quite like racing. 
"The best thing is the adrenaline rush, there is nothing like it, especially when the hot start gets going and you feel the energy on the starting line it is the best," said Goike. 
Goike was very busy last season as he split the time between the Amsoil Championship Snocross circuit and the home state series of Michigan Sno-X. While racing on the national circuit Goike ran JR 14-15 and Sport Lite. While racing at Michigan Sno-X, it provided him with an opportunity to move up classes and get some experience racing against Sport riders and even jumped up to the premier Pro class for the local series.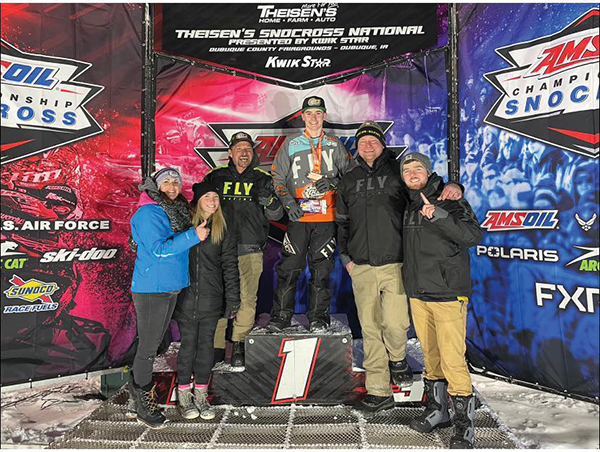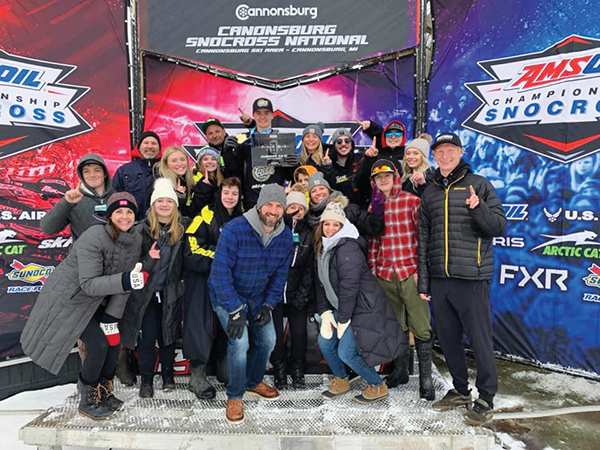 Whether it is on the national level or the regional level, it is easy to notice the talent Goike has with his riding ability. He is smooth, consistent and willing to pull the trigger on a big air jump or learning and searching for the fastest line.
All of that started to pay off last season, as he not only won the Michigan Sno-X Sport championship and a top five finish in points in the Pro division. He was also able to secure an amateur championship in Junior 14-15. The division raced on both Friday's and Saturday's, in the point standings for Fridays, Goike finished second and locked up the Saturday championship at his home state track at Cannonsburg Ski Area in Grand Rapids in front of all of his family and friends. Which Goike acknowledge made it even more special.
"It was the best feeling in the world to win the championship and to be able to celebrate it with my family and friends in Grand Rapids," said Goike. 
Goike knows that all of this does not come without preparation and he knows a lot of his success has come from his fitness plays a factor, but also his trainer Josh Sheppard, is a racer and started his own training company, along with just being mentally prepared and focused 100 percent on the track. 
While winning a championship was definitely a highlight to the season, Goike also enjoyed his time on the road, even if it was a busy and long winter.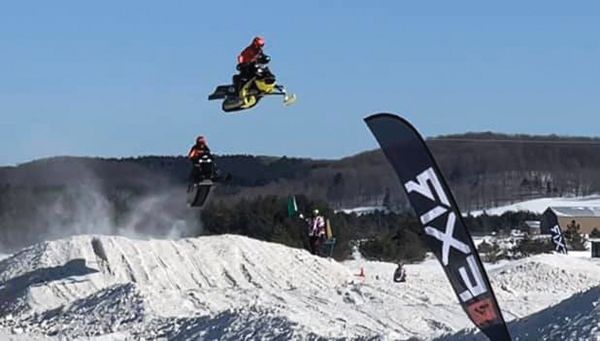 "I think my favorite thing from last year was after Deadwood, South Dakota we stayed out west until we raced at ERX Motorsports Park in Minnesota. Which allowed us to stay with a lot of my racing friends and hangout for a while and it was a fun time," said Goike. 
While the season will still be a long one, Goike and his family will get some breaks as the International Series of Championships which is the governing body of the Amsoil Championship Snocross series has decided to space their schedule out more. 
The season will start on December 16-18 in Fargo, North Dakota before taking almost a complete month off and heading to Shakopee, Minnesota on January 13-14. The series will head to Deadwood, South Dakota on January 27-28, then head to Salamanca, New York on February 17-18. That will put the season at the halfway point in the season. 
The series will then head to: Sioux Falls, North Dakota on March 3-4; Elk River, Minnesota on March 10-11; Grand Rapids, Michigan on March 24-25 and will finish the season in Dubuque, Iowa on April 1-2. 
While Goike will have an opportunity to travel and race on a variety of tracks, he unfortunately will not be able to race on his favorite track which was Lake Geneva at the Lake Geneva ski resort in Lake Geneva, Wisconsin. 
"There was a whoops section right after the finish line, which you could skim across, kind of like a motocross whoops section and then that led to a big uphill section that I really liked, " said Goike.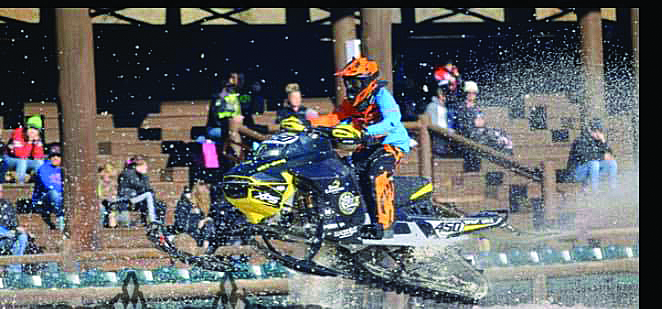 While Goike accomplished great things in the 2022 season, his focus is fully on the 2022-23 season. As he plans on racing Sport Lite on a full time basis for the National series with possibly trying out the Sport class at some point during the season if things are going well. Goike has some goals for this season including the idea of a Sport Lite championship and finding himself on the podium more often, after finishing third in Iowa last season and second at Lake Geneva. 
With Goike returning to Sport Lite and possibly some Sport class racing, he knows he has some things to work on including cleaning some of his racing mistakes and shoring up his mental focus and race craft. Goike has teamed up with Sheppard's Racing for the full season and is excited to get an earlier start to the season. While also getting some more downtime with bigger breaks in the national schedule, which will help with more practice time but also allow him to be able to catch up with school. He hopes all of these positive changes will help him achieve his goals this season. 
You can catch Goike racing at each of the national races and can find tickets and the season schedule at snocross.com or stream it live on FloRacing. You can also occasionally catch him at some Michigan Sno-X races and can find all of your Michigan snocross racing information at Michigansnoxllc.com •