Jeff "JJ" Longton talks about his long career racing, retirement and how even now he is keeping his hands in the sport he loves.
By Joyce Wiswell, Contributing Writer
This winter will be bittersweet for Jeff "JJ" Longton. Though he'll be hanging around the racing circuit helping to crew, he won't be out competing for the first time in some 40 years.
"It's not going to be easy this first season," he admits. "But I know in my heart it's time to retire. I am 60 and I have arthritis in my hands, so it's hard to hang onto the handlebars. When you're going 98 to 100 MPH, you have to be able to hang onto things. I would love to keep racing, but my family has been after me for a long time."
He's proud to be going out on his own terms after winning 19 MIRA (Midwest International Racing Association) high-points championships, 17 second places and 11 thirds, as well as several hundred individual races. JJ capped it off last season with a MIRA championship in the F500/550ss/340 Mod Stock with 47 total points and came in second in points (54) in the Open 600/Super Mod Open.
"I was glad to be able to race at that highly competitive level and win races right up to the end," says JJ, a heavy equipment operator from Traverse City.
The respect he's earned from the racing community was on full display after his last race in February in Lincoln, Michigan. "They had a big soiree for me. I was surprised and didn't expect it at all. I kind of choked up a bit, more than I expected," says JJ. "I will never forget that – MIRA is a family scene."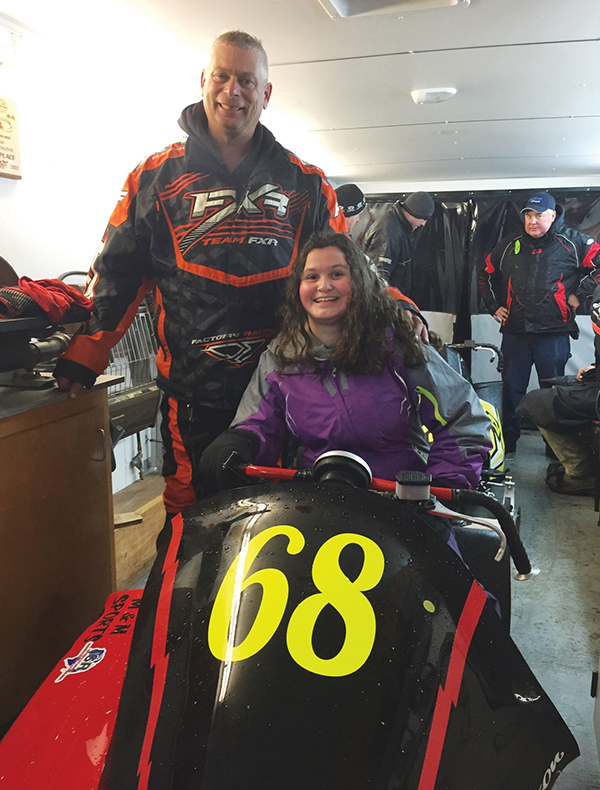 Big Impression
JJ still remembers his first time on a snowmobile back in the first grade. "A family friend had a small sled and took us all for a ride in the field. It was a new novelty thing. He put me in front of him and the motor was right in the front of us. Once we got going it was good, and I knew I didn't want to stop doing it."
As he hit his teens, he saved up his pay from a summertime job (making about $2 an hour at a bike shop), finally amassing $350 to buy a Yamaha SL 338, "a little twin-cylinder auto-injected great sled."
"That year we had a big blizzard and mountains of snow and I got to ride that thing all around," JJ recalls. "I rode around our sub like it was a big racing oval. I was like a wild idiot thinking I was at the I500."
In 1980, he bought his first race sled, a "bad chicken" 1976 Yamaha 340 SRX. His first race was in his hometown of Elk Rapids.
"The sportsmen's club had a little track set up, an oval of groomed snow, and it was just kind of ma and pa," he says. "They only had like two races a winter and you just anticipated it. I looked forward to those races — they were the most fun and there was no pressure back then. That little SRX was real reliable and never gave me any trouble. It was awesome. I wanted to do it so bad, even at a small level, to get to see all the other type of race sleds. I just fell in love with racing."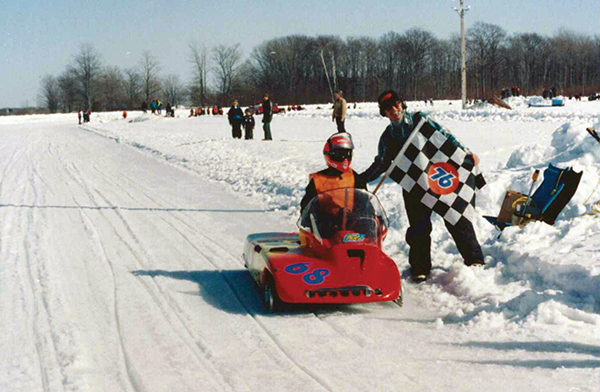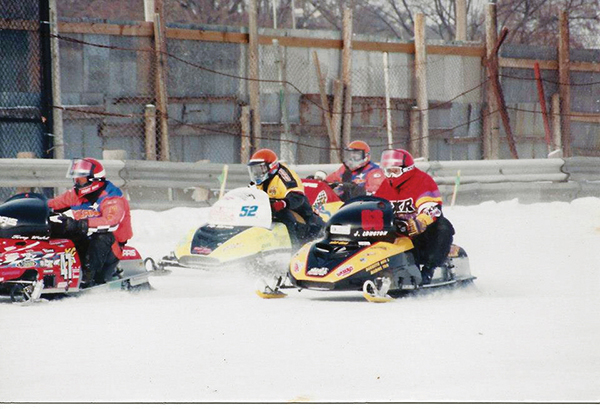 Through the decades, JJ has never lost his fascination with the ever-improving technology. "There is always some innovator that puts them a little ahead of the game," he says. "Manufacturers in the '70s were making incredible advances. Arctic Cat, Yamaha, Polaris and Ski-Doo all started building high-tech equipment that would really go fast and had a lot of power. Until the mid-'70s, they had more power than they did handling. It was a point-and-shoot kind of thing – you pointed down the straightaway and went. The tracks were made of snow and sawdust and ice."
Safety equipment, too, has come a long way in JJ's time. "I remember just wearing open-faced helmets and a pair of goggles. I got frostbite at a couple of races."
That's not all he got. JJ can't even count the number of bones he's bruised, dislocated or broken during his racing career.
In 2017 or 2018, he was caught in a chain reaction crash at Eagle River. "Three of us sailed into hay bales. My leg hurt a little bit but when they opened my suit and got my boot off, they saw that it was torn open," he says. "The EMT guy said, 'quit moving your leg, we can see your muscle.'" Nearly 40 stitches got JJ back on the sled.
But later that same season at a non-points race in Gladwin, disaster struck. "I was racing a new sled we had built and the steering post came apart on me. I probably could have rode it out but my body hit a hay bale in the corner and it peeled me off the sled," JJ says. "I was tumbling and there was not much snow, so there was nothing to cushion me. I actually thought to tuck to protect myself."
He ended up with five broken ribs, a broken sternum, a broken shoulder, a compression fracture in his back – and the icing on the cake, a broken pinkie. 
What went through his mind as he lay in a Gladwin Hospital bed for four days? "At first you are like, 'oh jeez, this is crazy.' Then my mind calmed down from the initial shock of it all and this voice in my head said, 'you're not done.' I didn't want to walk away like that."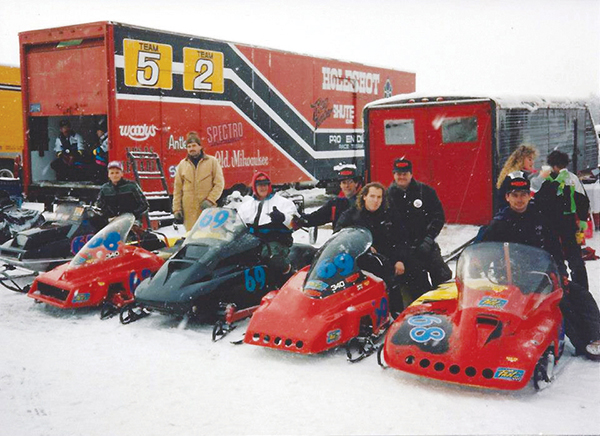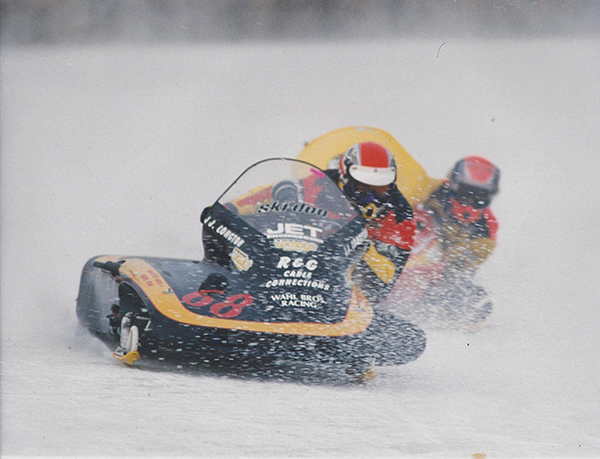 Team Effort
JJ is quick to point out that while he may be on the only one on the sled, he's got a team behind him making it all possible. "Until 1989 I was kinda doing it on my own but after I got married [to Joan, in 1988] I started hanging out with really good fabricators named Paul and Todd Barrett. Todd got domesticated by a woman, but Paul has been racing with me since. We also had [the late] Nick Leone on our team. Now it's just Paul and I and we're called Longton Barrett Racing. Paul said, 'you're the racer, just call it Longton,' but I said, 'you are as much a part of it as me.' Without those guys helping me I wouldn't have raced as long or had the success I had."
In fact, JJ used Paul's business, Barrett's Auto & Marine Interiors in Traverse City, as his racing headquarters. "Every Tuesday night was race night – we'd pull the sleds and get to work on them."
Paul Barrett says he knew right away that he wanted to team up with JJ. "I saw early on in him a phenomenal, natural talent," he says. "I am really good at fabricating and building stuff but only an okay driver. So it was a match made in heaven."
Paul has fond memories of their scrappy little team, one of MIRA's longest-running that handily took on the big boys with their lucrative sponsorships. "In our early years Bob Benner and Larry Williams helped us out," Paul says, "and Dave Wall probably helped us the most."
JJ adds, "And a husband-and-wife team named Larry 'Lars' and Michelle Couturier were a big help too."
JJ and Paul are quick to pay it forward with their fellow racers. "We wanted to beat people fair, not be one of those top-secret teams that keeps everything under tarps," Paul says. "JJ is probably the most giving racer I have ever met. He loved to see other people do well, too. Our trailer was always open and if you needed  a part, we were more than willing to give it to you."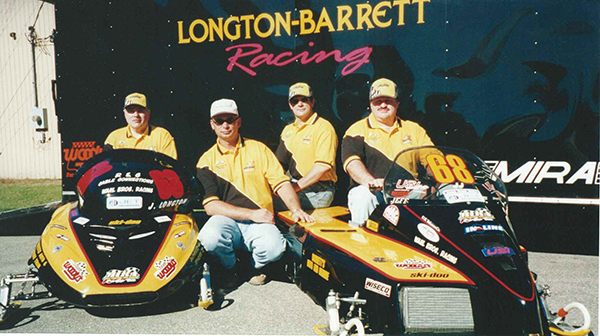 Finer with Age
JJ only improved as time ticked by, Paul says.
"The last five or six years are probably some of the best driving Jeff has ever done. The level of competition has stepped up immensely and he answered the call, putting a whooping on the 18-year-olds. He got a lot more patient and that won him a lot of races."
This winter will find JJ, and probably Paul too, working as crewmembers for a local Traverse City enduro team called R and K Racing on Sundays. On Saturdays, they'll be in the pit for Haven Bouverette, the young sledder who is causing quite a stir on the circuit. "Haven is quite the racer," says JJ. "She's not scared to get out there it mix it up with the boys."
Watching from the pit won't be easy, he admits. "I would love to keep racing – I love getting on the sled and the sound of it and the feel of it. But I don't have to prove I am still the bad chicken of the racetrack. And my family has been after me for a long time to retire, especially after my big accident."
In fact, JJ says he finds he's even driving his car more slowly these days, noticing things that he used to just zoom right past.
"I find myself driving like an old man. I look around and say to myself, 'why did I never see that before?'" he says. "What do they call it, slowing down to smell the roses?