By Kim Kisner, Contributing Writer
Formed some 1,800,000 years ago the Silver Lake Sand Dunes are one of the largest deposits of living dunes on the shores of Lake Michigan.
Bordering both Lake Michigan and Silver Lake, the remarkable dunes consist of nearly 2,000 acres of rolling sand hills that are 1.5 miles wide and 3 miles long.
This spectacular sandbox makes for an extraordinary destination for ORV enthusiasts and beyond. In fact is one of the few areas in the country that users can still enjoy riding freely on sand dunes.
From the 450-acre scramble area, to guided dune rides and jeep tours to water sport rentals to golf to horseback riding to miniature golf to beaches and swimming to fine dining to … well you get the idea. There is no shortage of things to do in the Silver Lake area. Not by a long shot.
Naturally, we'll begin with ORV Opportunities Here…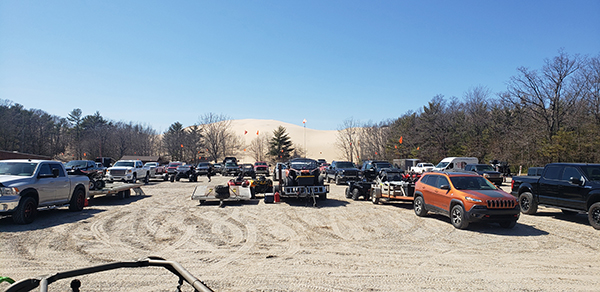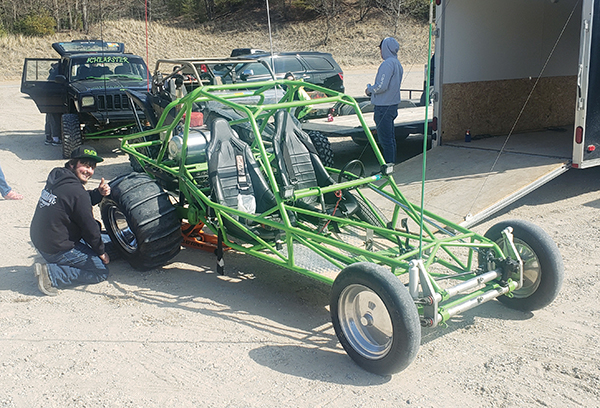 Silver Lake State Park
With constant winds creating ever-shifting sand patterns and terrain for a uniquely different experience 24/7, Silver lake State Park has provided people and families amazing experiences whether driving, riding, walking or simply exploring.
The Dunes are divided into three main areas.
#1 ORV Area: This 450-acre scramble area is an ORV lover's dream come true. First timer's will feel like a kid at Christmas, checking out "Sunset Hill" with a gorgeous view of Lake Michigan. The "South Flats" are a great way to get your bearings on the sand if this is your first time. "Test Hill" is a must – the largest of the dunes.
As you make your way out from the access road, you can check out the drag racing- always fun and exciting to watch or even join. The ORV scramble area, is open to 4-wheel drive vehicles, motorcycles, ATVs and dirt bikes.
If you have an ORV of your own, feel free to take it out for a drive at your leisure. Required documentation is needed for all motor vehicles entering the area. You can also rent ORVs in downtown Silver Lake. Check out Wild Bill's ATV Rentals or Sun Buggy Fun Rentals.
The Silver Lake Sand Dunes open season normally runs from April 1st–October 31st.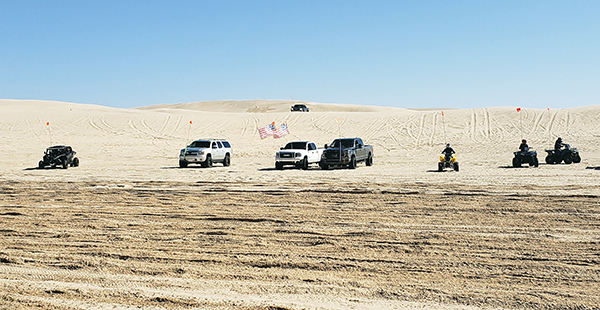 #2 Macwoods Dune Rides Maybe you're traveling with the family and looking for something a little more leisurely? Try a 40-minute guided ride at Mac Wood's. Offering breathtaking panoramic views from the summit of the dune area, you'll also gain lots of information about the environment and history of the ever-changing dunes from the knowledgeable guides. This ride is also accessible to the mobility impaired to it can truly be enjoyed by all!
#3 Pedestrian Area For those who are seeking to play in the sandbox on foot or toboggan (!) the central section of the Silver Lake Sand Dunes area is designated for hiking/pedestrian foot traffic only. Scale the sand mountains or slide down them like a snow hill – on sand boards and toboggans. This section of the area offers a one-two punch of Silver Lake and Lake Michigan, with nearly one mile of rolling dunes between the two. It's easy to spend an entire day exploring, playing, picnicking and taking in the views here.
Adrenaline-inducing adventures in Silver Lake aren't limited to ORV. Head to Craig's Cruisers – Silver Lake for bumper boats and go-karts, a zip line, miniature golf and arcade games. Also check out West Michigan Motorsports Park offering off road racing, drag racing and monster trucks"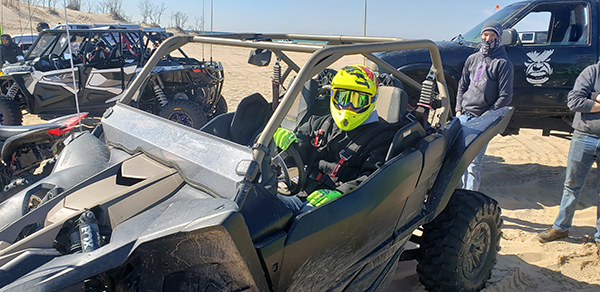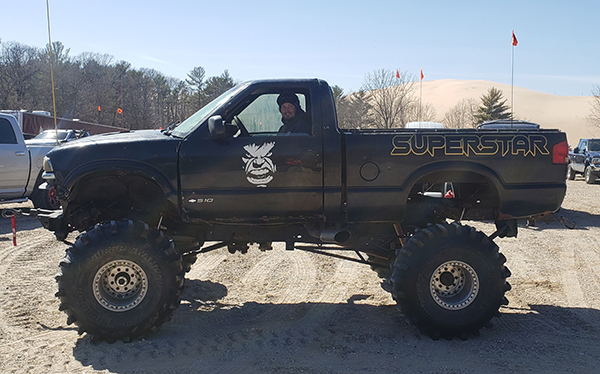 Beyond the Adrenaline
Beaches and Shoreline The Silver Lake area is home to several miles of pristine Lake Michigan shoreline in addition to numerous inland lakes. Spend a day – or more –  sunning and swimming.
Check out Dune Beach, Claybanks Township Park, Golden Township Park, or the beach at Sliver Lake State Park and Campgrounds.
If you are more of the adventurous type, take a refreshing dip or try your hand at standup paddle boarding (SUP), rent a kayak or personal watercraft from Wave Club Watersports.
Little Sable Point Lighthouse also boasts an expansive sandy beach and the Lighthouse is a must see attraction. Built in the late 1870s, climb to the top and enjoy a 360 degree view of the dunes and Lake Michigan shoreline.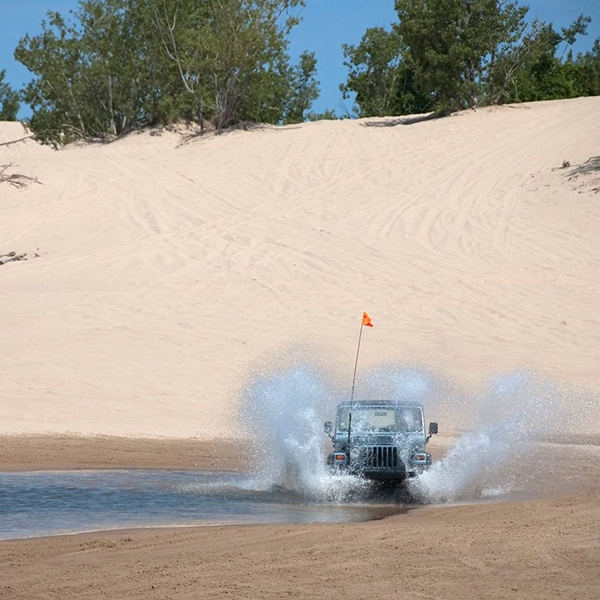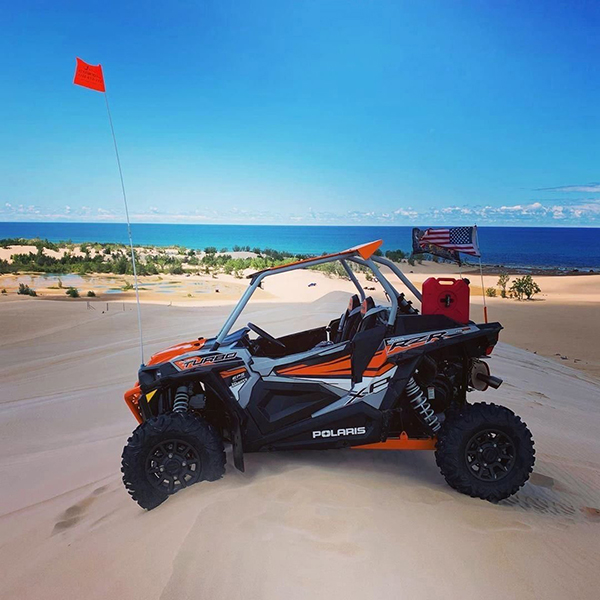 Where to Eat…
In the mood for spicy? Saucy? Sophisticated? Smokey? You'll find it in or around Silver Lake. Here are just a few of the many options:
Golden Sands Bucket Bar Restaurant The main attraction is their pizza, made with an upgraded four cheese blend, and buckets which can be filled with bread, hot dogs, bratwurst, chicken wings and chicken strips. 
Sand Castle Restaurant This mom and pop diner is of the few restaurants located on Silver Lake, with excellent views of the lake, sand dunes and lighthouse nearby. Serving breakfast, lunch and dinner throughout the tourist season, it has one of the larger menus of the area, with Mexican fare seafood, traditional American offerings and more.

Tasty Creationz Barbecue, wraps, hot dogs, tacos nachos, burgers and ice cream, what more could anyone want from a vacation restaurant? The ice cream is the main draw with 16 different flavors of locally produced, hand dipped and soft serve ice cream. There is indoor and outdoor seating available, with most opting for outside as there are good views of Silver Lake from the patio area.
Hart Pizza A staple of the Sand Dunes culinary scene since 1980. Dough is made fresh on the premises daily and all pizzas are made to order. Pizzas are cooked traditionally in a stone-oven baked. If you aren't in the mood for pizza, there are also subs and salads on offer.
Val-Du Lakes Situated above the dunes and the lake, Val-Du Lakes offers breathtaking views in one of the area's more unusual environments. The restaurant, set within the Val-Du Lakes resort, is in a converted barn, with the resort itself having previously been a 100-acre farm in the 1920s. Enjoy tacos, fish, burgers, steaks and  more. An entertainment hotspot, the restaurant regularly hosts karaoke nights, barn dances and live music.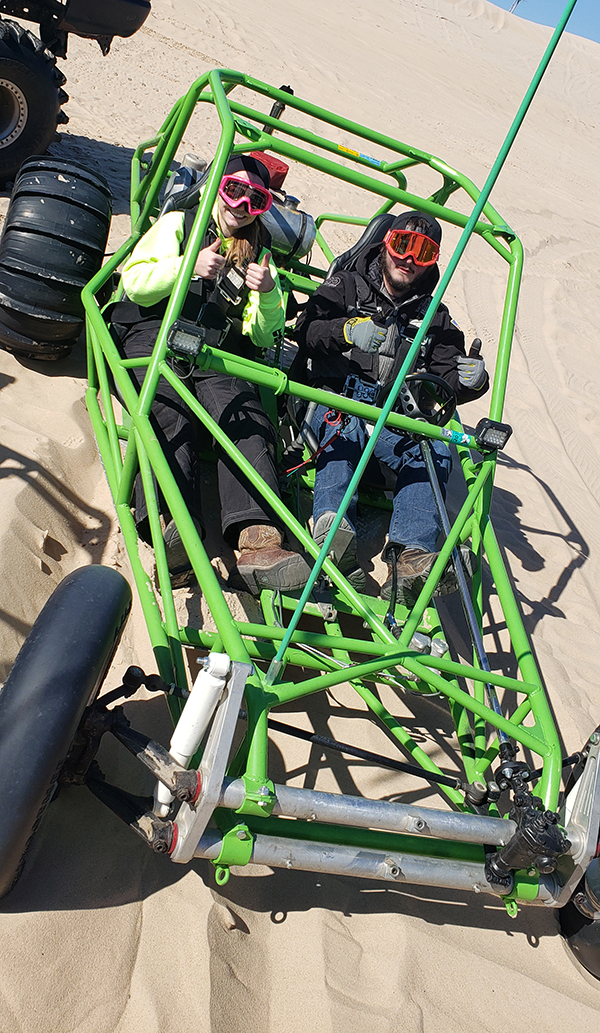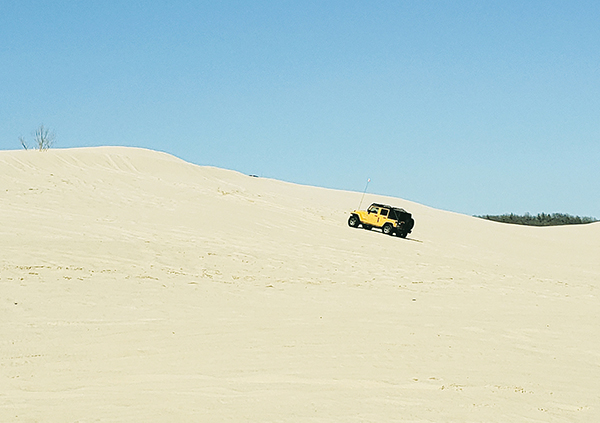 Where to Stay…
If you are looking to camp, Silver Lake State Park Campground is ideal, or Dunes Harbor Family Camp, or Silver Hills Campground.
Cottage dwelling more your style. Try Silver Sands Resort.
There is also a plethora of hotels and motels to choose from. For an "up north" rustic feel with cozy vibes and lots of amenities, try Hart Motel. Or, if you're looking to be close to the water yet with more of a downtown feel, stay in nearby Ludington at the Best Western Lakewinds or the Comfort Inn.
Other Things To Do
The Silver Lake area is home to several great golf courses if you feel like playing a round or two. Golden Sands Golf Course, with a par 3 course and Junior Dunes programs is terrific for the whole family. The Colonial Golf Course is a beautiful 27 hole 6900 yard course with a huge driving range, food and refreshments.
Looking for more adventure? The Happy Mohawk Canoe Livery rents tubes, rafts and kayaks!
If you find yourself with a rainy day, a fun way to pass some time is to wander through the Claybanks Pottery Studio and watch the artists at work. And for a truly unique opportunity, see FF Forge for blacksmithing and blade smithing, offering a "hands on" fun learning experience for ages 12 and up.
Once you visit Silver Lake, Michigan, you'll want to return again and again. It truly offers something for everyone and every age. Start your new tradition this year!