By Dom Santina, Contributing Writer
On September 17, 2020, Oakland County gained a space that would thrill off-road enthusiasts. As the Holly Oaks ORV Park opened for the first time. The park is operated by Oakland County Parks and Recreation in partnership with the Michigan Department of Natural Resources. The park is consisting of former and active sand and gravel minds. It is located off I-75 at Grange Hall and Dixie Highway. 
The county and DNR approved a 20-year agreement to use the area for the park with an option of a 10-year extension. The park was an original 106 acres but will be opening up 60 more acres this July. Which will be operated as a scramble area, allowing enthusiasts to "pick your own adventure" by blazing through trails in the dramatic mine landscape. The park is expected to reach a total of 235 acres by 2023. 
The park is open to all types of ORV including full-size vehicles, side-by-sides, all-terrain vehicles, and motorcycles. The park features many different obstacles for ORV enthusiasts including approximately 9.5 miles of trails with 3 looped trails and a 2.3-mile " endurance trail that navigates around the park. Also in the park, is rock crawls/climbs, including Mt. Magna, a 9,000 square foot peak, that is designed to replicate the experience of popular rock formations out in Moab, Utah. The formation was donated by Magna Powertrain of Troy. Which is a part of 36,000 square feet of total simulated rock features. The park also includes water crossings, log craws, sand/gravel and dirt hill climbs. While also having acres of land for riders to create their own paths. The park also has amenities that include portable toilets and picnic tables on several park overlooks.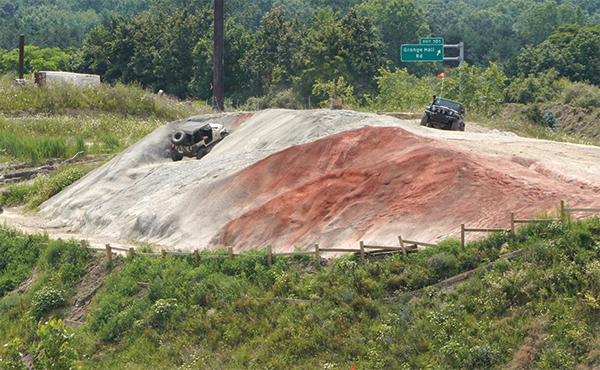 New to the park this year will be a retro-styled Bestop Air Station, which will allow enthusiasts to air down or refill tires as they enter or leave the park. Also new in 2022, will be a 1.5-acre remote control car or truck track and crawling course. There will be no additional cost to use your RC vehicle, but you must have your ORV pass to enter the park. The RC course has been an addition after park staff realized that many enthusiasts enjoy running RC cars or trucks while they take a break from using their ORV. 
The park has had some growing pains in the two-year process since opening. The park has made some significant adjustments to help improve overall operations. After noticing noise and dust issues in late 2020 and early 2021. The park has now implemented sound testing and vehicle flag requirements. They have also started their own dust control measures in a variety of ways. 
The increase in sound and aftermarket mufflers prompted staff to invest in a track located further into the park, while adding sound control berms along Dixie Highway.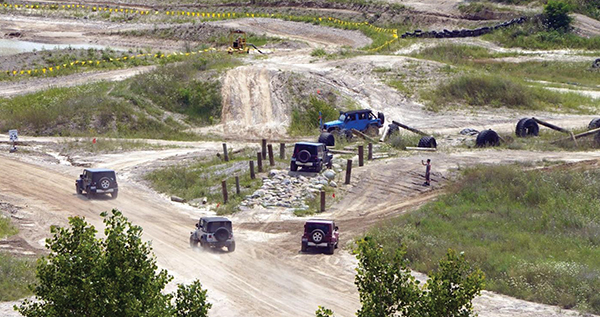 The park was hit by 8 significant rain events during the 2021 fiscal year, which flooded out large portions of the park, eroded hillsides, destroyed trails, buried irrigation lines, flooded pumps and forced the use of heavy equipment to repeatedly rebuild ORV attractions. As part of those issues, the park continues to be a work in progress, reshaping some features to make them more resilient to storms and to prevent future flooding. 
As the park continues to expand, build and adapt they continue to work with local companies, agencies and fundraise to help improve the overall experience. The continuous improvements include adding more materials to the park, improving soundproofing and overall appearance and adding new features like the idea of a youth or beginner riding area. All of this is helped out by many volunteers. 
Oakland Mine Riders Volunteers 
One of the most important groups is called the Oakland Mine Riders. They help support the development, maintenance and operation of Holly Oaks ORV Park. They work on the park landscape and help raise money for the creation of new ORV features for the park. According to their website "The overall goal of the group is to make Holly Oaks ORV Park a success, through their hard work, ingenuity, thrift, and a healthy dose of pirate swagger."
Another goal for the group is to set an example of the good traits of the ORV community, which they also describe on their website as " we work hard and play hard; we care about our machines, but we care more about each other; and we want to have fun, but our fun should never come at the expense of someone else's safety or quality of life. Most importantly, we want to demonstrate that ORVs have a place on our public lands."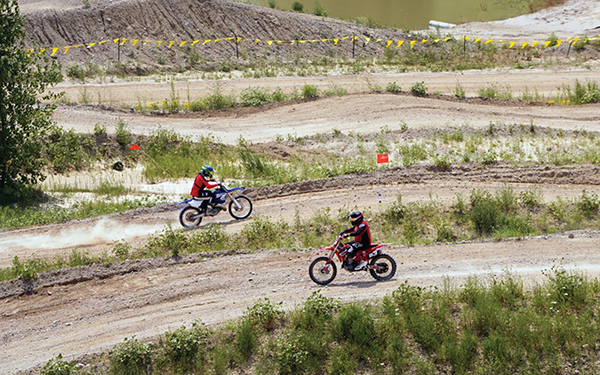 The Oakland Mine Riders are a not-for-profit group that chose to support Holly Oaks because they knew there were all types of riders that want to do their part to help promote public ORV riding opportunities in Michigan. 
The group offers four different types of membership options. The basic membership package is a 1-year membership that includes a Rider Brand decal, email updates and invitation to members-only events (additional entry fees may apply). 
The advanced membership package includes everything in the basic package but with the addition of a Piston Head decal and an invitation to Piston Head-only events ( additional entry fees may apply). With the piston head membership, the group will challenge Piston Head members for an additional donation of $100 to the featured project for that year. Only Piston Head members are allowed to make donations. If you make a donation, you are given a custom limited edition Piston Head decal that has been customized to match the Featured Project for the year, along with one vehicle pass and two wristbands for the "first tire" event on the featured project.  
The final membership group is the Guild membership, which focuses on business memberships. This is an annual membership to the Oakland Mine Riders Guild. This membership includes a guild brand window decal, guild member year window tracker, your logo added to the mine riders website, email updates and invitations to members only and guild only events. Where once again additional fees may apply. 
The group also welcomes any type of donations that anyone would like to give. This can be a monetary donation that helps with several signature projects. There is a donation link on their website, where you can choose the amount and what you would like the money to go towards. 
The other type of donation is those that would be willing to donate any reclaimed or recycled material that you think would be useful. Any business that would like to donate more or materials would also be recognized on the webpage.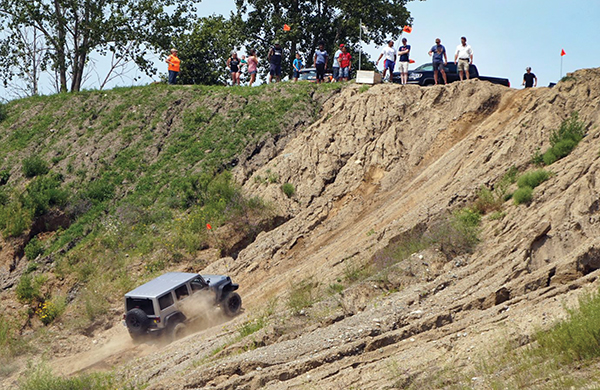 The group has been instrumental in the creation and continued development of the park. Jon Noyes the Principal Planner for Oakland County Parks has worked on the project for quite a few years and had this to say about the Oakland Mine Riders. 
"This is why it has been so critical for us to work closely with our volunteers. We invite them to help us build, maintain, and regularly test all of the features in the park. They help us to make the most out of a relatively small footprint…and they are the best at demonstrating to other ORV users how to get the most out of the features we provide. They can also speak directly to other ORV users that we are working really hard to make the best experience possible, we are trying to be good stewards of public resources (including tax dollars), and we know we don't have all the answers…which is why we need to continue to work closely with our partners (which includes government agencies, user groups, local businesses, ORV industry members, and local residents)," said Noyes. 
Things to Know 
The park will also be hosting one of their biggest events so far Disability Dirt Days once again this year. The event will be sponsored by LaFontaine Automotive for ORV enthusiasts with disabilities. They will be paired with a volunteer driver and will get to experience what it is like to zip through dirt, bounce over rocks and splash through the water. 
The park is also across the street from Groveland Oaks County Park and Campground. Which features 50' x 50' full hookup and modern campsites, group camping areas, eight cabins, four yurts and two island pavilions.
The park also has a variety of dining options in the nearby area. While also being very close to the site of the Michigan Renaissance Festival, which takes place around the end of August till the beginning of October. 
Holly Oaks ORV Park has varying hours and days throughout the year, but from May through September they are open Friday through Sunday. On Friday, the park is open from 2 – 8 pm and on Saturday and Sunday, it is open from 10 am to 8 pm. 
The cost of the park will be raised this year to offset operational losses from the pandemic and storms over the last two years. In order to access the park, along with your vehicle registration and trail permit, you will need to purchase a day pass that is $30. This year there will be a youth rate which is $15, along with an annual pass of $250. If you have any questions or want more information, you can check them out on all social media sites or at oakgov.com and searching Holly Oaks ORV Park. •