So, what's the forecast for this winter?  We've all heard it's supposed to be a good one with a heaping helping of lake effect snow and cold temperatures that will stop those frustrating mid-winter thaws.  While we may not have a crystal ball (or in our case, a magical snow globe) to show us what's in store over the next few months, we've got an annual average of 152 inches of perfect powder backing us up when we say GAYLORD, MICHIGAN OWNS WINTER!
Gaylord is known as the Alpine Village, and once you experience our dramatic elevation changes, you'll understand why.  Our inland sweet spot at 1,348 feet above sea level perches us right in the middle of the snowbelt, where we eagerly await the bevy of flurries we can count on each year.  And what does that mean for sled heads?  More lake effect snow than anywhere else in the Lower Peninsula throughout the entire season.
"Hands down, Gaylord is the best winter vacation destination in Michigan.  Our abundant snow, interconnecting trail system and limitless amenities makes us a haven for snowmobilers. Not only do we have exactly what you're looking for on your epic up north adventure, but our area businesses are known for hospitality and will give you the warm welcome you're seeking after a long day on the trails," said Paul Beachnau, Executive Director of the Gaylord Area Tourism Bureau.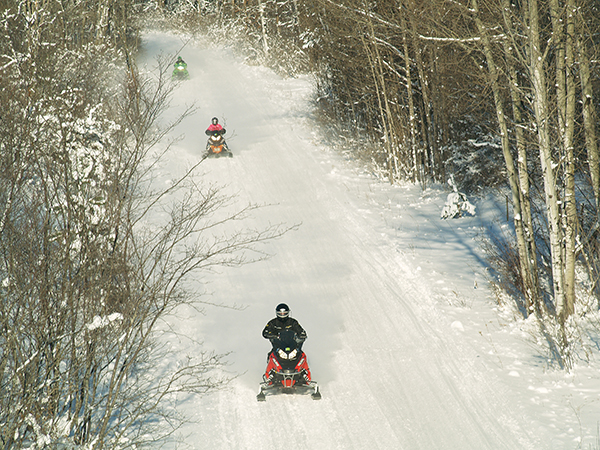 You'll find some of the best riding conditions in all of Michigan right in Gaylord. From December 1 through March 31, our expansive trails are expertly groomed and maintained by volunteers with the Gaylord Area Snowmobile Trails Council. The Gaylord Tourism Bureau staff is in daily contact with groomers for the most up-to-date trail conditions and riding reports, which are available 24-hours a day by calling 800-345-8621 or visiting our website at www.gaylordmichigan.net. In fact, our office sits right on the trail, and we can let you know when we've seen the groomer pass by!
Jerry Beattie, owner of the Sled Shed and long time Gaylord Area Snowmobile Trails Council member, stated, "Our club grooms more miles than any other in the Lower Peninsula year over year.  We have more snow than most areas and high demand for grooming due to the number of sleds riding our trails daily. We're lucky to have such a dedicated group of volunteers working behind the scenes with the Trails Council and running our groomers." 
Not only does our ideal location create some of the best snow conditions in the state, but it also puts Gaylord smack dab in the center of a network of trails running throughout 8 northern Michigan counties. Using Gaylord as your home base, you can ride epic up north trails in every direction. From our county lines, riders have the convenience of jumping on popular Trail #4 where you'll head west and meander through the quaint communities of East Jordan and Mancelona. Point your compass east, and follow trails through Johannesburg and Lewiston that zigzag north into Millersburg and Onaway. And don't forget about our friends in the untamed forests surrounding Frederic and Grayling to the south. Newbies may find this all a little overwhelming, but don't worry, we have free Snowmobile Trail Maps available through our office that will get you where you need to go!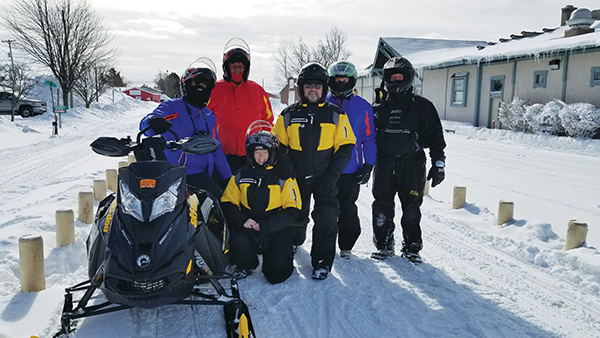 If we're going to pick favorite routes (and you know we are), we've got a few to share. One can't miss option is the North Branch, a seemingly never-ending story of snowmobiling, funneling riders south to Kalkaska's well-known Blue Bear Trail, west to the heavily forested Jordan Valley and east to Lewiston's Lovells Trail. To top it off, this sprawling route has multiple connector trails and access to free-range National Guard land that is open to riding.
While the North Branch may seem like every snowmobiler's dream come true, Gaylord has even more to give.  Hit up the North Central State Trail, a former railroad corridor that serves as a popular bike path during the warmer seasons. Ride for 73 glorious, groomed miles through forests, farmland and villages all the way to the Straits of Mackinac.  Conveniently stop off to refuel your sled and your stomach in a variety of small communities eager to serve the snowmobile population, then carry on to the Mackinac Bridge and beyond.
After putting in all those miles, you'll be happy to know Gaylord lodging properties cater to our snowmobiling friends.  With 21 lodging members, you'll find the perfect place to rest your head after a day of marathon riding bliss. From resort settings to tried and true hotel chains and full home rentals with a view, we've got the best places for you to rest before heading out for more winter exploration. Many properties sit right on the trail and you can wake up and ride from your front door.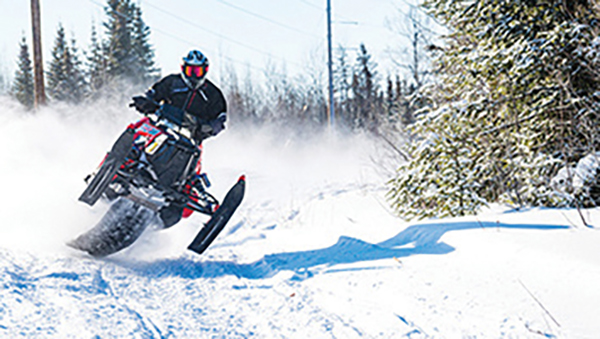 "Our hoteliers are used to working with snowmobilers and are excellent at accommodating their needs," commented Beachnau. "We have everything from cozy cabins to resorts to modern, comfortable hotels."
The Gaylord community embraces winter and its adrenaline-seeking patrons, so it's no surprise you'll also find an unbeatable network of the amenities you need. Our dealerships represent all 4 major brands of sleds and have the latest technology and gear you're looking for.  You'll have no trouble finding aftermarket parts for repairs, along with knowledgeable service departments ready to get you back on the trail. The best part?  Most of our snowmobile-related businesses are conveniently located near one another, including The Sled Shed, Extreme Powersports and Mega Powersports.  And we wouldn't be the snowmobiling Mecca of northern Michigan without rentals, which you'll find at Boathouse Marine & Powersports and Snowbelt Detailing. Finally, hop on and off the trails for gas station service, where rec fuel is, of course, always available. Gaylord area businesses have all your riding needs covered! 
Whether you're heading our way for a weekend, weeklong getaway or settling in even longer, Gaylord has the trails you want, along with all the conveniences you need to make your trip worthwhile.  Our location just off I-75 makes it easier than ever to get here from virtually anywhere, and you'll marvel at the snow depth increasing the closer you get to our Alpine Village. 
For more information on snowmobiling in the Gaylord area or to request your free Snowmobile Trail Map, please visit www.gaylordmichigan.net or call 800-345-8621.