Pre-season maintenance on your sled can reduce hassles on the trails later.
By Gabe Adams
When the temperature starts to drop and the flakes start falling we all start to think about winter machines. Planning weekend trips and making arrangements begins to come to our minds first. In many instances, some of the most important planning gets overlooked, and that is your pre-season maintenance. It does not matter how new and technologically advanced your sled is, any machine is susceptible to break-downs. The biggest aspect is catching these issues before it ruins a trip or compromising your safety and control.
Snowmobile technology has come a long way in the last 30 years, but the basics have remained the same. First and foremost, fluid levels and condition should be the primary concern. On liquid cooled sleds, it's important to not only check your coolant level, but also use your eyes and nose around the sled when running to check for leaks. Coolant has a sweet smell when hot or burning, and checking over tunnel coolers and hoses is a must, as overheating on the trail can end a trip almost instantly. It is also important to check around and under the engine for dampness or drips. Engine oil levels should be checked and maintained not only pre-season but also before every ride. On both 2 and 4 stroke models, it is imperative to use a quality engine oil to ensure engine longevity at high rpms. In many cases with 2 stroke engines, it's a good idea to replace your spark plugs before the season, and always keep a spare set and wrench on the trail.  Chain case oil should also be checked and changed where needed, as many chain case dipsticks and plugs contain a magnet and will catch metal debris as it is shed, and will need to be cleaned regularly. Remember, just a small leak can turn into a ruined trip in a hurry.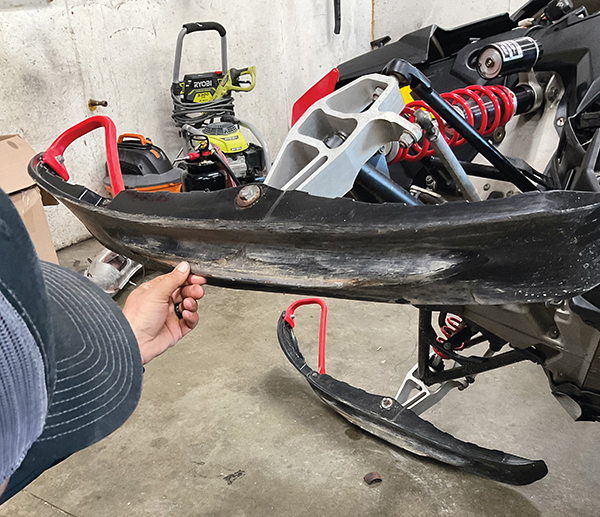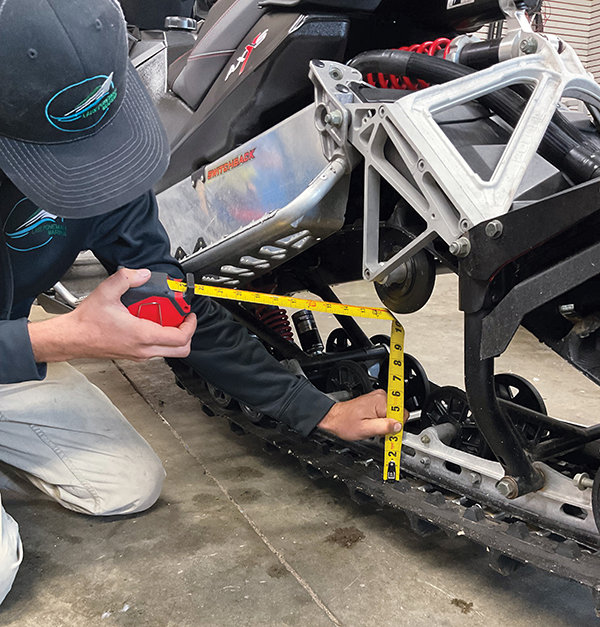 Checking over electrical systems is also a must. Always perform a battery load test pre-season and check the age of your battery. Small power sports batteries have short lives, and many times fail once the machine encounters a hard cold start. This is especially important if your machine relies solely on electric start. It is important to carry spare fuses and light bulbs at all times, in addition to a few spare electrical terminals, some tools, and electrical tape. Other important items to have on the trail include a spare belt, spark plugs and an extra recoil rope to name a few things.
Steering and suspension are other areas that need attention before getting on the trails. With the dwindling help to maintain trails and struggling snowmobile clubs, many trails are not what they used to be and overlooking failed or worn components can lead to issues keeping the machine under control. It can also cause a generally rough and uncomfortable ride. Carbides are a vital wearable part that is often overlooked. Worn carbides can cause problems turning, both at low and high speeds. Checking them yearly will prevent damage to skis and ensure a safe ride. Shocks also play an important role in the handling of your machine. Weak or leaking shocks will not support the sled in the corners and can potentially lead to front end damage or tunnel damage in rough riding conditions. In many cases, the shock can be rebuilt, otherwise should be replaced as needed.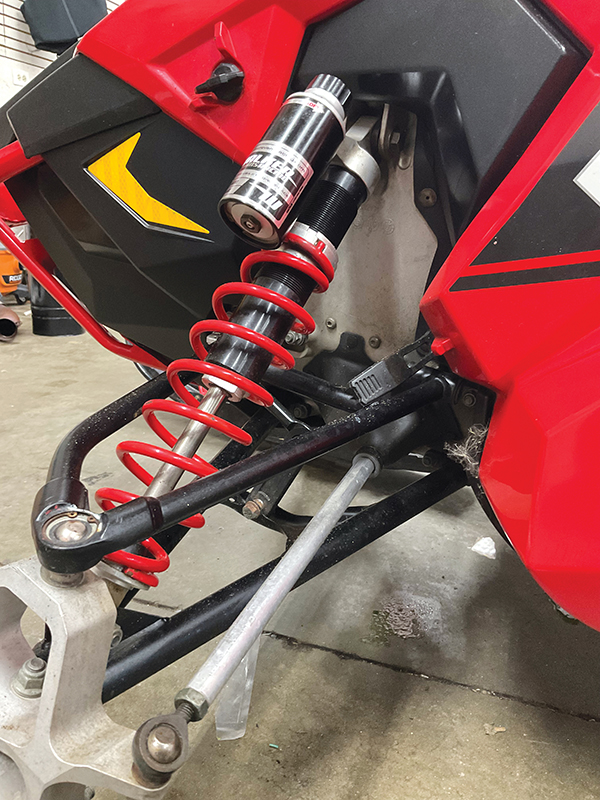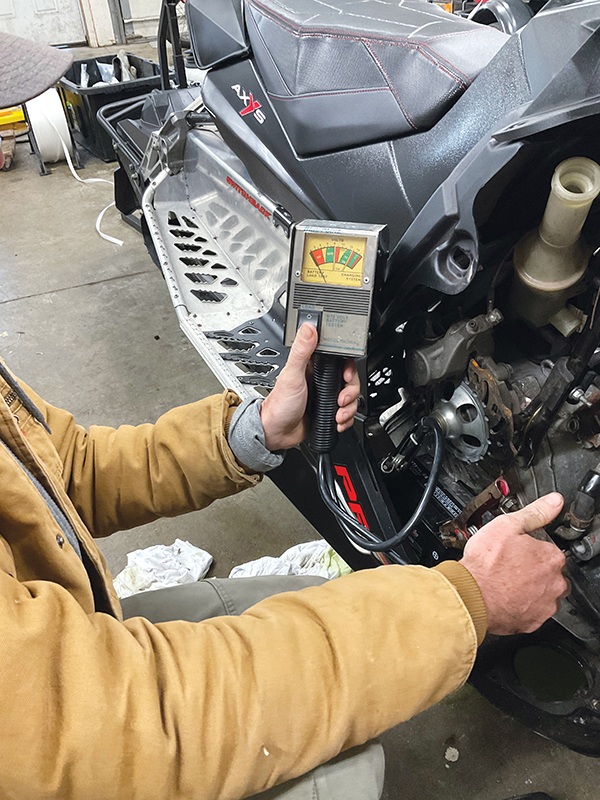 Among other suspension parts, if equipped, your hy-fax help keep the track moving. When the hy-fax become worn, track and skid damage can occur, which is costly in most cases. They are generally inexpensive and easy to change, and keeping an eye on the wear and replacing as needed will help the track last much longer. Going around and greasing the zerks on the skid is also important along with checking all the bogie wheels for free movement.  This is also a good time to check for any missing studs or track damage, and ensure there is no damage to the tunnel cooler; if equipped. Running the sled on a stand will give a good indication that everything is working as it should. This is also a great opportunity to check the track tension and ensure it is within spec. A loose track will cause damage to bogie wheels and the skid. Also check that the clutches are engaging properly and the belt is in good condition. A worn, burnt, stretched or cracked belt will not last long under power. While it may seem fine running at low speeds, sudden bursts of power can make a belt break and sometimes cause clutch or other damage to the driveline. Spotting a faulty belt before the season and replacing with an OEM or equivalent belt will keep you off the side of the trail. Regardless, it is best to keep an extra belt or two on the machine at all times, and the tools needed to replace it.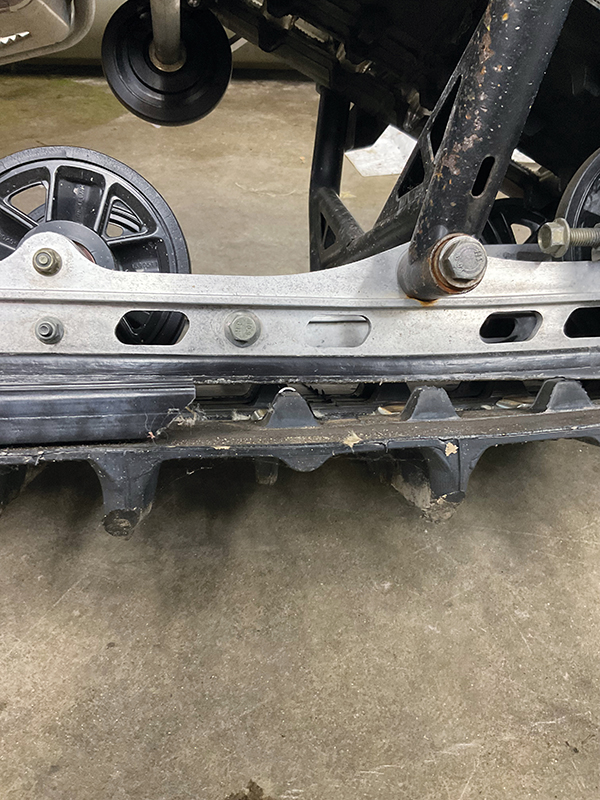 One last note; your fuel quality is everything. Take a moment to pull a fuel sample into a jar and inspect. The fuel should be clean and clear, and free of any moisture. Even stabilized, the fuel breaks down over time. If your machine has sat for more than a year, drain your fuel and replace with a fresh tank. Premium or recreational fuel should be used in most cases. Poor fuel quality can cause fuel system issues and prevent your machine from running to its full potential.
Going over the sled and taking the time to address these areas will ensure a fun and safe season. In many cases, these simple maintenance items can be handled in the garage and are a vital part of season preparation. Nothing is worse than a mid-season breakdown and being held at the mercy of a repair shop. While some issues are un-avoidable, many can be prevented with time and care.
Andy Castles, President
Lake Ponemah Marina