From first riding a 1969 Mercury to racing the I-500 track Jeri Griffen is still a huge supporter of snowmobiling.
By Jim Duke
No doubt there are thousands of ladies across this great land that more than qualify to be considered in this category, but there are few that have the same passion or equal the enthusiasm for snowmobiling activities as Jeri Griffin, a lifelong resident of Cedarville, Michigan. A recent interview with this very enthusiastic individual  was quite contagious and I left with a renewed interest in the sport myself, something that had been waning for the last couple of years. Although Jeri was somewhat reluctant to share all her accomplishments during her lifetime, she did say there were many that she was pretty proud of, and willingly talked about just a few.
She said she first learned to ride on a 1969 Mercury snow machine, one she referred to as a "two-ton beast" and a contraption that required power to handle with any degree of control. She told me a short story about her first adventure when she took her son, just three at the time, and headed out to Grandma's for a visit, not realizing that should something go wrong, they would be at nature's mercy. That something did happen while riding in a ditch along side of a road and tipped over.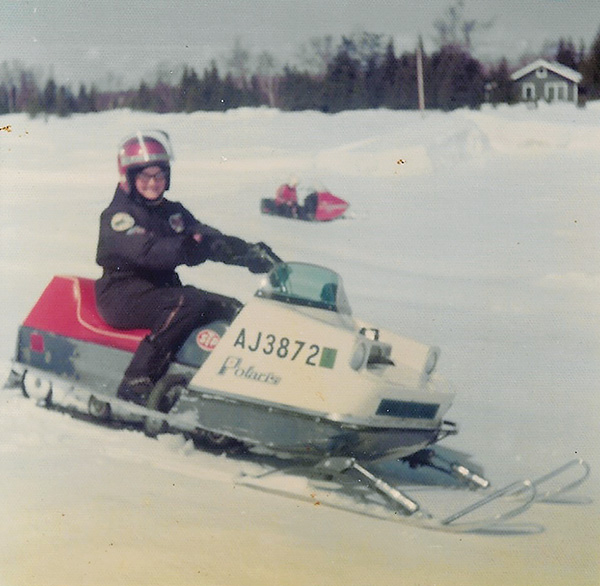 She said thankfully no one was injured but she discovered she was not strong enough to right the sled by herself and was still struggling with it when a passerby stopped his vehicle and offered assistance. He climbed the snowbank and waded through the deep snow, wearing dress trousers and street shoes, he related he was also a snowmobiler and always tried to help whenever he saw anyone in distress. Once they had the snow machine back on its track the stranger departed without even saying who he was, but he did instill a lesson that she still lives by, that snowmobilers help snowmobilers… it's just an unwritten rule.
She also indicated that both her and husband John were bitten by the racing bug in those early years and if riding the two-ton Merc taught her anything at all, it was if you have the power, use the power! Jeri says she first raced a Scorpion, and later a Polaris, which she and John owned, but Jeri also rode a variety of borrowed snowmobile brands back in the day, saying she was accomplished enough to ride Thunder Jets and Yamahas occasionally.
The gentleman racers would often offer her a sled to ride in a race simply because the women always raced prior to the men and by watching her run and discussing how the sleds handled afterwards, they would be able to check out their set-up and make any adjustments before they got on the track themselves, so in a sense, by allowing her to drive their snowmobiles, she was returning the favor by testing the performance. Jeri said back in those days racing meant cocoa and peanut butter sandwiches for the kids in the back seat of the family vehicle in the pre-dawn hours on their way to a track somewhere, sometimes close to home and sometimes not, but these were definitely some of the very best memories of her racing days.
Jeri said along with the oval tracks, she also raced Enduros such as the Iromnwood Cross Country. She also raced in a Ladies 400 on the I-500 track in the Soo, but the grass drags at the Hessel Airport ranks right up there with some of the best times she can remember. Her personal favorite was the Valentine Day Sweetheart Race with John. She says each time she would come in ahead of the rest of the ladies only to have John goof off and end up last when the men came around. Laughing about it now, she said since she is pretty competitive, she would be furious with him, but she would fight her way back to the front and win a trophy and a heart shaped box of candy. Overall they usually went home with an arm load of trophies and were pretty happy with their winnings.
Racing wasn't all Jeri liked about snowmobiling, not by a long shot. Riding for charities has been an important  part of her life and she has been riding in the Easter Seals "For Women Only" Snowmobile Charity Ride for almost 30 years, usually leading a group of ladies, always promoting snowmobiling, and having loads of fun while raising money for Easter Seals.
Jeri is a Life Member of the Michigan Snowmobile and ORV Association (MISORVA) formerly the Michigan Snowmobile Association (MSA) and was an active volunteer at snow shows, ride-ins, membership drives, trail stops, and just about anywhere else she could lend a hand for about twenty-five years. During John's years as MSA President in the mid-1990's she served as Assistant to the President and kept his busy schedule on track.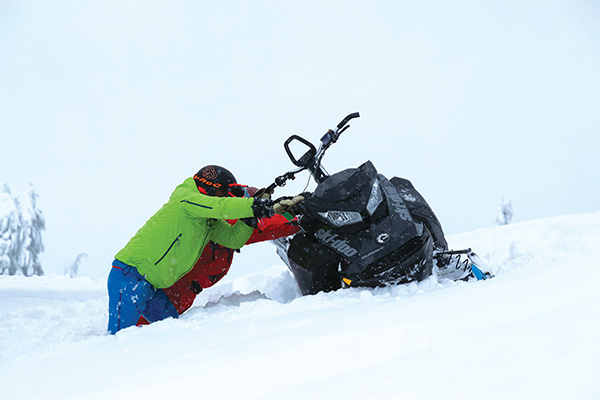 Jeri is also a lifelong member of the Les Cheneaux Snowmobile Club, having joined with her husband John back in the late 1960's helping to develop the original snowmobile trails system in their area, as well as the entire eastern part of the Upper Peninsula. She has served as either Secretary or Treasurer, or both during the fifty-year history of the club and is still the current Treasurer. Believing in supporting the areas where they ride, she and John are, or have been, members of other area clubs, including Sault Sainte Marie Snowmobile Club.
Jeri says snowmobiling is still her favorite sport and believes the winter season is the best. She says most of all she values the countless lifelong friendships they have made through experiences connected with activities like snowmobiling. She says her racing days are over but she is still riding (She rides a Ski-Doo these days) and she still likes to get out on an open stretch and punch it now and then… She says who knows, maybe someone will put together a Women's "Over 70" race someday and she just might have to break out those old racing colors again. •