By Stephen King
OK, you guys — and this time it's not "youse guyz," as in Yooperese. This time, I really have something for the guys out there. You see, we've got this whole Valentine's Day thing coming up. And, as usual, we guys are always trying to find the perfect thing to keep our ladies happy.
This time, tell her, "Honey, I've got you the most perfect Valentine's Day gift ever. It is gold. Really big, and we can cuddle up in it!" Then, make her eyes light up even more when you tell her, "Honey, I just bought you a 1971 Sno Coupe." 
That will light her up like a Christmas tree. She will be so happy. Now, a lot of youse guyz don't know this, but I have 2½ ex-wives and a whole passel of ex-girl friends and other such things. So, when it comes to the ladies, I got this stuff figured out.
But, back to the Sno Coupe, which was manufactured in Dunnell, Minnesota, from 1970-1973 by a company called Innovar. I found an ad dated Feb. 11, 1969, that shows a prototype. That ad was from a company called Heublien Inc. and talked about them bringing the sled to St. Paul for an exhibition.
In that ad, it touted the Sno Coupe as having "a fully enclosed cab, upholstered bench-type seat for two passengers, stereo tape player …" It stated the sled was capable of speeds up to 50 mph. and that it could tow up to 5,000 pounds. It also noted a 3-speed transmission, dual headlights, dual taillights and a fiberglass body.
What it left out was the style. Back in 1970, if you wanted that James Bond image, then this was the ride for you. Looked just totally cool, like some 1960s sports car. (I can imagine myself flying down the trail. Cute girl beside me. Bad guys chasing me. Yup. Missed my calling. Should have been one of those double-aught spies.)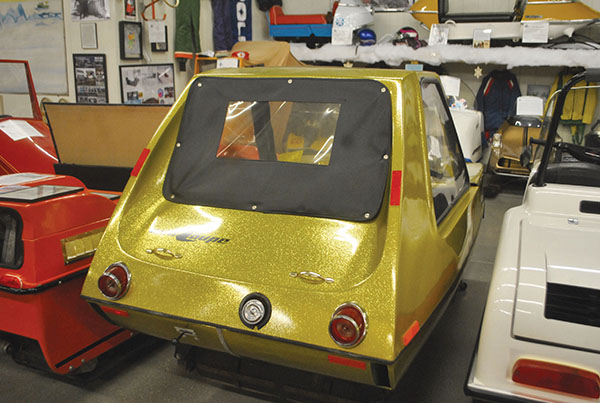 Then, another ad from 1969: This time, the Sno Coupe was made by Innovar. Same sled. What happened here? Not a clue. Trail goes dead. Innovar bought out the other company? Anybody got anything on this, shoot it to me. I'm totally curious.
But, back to the Innovar Sno Coupe. It came in two sizes. One had a 372 JLO, the other a 488cc Polaris engine. They also came in three models. The Executive and the Ranger came with the bubble top. Then, the Sportster, which was topless. (The 1971 Sno Coupe at the museum in Naubinway is the Executive. No topless models there.)
Then, there were a few other notable things. For one, it had a 30.5" track. Combined with a low center of gravity, this gave it pretty good handling ability. But, should things kind of go sideways, the Sno Coupe also had something of a built-in roll bar. But, personally, rolling over in something with a fiberglass body is not something I really want to try out. (My mental image just went from James Bond to ravens picking up my leftovers.)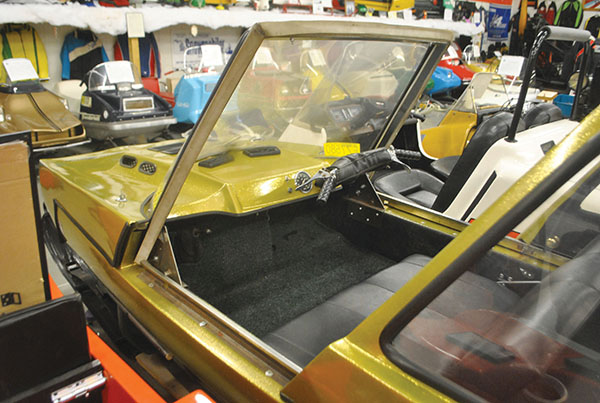 Still, I got the urge to test drive one. Every time I look at one of these — with the covered cockpit, the heater, the total sports car look, the nice comfy bench sea, a good engine, lots of stability, a decent luggage area behind the seat — I get that feeling. I am totally thinking I could hit the roads in this thing.
Now, one more thing — something of a first for me. I had to ask Marilyn, the wonderful curator at the museum in Naubinway, how you get into the thing. I did not see a door, hatch or anything else.
I looked at the pointy end. It had a couple of pins holding the hood on. When removed, the hood just did the flippy thing and exposed the engine, which looked most easy to work on.
So, Marilyn comes over, all smiley, with that look of confidence. She twists a lever under the back end of the thing. The top's latches pop, she grabs a handle and the whole top slides off backwards on a set of runners. (I stood there with a "Well, would you look at that!" kind of look on my face.)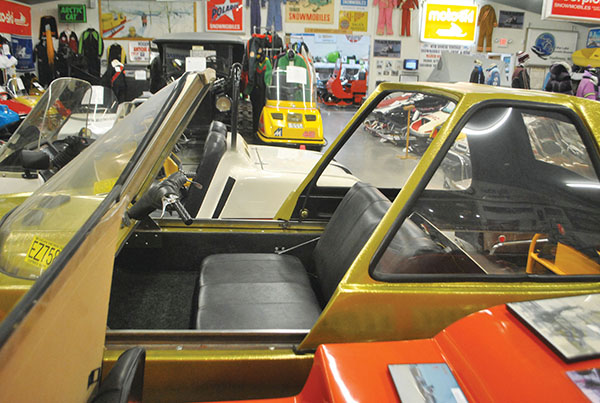 Also, the one at the museum is gold. There were others that were blue and red. From what little info I could find, the gold ones were the most popular. The blue was the oldest. Not sure about the red ones.
Another thing about the Sno Coupe is that a lot of its parts were actually made by Polaris. Now, with only about 200 ever being built, you would think parts would be hard to come by. But, while finding parts for a 1971 sled is never easy, with Polaris as a maker of some of these parts, it makes it way more possible to find the Polaris bits that were on it.
Now, we get back to that first bit about Valentine's Day. Guys, the Sno Coupe came with an optional propane heater. Just to keep things warm in the cockpit. What you do here is to get your lady out on the trail and then turn up the heater. When she says, "Hey, it's getting warm in here," you respond with something like, "Must be from sitting next to me, Sweetie." Now you might understand why I have all those ex-es.
OK, so maybe I might not be "the guy" to talk to about Valentine's Day; this sled is totally cool. And, you can see a 1971 Sno Coupe at the Top of the Lake Snowmobile Museum in beautiful downtown Naubinway.