By Ann Drzewiecki
In this issue, we have briefly mentioned the current political climate will be bringing change.  One thing all of us know for certain is that change is on the way and adjustment is in our future.  So I'm stepping out of my own comfort zone and writing my first ever published article!  Change and adjustment doesn't always feel safe…hope you like the next few paragraphs. I also hope our changes at Michigan Snow will inspire you to consider reading our next 3 ORV issues. For all our loyal subscribers, the first one is on us. In the first ever Michigan ORV issue, we will provide ways to subscribe to both of our publications or one or the other. More detail to follow, be watching your mailbox in Mid-May.
In the current days of covid, well this new adventure is a bit intimidating. However, we remain committed to bringing more good stories and motivation to our readers to enjoy as much of our state as possible. Our current schedule of Michigan Snow Magazine will continue with our 6 regularly scheduled issues. The issues I'm announcing will be created and distributed this summer. We're excited about additional ways to reach out to our readers and perhaps new readers with our ORV publication.
We will be bringing many new stories highlighting all of our favorite Michigan places. As mentioned in my editor letter in my book, no view compares to the beginning of the Mackinac Bridge heading North. Looking over to the left, you catch a view of Mackinac Island. Many, many family memories made walking along the roads and trails of that state treasure. As we cross over the middle part of the bridge, I start thinking of all the family trail riding, camping and exploring we have done in the UP with our kids.  They are now 22 and 19 and starting their own adventures and it's always interesting to see what they come up with next.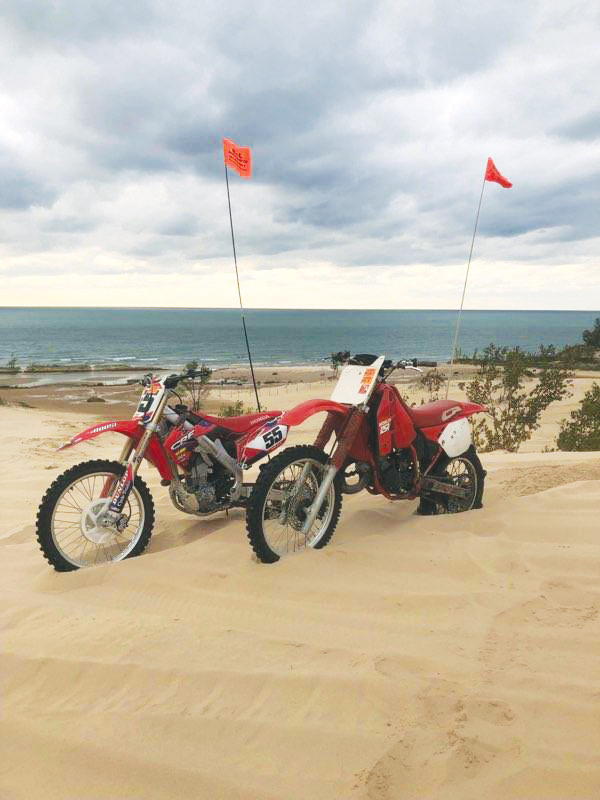 For instance, the picture with this article features a family and friends outing to Silver Lake.  I had my first experience riding the dunes. Luckily the driver of the ORV I was riding in was didn't launch me off Test Hill at full speed. If you've ever been to Silver Lake you know exactly the spot I'm talking about. I watched many other truly adventurous folks take the Test Hill challenge, having an absolute blast. Definitely a place to visit if you haven't already been there. Lots of things to do after the ride or while taking a quick break from the dunes. A wide variety of shops, restuarants, campgrounds and ORV supply shops to chose from. Truly a great family getaway.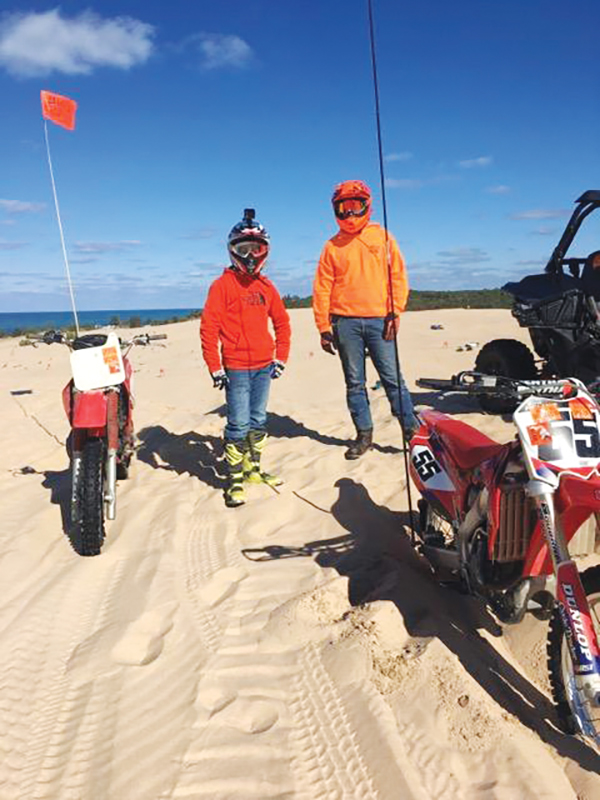 So, until next issue – stay inspired my friends. There's so much to love about our home state of Michigan and our home nation – the United States.  Don't forget about our Canadian neighbors, can't wait to have our borders reopened so we can freely visit each others countires again. So many inspiring events ahead.
If you get a chance –reach out to us at Publisher@MichSnowMag.com and share your favorite Michigan ORV memory and how great memories inspire you to find more adventures. As always, thank you to our Veterans. Without you, we wouldn't be safe to share our opinions or our story. Stay strong, stay inspired and be Michigan.