Story and Photography By Stephen King

On the weekend of Aug. 21-23, Watercross Snowmobile Racing made a return to Michigan. The International Watercross Association (IWA) held an event in Lake Linden, about 20 miles north of Houghton/Hancock.
Despite COVID-19 restrictions, the event was a huge success, partly because of the location. At the head of Torch Lake, in the middle of the U.P.'s Keweenaw Peninsula, Lake Linden was the perfect spot for a watercross race.
Years ago, a race was held in Baraga at a pond especially built for watercross racing. This year, Mother Nature built the track — and she must love watercross racing because this place is perfect.
There was plenty of room for a track, with water that was deep enough but not so deep that sleds could not be easily rescued. The pits were positioned perfectly, and viewers had ample space, with enough room for easy social distancing. The overflow of spectators could watch from a park right on the lake. A good number of people floated in on their boats and social distanced on the water.
This is the first time an event like this has been held in Michigan in roughly 20 years. Years ago, promoter Skip Schultz brought watercross racing to Michigan when he promoted races in Baraga, but then that venue was lost.
But watercross racing did continue. The IWA kept having events and the sport kept growing. With the recent downturn in snowmobile racing, watercross has risen to be the best summer snowmobile racing around. It's a good quality circuit with an abundance of quality drivers and events.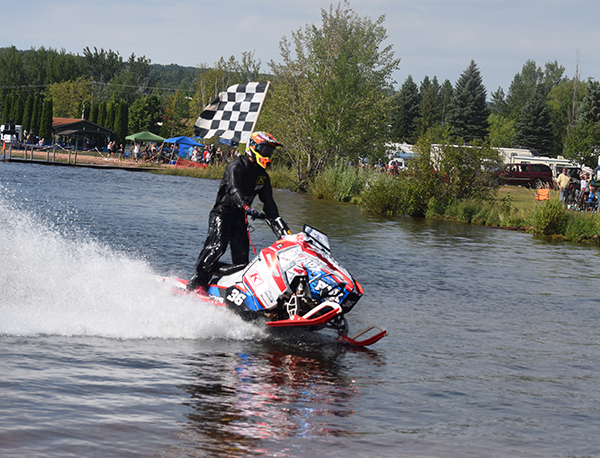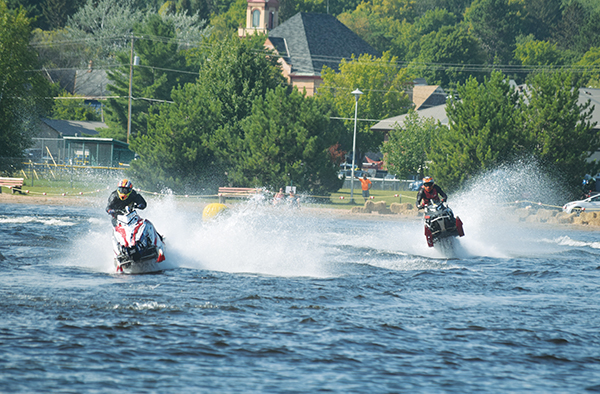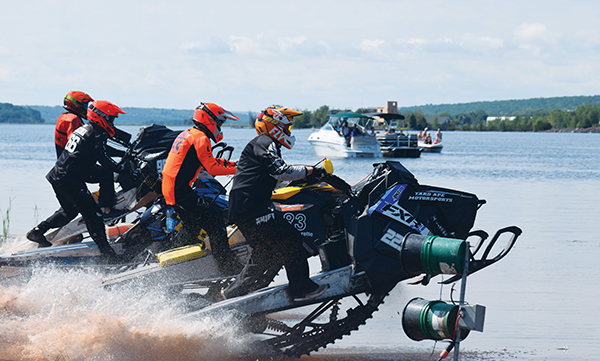 About a year or so ago, another Yooper, Neil Marietta, had the idea to resurrect watercross racing in the U.P. Back in the day, Neil was a very good watercrosser himself; now his son is the racer.
Back in the day, one of Neil's best friends was Jeff Moyle, an excellent racer and all-around nice guy. A few years back, he perished in a freak accident. His powered parachute crashed, and he did not survive.
"He died doing something he really liked to do," Denise Moyle said. "When Neil approached us about doing a watercross race in his honor, we had some mixed feelings. First, we didn't know if the family could handle it. Also, we weren't sure how the community would react.
"But, as a family, we thought this would be a good chance to honor Jeff's memory; and the community really came out. The whole community took part in this. It seems like everyone in town contributed in some way. This really says something about this town and how much they liked and respected Jeff. He was the type of guy that would do anything for people, and their appreciation really showed. We sold 500 T-shirts before the race. That's unbelievable."
She added, "Jeff would have been a bit uneasy about having this race named after him. Calling it the 1st Annual Jeff Moyle Memorial Watercross Race would not have been him. But I really think he would have been touched with the way people reacted to it. He would have been very honored and proud of this. He was all about helping people."
The numbers were not in by press time, but this event raised thousands of dollars for the local fire department. So, even after his passing, Jeff was still working to help others.
Personally, I have just a vague memory of Jeff. Way back when, I remember talking to him at one of the Baraga events. He was one of the biggest names there and the center of a lot of attention. So, of course, I had to talk to him. From what I can recall, he was a great guy.
But that was then; back to the present. At the race, I saw a lot of people I knew from back in the day. One was Jeff Fischer. He was an exceptional racer — one of the best, if not the best ever. On Saturday, I walked into his pit, and he said, "Stephen King!?! What in the world are you doing here?" I replied, "Same old thing. Following the races around, taking pictures and talking to racers. No sense in actually trying to get a real job at this point in my life." We laughed, shook hands and talked.
He was very proud to tell me that his son David had taken up the family tradition. David is one of, if not the best, on the circuit. Hardly losing a race ever.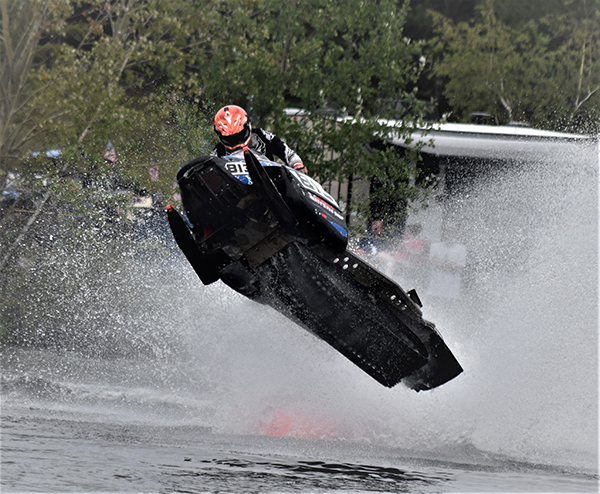 At first, I thought, perhaps, it was a proud dad speaking. Then on Sunday, I watched him race — Dad did not over-exaggerate; David really is that good. He took the win in the Pro Open Class, the fastest class of the weekend. And he did it in style. Then, instead of just taking a victory lap, David put on a show. Around and around the course he went, pulling the sled up to almost verticle. Hopping it. Doing really tight turns. The crowd ate it up and gave him a huge ovation.
When he got to shore, I had the chance to visit with him. "This was an awesome track," he said. "A little bumpy, but awesome. Maybe with the deeper water, the waves got bigger. There were some serious waves out there today. And, the sled ran great. Everything just went perfect. Again, I just cannot say what a great race this was. The town, the people, the track — it was all excellent.
"I want to thank my dad, Jeff Fischer, and the rest of the crew. And I want to thank my sponsors, especially Polaris. This sled is just about 'out of the box.' We have to do very little to get it race-ready. Also, I want to thank Klim, MBRP and FX shocks, plus all of my other sponsors. There are too many to list, but I appreciate all of them."
Along with the win in the Pro Open, he also won the Pro Stock and the Pro Drags. From a personal perspective, David is a lot like his dad — a great all-around guy, someone kidds can look up to and a great ambassador for the sport.
On the Women's side of the pond, it was Karry Simpson taking the win. Like David, she was also expected to win. She is the reigning World Champion. (More about her next month when she will be featured in our Women of Snowmobiling theme.) She's also a very nice person, someone the young girls can look up to as a hero.
She rides a tricked-out Arctic Cat she lovingly calls "The Jungle Cat." While she did not do as well as usual racing against the men in the Pro Classes, she did take an easy win in the Women's Class. She went from the green light to the checkered and never looked back. She didn't have to. She could see her other lady racers up ahead of her. She could have lapped them but stayed safe and just rode it out for the win.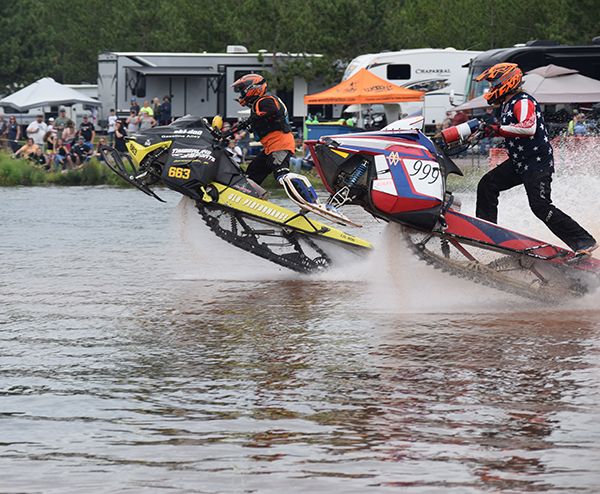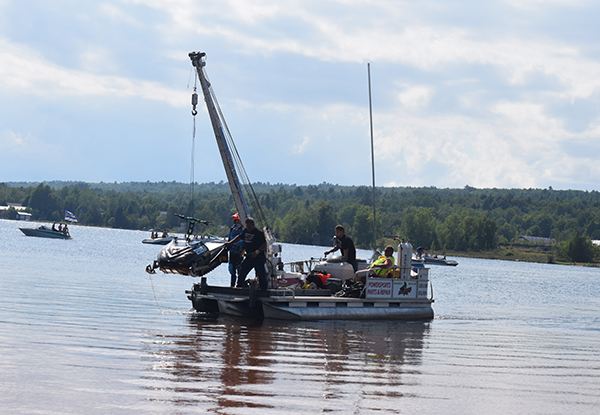 "I want to thank my team," she said. "One person cannot win a race; it takes a team. So, thank you Ryan Keith and Mike Darpist. I also want to thank my sponsors, including Arctic Cat, Subway, the Pheasant Inn, Blown Concepts (and many others)."
Now, along with the Ovals, there were also Drags. As noted, David Fischer also took a win there. Overall, they raced Friday night with a shoot out, all day Saturday with preliminary races, then all day Sunday with the final eliminations, and then the finals. All in all, an excellent weekend of racing.
Then, there was Cassie Swanson. She did not win, but she did get the photographer's attention. On Sunday, during the finals in the Semi-Pro Open Class, apparently the ship started sinking. Following the "any old port in a storm" theory, she headed for shore. Usually not a bad idea.
But my mom's favorite photographer was watching the race through the camera lens. All of a sudden, I notice out of the corner of my eye, the starter suddenly needed to be elsewhere. So, I take my eye off the camera and what do I see? A snowmobile about 10 yards out coming right at me. The starter guy asked if I was scared. Nope. Happened so fast, I didn't have time.
But, for Cassie: No. 1 rule in racing: Do not run over the photographer! If you do, I promise: No more pics of you! And if you should totally squash me, you have to adopt my dog.
There is one more thing I have to get in. Along with writing for this fine publication, I also do a lot of outdoor writing, hunting and fishing stuff. One of the things I keep hearing about watercross is the effect it has on the fish. But on Saturday, I was on the rescue boat and professional diver Adam Bryce mentioned something neat.
When a sled went down and could not be recovered right away in 30 feet of water, 27 feet of line on the buoy, I joked that by the time we got it back up, it would be home to a few rock bass.
Adam looked at me and said, "Don't laugh. I had one yesterday I had to dive down and hook the line on. It sat there for a bit. And when I got down there, there were three rock bass already taking up residence in the sled. Thought they had found a new home.
"I just wanted to mention that to all of the people worried about the fish. Apparently, this doesn't bother them at all. Those fish down there looked totally happy. That is, until I tied on the line and took their new home away."
For complete results, visit www.iwaracing.org or go to the IWA Facebook page. Just do a quick search and follow the leads. The next stop on the IWA tour will be in Brainerd, Minnesota, the weekend of Sept. 19 at the BIR Racing complex with the Wet and Wild Weekend 2.0.